Airplane Courses
Our pilot training school will help you achieve your airplane flying dreams. Getting a pilot license is not easy, but it's easier than ever before with our free and paid online classes.
Filter Classes
All Classes
Ground School
Free Classes
Why Pilot Institute?
92% Average FAA Exam Score

Our students score significantly higher than the national average

Save Thousands
on Your Flight Training

Flight training costs $200-300 per hour. Arrive to your lessons prepared with world-class education

24,000+ 5 Star Reviews

Proven classes backed by tens of thousands of reviews

Join 250,000+
Happy Pilots

Educating the next generation of pilots
Go beyond basic test prep and and short-term memorization with Pilot Institute. Our classes are comprehensive so you actually learn the material and become a safe and confident pilot.
Incomplete ground training can lead to wasted time and money in the air. Our ground school will help you arrive to lessons prepared and ready to learn, so you can get your pilot's license faster and more efficiently.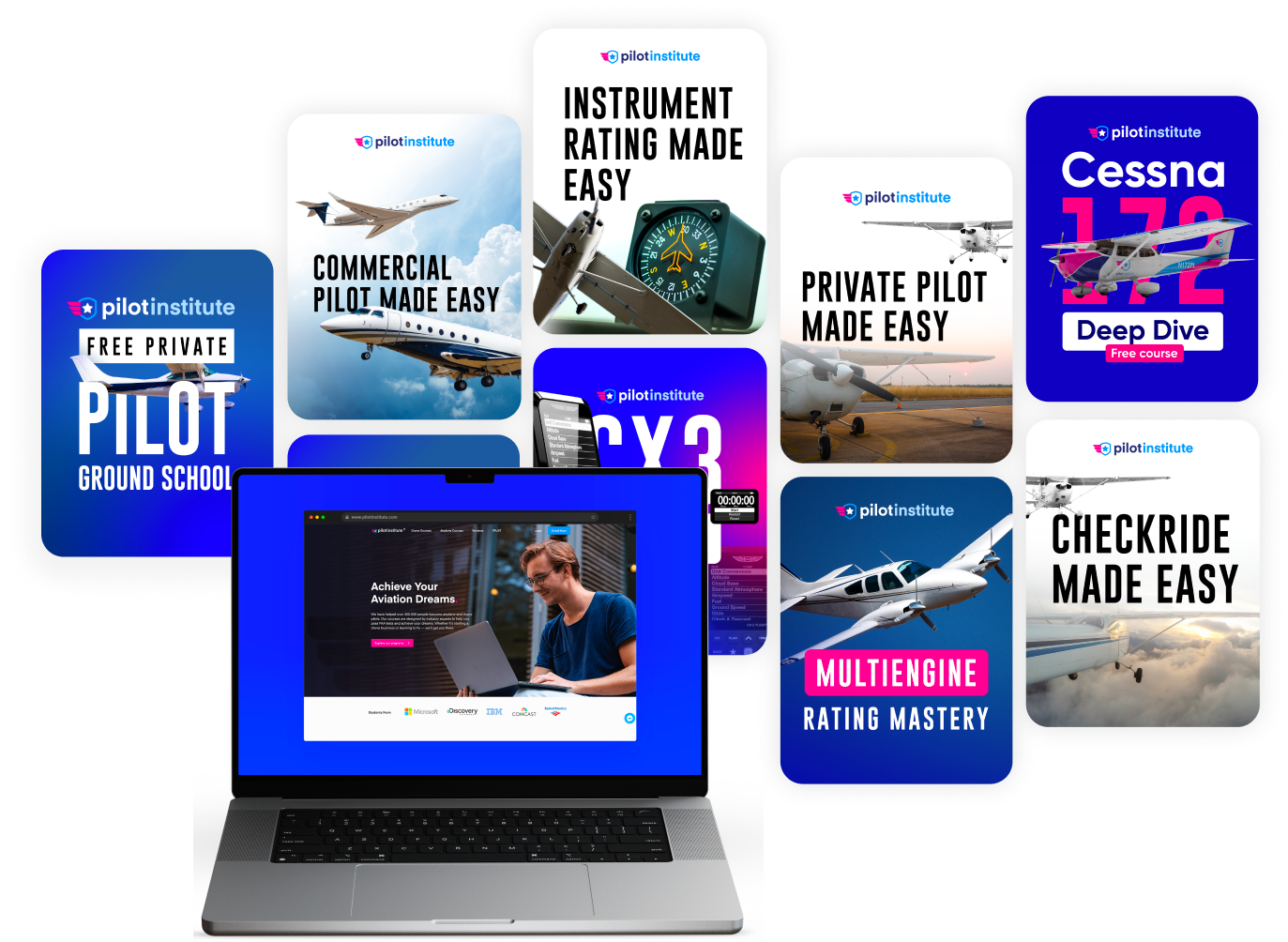 The New Standard for Aviation Education
Say goodbye to old, outdated ground training and enjoy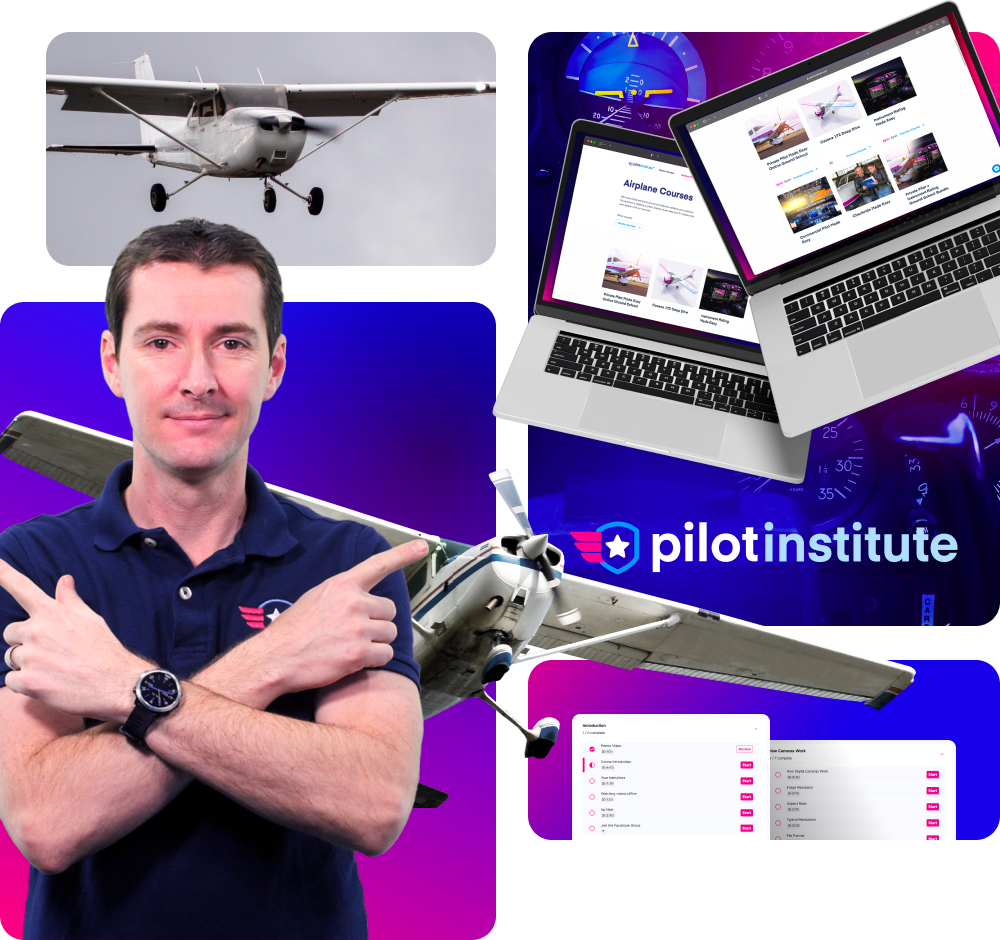 Beautiful 3D Animations

Industry Leading Guarantees

Lifetime Access for One Small Fee

Self-Paced Lessons

Modern, Interactive Training
FAQ
Frequently Asked Questions
You need to do ground and flight training to become a pilot. Ground training teaches you the theory you need to know to get your pilot's license. That's where Pilot Institute can help you. All of our classes are online, self-paced, and affordable. You will also need a flight school to do training at locally in an airplane. We have a free class you can enroll in above to get advice from us on how to choose the best flight school.

Yes. If you complete 100% of our ground school course and can show proof that you can achieve an 80% grade on two timed practice exams, we will send you a written endorsement in the mail that satisfies the aeronautical knowledge requirement of 14 CFR Part 61.35(a)(1), 61.103(d) and 61.105. You can only receive this endorsement from an FAA certified flight instructor who provided you with the proper training.

No, you can start our courses before even finding a flight school. There is an entire chapter in the course on how to choose a flight school so we recommend you watch this first. As you progress through the videos, it will be an advantage to take a few lessons so you can see what a cockpit looks like and be immersed in an airport environment.

Our classes are all self paced and each video is 3 - 5 minutes long so you can learn in bitesized pieces. With lifetime access, you can also access your classes any time. Our instructors are also available to help you with any questions you have while you go through your pilot training.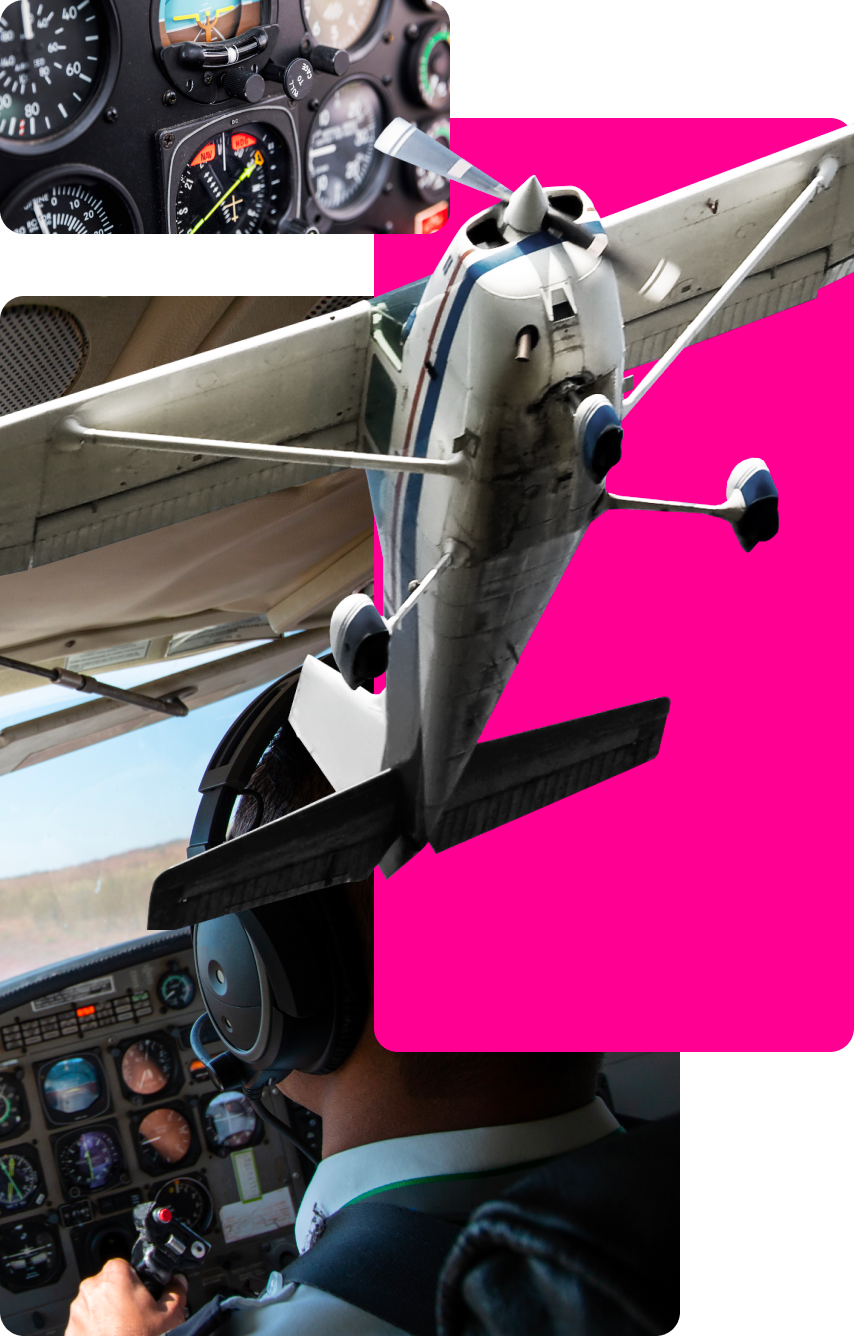 What Our Students Saying
Out of many other ground schools this is one of the best at keeping my attention. By breaking down the videos into bite size clips it allows for me to not get overwhelmed and go back to review a specific topic if I got confused. Very high quality production and very easy to sit for hours at a time and not get burnt out on difficult information.
This is a great study tool. I used the private pilot ground instruction with Pilot Institute and scored 100% on my PPL written exam. Obviously it is necessary to supplement this program with your own independent study, just as it is necessary to do with any program. But the lesson layout dramatically helps to organize your study sessions and improves competency and retention. Thanks Pilot Institute!
Phenomenal instruction! I am very happy with this instructor! He is very clear, detailed and educational. I am learning a lot and cannot wait to get through all 5 courses. I have this on my "bucket list" to get my pilot's license, and eventually to own my own plane to fly around the country/world in; this is my first step. Thank you so much!
This course is excellent! I love how structured it is and that there is an order to the content being taught, not to mention Greg does a fantistic job of presenting the material in way that makes sense. I tried a couple other online ground schools and was struggling to understand the material and it was such a chore watch their videos. Pilot institute is a night and day difference, I'm so glad that I found this ground school, and would highly recommend it to anyone looking for an online ground school.