10 Excellent Gift Ideas for Drone Pilots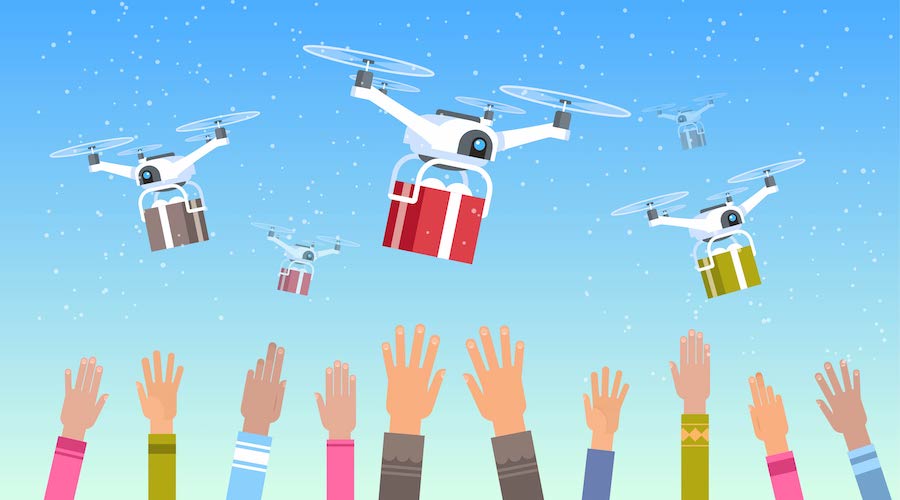 Do you have a person in your life who is crazy about drones? Wouldn't it be a great idea to have a few gift ideas floating around that pertain to their specific hobbies? If you're not into drones yourself, then thinking of a good gift might be pretty difficult. Don't worry – we've got your back.
These drone-related gift ideas are sure to satisfy any drone-crazy person. We've also made sure that they range from items that cost less than $20 to those that cost several hundred dollars to make sure that you can give a gift, regardless of your budget. Take a gander of our list of gifts we wouldn't mind receiving ourselves.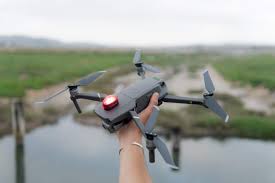 Flying a drone at night is absolutely one of the most exciting things that you can do as a drone pilot. It's a different level of fun seeing a lighted up drone flying in the darkness or to take aerial photos of the city lights at night. With a bit of skill and the right camera, you might even be able to pull off some light painting.
However, a good lighting kit is a necessity for flying drones at night. It's not just a safety guideline – it's the law. While there are dozens of different drone lighting kits out there, we prefer this versatile lighting kit from LUMECUBE. With durable adhesive mounts, these lights can be installed on just about any drone, including ultra-portable models.
One more thing we like about this specific three-piece kit is that it comes with red and green caps. This means that you can install two of these on either side of the drone so that you can always tell which direction the drone is facing, even in darkness. Maintaining orientation is very important in drone flight to make sure that you don't run into any obstacles.
The LUMECUBE lights are bright enough to comply with FAA visibility standards. They can be set to light up with two different strobe patterns or to give off continuous light. With a lightweight and robust form factor, these are some of the most reliable and flexible drone lights you can get today.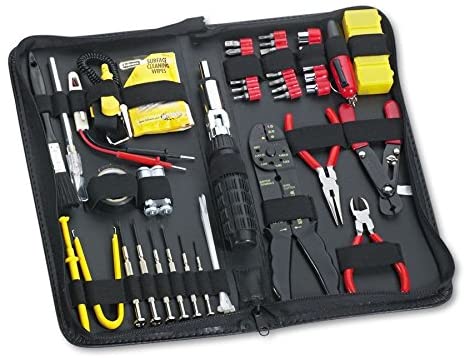 Despite all their advanced technology, drones can still break down. It's especially problematic when it happens on the field. It only takes one crash or a missed round of maintenance to have a drone's screw start to loosen or some of its components fall off completely.
When this happens, any drone pilot would be glad to have brought along a complete repair tool kit. While this tool kit isn't specifically made for drones, it has just about all the tools that a drone pilot is going to need (you can just leave the crimping tool behind).
This tool kit includes a screwdriver set with different Torx, hex, and Philips bits, a precision knife, a flashlight, a ratchet driver, pliers, wire strippers, tweezers, cleaning wipes, a few cable ties, and a roll of insulated tape. All the tools have been demagnetized to prevent any damage to a drone's sensitive electrical components. The kit also comes with a handy vinyl carrying bag with a zipper enclosure and dedicated elastic bands to hold down each tool.
To be clear, not all these tools may be necessary for a drone pilot. In this case, however, going slightly overboard with preparation may be something that a drone pilot will appreciate if you gave them the tool kit as a gift.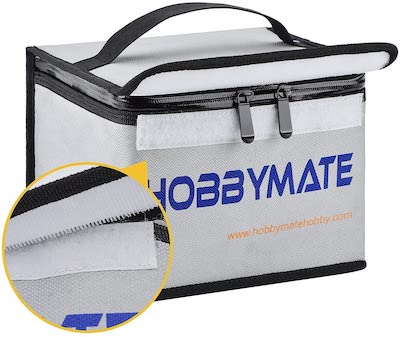 Unlike our usual electronic devices, drones use a different kind of battery called LiPo, or lithium polymer. The main difference of a LiPo battery is that it uses a polymer electrolyte that helps keep it lightweight and compact without sacrificing capacity. There's a major consequence, though, which is the fact that they are more prone to catching fire or exploding when they get damaged.
If you know a drone pilot who already has several LiPo batteries lying around, then they would certainly appreciate it if you gave them a few LiPo-safe bags. These are specially designed bags made of fire-retardant material that are meant to contain any battery fires, should they happen. LiPo-safe bags may also be necessary for a drone pilot to travel with their LiPo batteries on flights.
This LiPo bag from Hobbymate is a made of a composite material with silicon-coated fiberglass and a layer of heat-blocking aluminum. Not only does it keep any battery fires from spreading, but it also prevents external heat from affecting the temperature of the batteries. It has a zipper enclosure plus a Velcro strap, ensuring that any fires or explosions will be contained inside. With a handy strap, the bag was clearly made for traveling but is equally suitable for charging or long-term storage.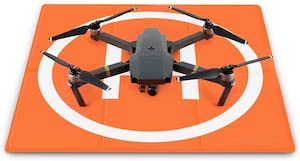 Any experienced drone pilot can tell you that a drone's camera and gimbal are some of its most fragile components. Not only are they made of precision parts and sensitive electrical components, but they also often sit so close to the ground. This makes them vulnerable to getting damaged by hard landings, uneven terrain, or even the dust kicked off by the drone's propellers when they start spinning.
This polyurethane landing pad from PGYTECH can be secured to any surface using pegs to provide a perfectly even landing pad for a drone. This prevents any dust, sand, or soil from getting kicked up by your drone. It also gives you an even landing pad where there is none, such as in areas with tall grass. The bright orange color keeps the landing pad very visible even in the dark. There is also a bright blue option.
The double-sided waterproof material is durable enough for sharp terrain features but also isn't so heavy to be inconvenient to bring around. The landing pad can be folded into a neat little bundle, and it even comes with a carrying canvas bag. If you know a drone pilot who likes flying drones in mountains, beaches, and forests, then this landing pad is going to be an inexpensive but perfect gift.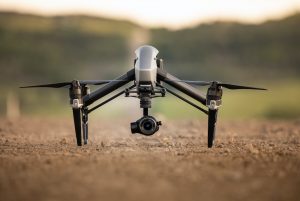 You may not have heard of it, but drone pilots can now apply for a "drone license" from the FAA. Officially known as the Part 107 remote pilot certificate, this piece of paper is now required by the FAA for drone pilots who wish to use their drones to earn some cash or to help in business.
The thing about earning the drone license is that it's not the easiest thing in the world. A drone pilot will have to pass a 60-item multiple-choice Part 107 knowledge test before they can be licensed. The test covers aviation-related topics which are certainly outside the boundaries of common knowledge.
If you know a drone pilot who is aspiring to get the Part 107 drone license, then we recommend this online training course from PilotInstitute. Designed by a highly experienced aviation professional who is also a Certified Flight Instructor, the course includes more than 13 hours of instructional videos, more than 300 sample questions, an illustrated cheat sheet, a flashcard app, and access to an exclusive online study group.
All the contents of the course can be accessed either using a computer, laptop, tablet, or smartphone. By paying a one-time fee, a drone pilot can gain lifetime access to the contents of the course which PilotInstitute continues to review and update.
For a limited time, signing up for the Part 107 online training course also gives access to a Drone Maneuvers Mastery course – a $99 value.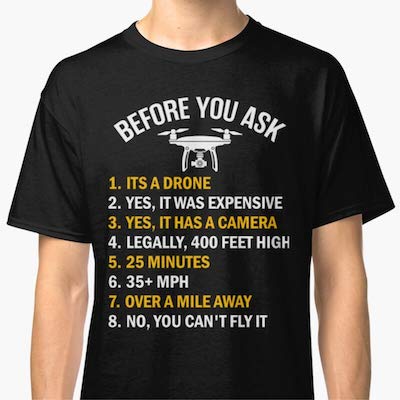 Drone pilots get a lot of attention wherever they decide to fly their drones. While the attention is welcome and flattering most times, there's certainly a point where it can get distracting. This shirt makes light of the situation by listing down the answers to some of the most common questions that drone pilots field every single time from complete strangers.
This is a unisex variant of this shirt, but you can also get it in men's and women's sizes. There's also a long-sleeved version that may come in useful for a drone pilot who likes flying on sunny days. Made of 100% cotton, this shirt is very comfortable in most weathers.
This is an excellent gift for a drone pilot with a good sense of humor. Can it actually help them answer questions from strangers? Perhaps, but even if it doesn't, you'll probably get a good laugh. This is a brilliant design that is sure to get a good response from a drone pilot.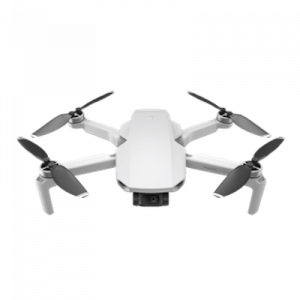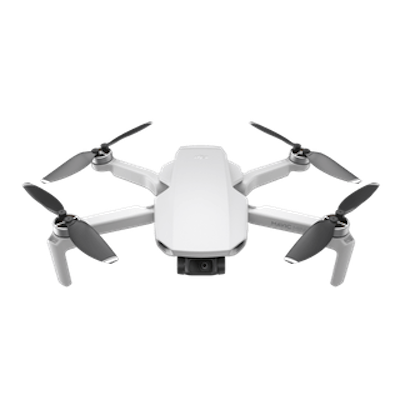 If the drone pilot you know is a really special person in your life and you have a huge budget to blow, then why not buy them one of the newest drones to hit the market? The Mavic Mini is the smallest and lightest drone to be developed by the world-leading drone brand DJI and was launched about half a year ago. Among its many appealing qualities is that it does not need to be registered with the FAA before a flight.
There is a lot to be said about the DJI Mavic Mini, and it's sure to get a very excited response from the drone pilot you are going to gift it to. For such a small drone, the Mavic Mini has a high-quality camera that can record 2.7K videos. The camera is stabilized by a 3-axis mechanical gimbal – something of a rarity on drones in this price range.
The reason we're listing the Mavic Mini instead of all the other DJI drones is the fact that the drone only costs $399. It looks like a toy drone, but it's the best toy drone you could buy nowadays. If you're thinking of giving an actual drone as a gift, then the Mavic Mini is a choice that will impress the drone enthusiast in your life but won't burn a hole in your pocket.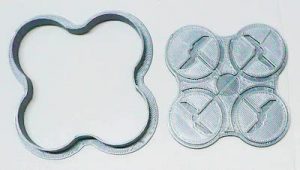 Giving a drone-shaped cookie cutter may sound silly but come on – who doesn't love cookies? This 3D-printed cookie cutter from YNGLLC is simply adorable. Not only does it have a mold in the shape of a quadcopter, but it also comes with a stamp so that your cookies will come out embossed with the familiar propellers.
Being 3D printed, this is an exceptionally cheap gift that you can buy. Just remember that it is made of plastic. While it should be food-safe, it should not be exposed to temperatures above 60 °C. This means that it's also not dishwasher-safe.
This gift may be as simple as it comes, but it would be nice to give it and spend an afternoon baking some cookies. That should be a nice experience for any drone pilot.
If the drone enthusiast in your life owns a DJI drone, then we're sure that they would appreciate receiving a DJI Care Refresh plan for their drone. DJI Care Refresh is DJI's in-house drone insurance policy. This allows a drone pilot to get a replacement drone should theirs get damaged beyond repair. The replacement drone will not be free but will only cost a small fraction of the price of a brand new model.
A good drone insurance policy may be one of the best things that a drone pilot can have. When flying a drone, the drone always runs the risk of crashing and getting damaged. Depending on how bad the damage is, the drone could be in a state where it can no longer be repaired. Having drone insurance gives a drone pilot some peace of mind whenever they take their drone out on a flight.
Just keep in mind that like any other insurance policy, DJI Care Refresh comes with strict terms. The policy doesn't cover water damage and the broken drone must be sent to DJI before they will provide a replacement. It's best to give DJI Care Refresh for a brand new drone, but there's still a way to sign up for a policy for drones that are a little older.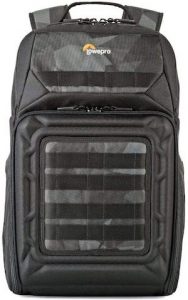 Drones are best used when you travel with them. Just imagine all the aerial photos you can take if you take a drone with you on a hike, a trip to the beach, or a vacation to another country. However, there's still the issue of how you're going to bring the drone including all of its accessories.
This is where a high-quality drone backpack comes in, such as this one from LowePro. The DroneGuard drone backpack comes with a hardshell exterior that protects its contents from impact. The flexible dividers inside can be customized to create snug compartments for the drones and its accessories while the other pockets provide easy-to-access storage for wires, tablets, and phones. You can even fit an entire laptop in there.
If you're getting this backpack for a drone enthusiast you know, just take note that it only fits ultra-portable drones like those from the DJI Mavic series. Other DroneGuard versions can fit the Phantom 4 Pro (DroneGuard Pro BP 400) and the Inspire (DroneGuard Pro Inspired).
The DroneGuard BP 250 is a bit pricey as far as backpacks (and gifts) go, but you certainly get what you pay for with this product. It's smartly designed, durable, comfortable, and provides ergonomics in the way that only backpacks can.
Final thoughts
The mere thought of you looking for gift ideas for the drone enthusiast in your life is endearing enough, and we're sure that they are going to appreciate your gift, whichever one you chose. We hope that we've given you some good ideas with this list and that they reciprocate the gesture eventually!