Drone manufacturers will have until September 16, 2022 to make sure that their products comply with the Remote ID requirements as set by the FAA. Exactly a year after – September 16, 2023 – all drone pilots will need to comply with Remote ID standards.
It was about a year and a half ago when the FAA published the rules for the implementation of Remote ID in drones that fly in the national airspace. There has been some progress in the technology to comply with these standards, but there is still plenty of work to be done. Let's look at the current landscape of Remote ID technologies and how we can expect the implementation to pan out within the next year or so.
What is Remote ID?
The idea of Remote ID is to embed a "digital license plate" into drones, thereby creating a system for drones to be traced to their owners or pilots. This is a measure that the FAA is implementing to prevent irresponsible or malicious use of drones. The FAA considers Remote ID as a critical step in fully integrating drones into national airspace and establishing a UAS traffic management (UTM) system.
In January 2021, the FAA published the final ruling on Remote ID. This was after filing a Notice of Proposed Rulemaking (NPRM) back in December 2019, after which the FAA received a record-setting 53,000 comments during the 60-day window for commenting. Most of the comments were critical of the proposed terms of Remote ID. The FAA considered the feedback in coming up with the final ruling, albeit it still was not received warmly by everyone in the drone community.
The relevant law for the implementation of Remote ID is 14 CFR Part 89 or "Remote Identification of Unmanned Aircraft." The official documentation is 470 pages long. It basically states that all drones operating within national airspace need to have the technology to broadcast their identity, altitude, the location of the drone, and the location of the control station.
Drone manufacturers were given 17 months after the effective date of the rule to comply with the standards. This date falls on September 16, 2022. By this time, all drones sold and manufactured in the U.S. must be able to comply with the FAA requirements.
On the part of the drone pilots, all drones flying in national airspace must be compliant with Remote ID requirements by September 16, 2023.
Who is required to comply with Remote ID?
The application of Remote ID depends on the type of drone you are using, the purpose of the drone operations, and whether the drone is being operated as part of government functions. Here are the key points:
All drones that are being used for commercial operations or under Part 107 rules need to have Remote ID regardless of weight
Drones that weigh less than 250 grams and are being used recreationally do not need to comply with Remote ID. All drones that weigh above the threshold and are being used recreationally, however, still need to comply.
Drones used by the Federal government are exempted from Remote ID requirements.
Drones used by government units at the state, local, or tribal levels must comply with Remote ID. This also includes drones used for public safety including law enforcement and emergency response.
Drones that are designed for Aeronautical Research are exempted from Remote ID requirements.
Drones that operated inside pre-defined FAA-recognized identification areas (FRIAs) are exempted from Remote ID requirements. A FRIA must be sponsored by a community-based organization or educational institution and must be approved by the FAA.
How can drones comply with Remote ID standards?
There are two ways that drones can be considered compliant with Remote ID standards:
Drones can have built-in capabilities for Remote ID data transmission. This means that the drone needs to have extra accessories for compliance. As Remote ID becomes the standard, we should expect most drones to have such features in the coming years.
For drones that do not have Remote ID features, they can be retrofitted with Remote ID broadcast modules. These should have capabilities that are no different from the built-in functions of other drones. This compliance pathway can be useful for pilots who own older drones.
At this point, it is yet unclear if existing drones can be made compliant with Remote ID requirements via a firmware update or if hardware changes will be needed. This likely depends on the hardware that has already been built into each drone, so each model may have different circumstances.
What are FRIAs?
FRIAs or FAA-recognized identification areas are bounded geographic areas where drones are allowed to fly without having to use Remote ID technology. When flying within a FRIA, drones are considered to still be compliant with Part 89 even without the use of Remote ID. This can be useful for using older drones that have not been retrofitted to comply with the new standards.
The FAA has declared that community-based organizations, primary and secondary educational institutions, trade schools, colleges, and universities will be eligible to apply for a FRIA. Applications for FRIA will be accepted starting September 16, 2022. From here on, applications will continue to be accepted and the process will be an essential part of Part 89 implementation.
Approved FRIAs will only be valid for 48 months, after which the responsible organization will have to apply for a renewal. The FAA also has the right to revoke FRIA rights should they deem that the location or activity poses a risk to aviation safety, national security, or public safety. Submitting false or misleading information can also be grounds for the termination of a FRIA.
Related news – Remote ID in Japan
Interestingly enough, the U.S. is not the first country to start the implementation of a Remote ID requirement. In Japan, a Remote ID rule for drones has been approved as of September 2021 and implementation has been started in June 2022.
In the case of Japan, the Direct Remote ID Standard has a few requirements that are quite similar to the FAA standards:
The Remote ID signal must contain information including the drone's registration ID, serial number, and location of the unmanned aircraft.
The Remote ID signal must be transmitted at least once per second.
Signals will be transmitted using either Wi-Fi or Bluetooth technology.
With the implementation of Remote ID in Japan already starting, DJI has recently released a firmware update for the Mini 2 and Air 2S to make them compliant with the Japanese Remote ID standards. This is welcome news for DJI owners, as it means that DJI drones can become compliant with Remote ID through a simple firmware upgrade.
It's reasonable to expect that this may not be the case for all drones, DJI-made or otherwise. The Mini and Air 2S provide two good examples of Remote ID via firmware, but what about the older models? Fortunately, there is always the possibility of installing an external module for Remote ID transmission.
As Japan has become one of the first countries to implement Remote ID, it also follows that there are now devices being sold in the Japanese market for this purpose. A "Remote ID Device" developed by Alps Alpine Co. Ltd. can transmit drone identification and location data in accordance with Japan's Remote ID standards.
This external device is now planned for use with the drones from EAMS Robotics Co. Ltd., a Japan-based manufacturer of industrial drones. This will serve as a springboard to market the device to other drone manufacturers, and perhaps even to manufacturers of other mobility devices.
DJI AeroScope – a precursor to Remote ID?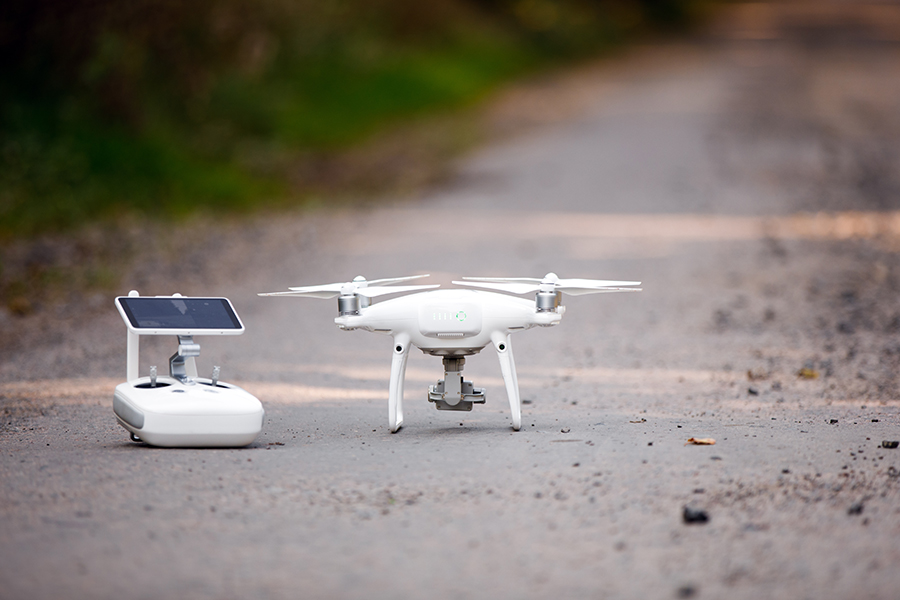 Although Remote ID seems like a fairly new thing, DJI has actually already had a drone detection platform for the last several years. DJI AeroScope is a drone detection system that can identify, track, and monitor drones near a control station. It works with all current models of DJI drones, which accounts for more than two-thirds of the drones being used by civilians globally.
This system was developed as a response to the efforts of aviation regulators in many countries to implement remote ID systems. The scope of the Aeroscope was limited, making it the perfect balance between security and the right of drone pilots to fly.
DJI Aeroscope was designed for use in government facilities and critical infrastructure including power plants, airports, and correctional facilities. In 2019, Aeroscope was given approval by the UK's Centre for the Protection of National Infrastructure.
The case of DJI Aeroscope is interesting in that it basically demonstrated the fundamentals of Remote ID. From the base station, DJI drones and even their operators can be tracked and identified. The base station was also small and light enough that it can be moved around if necessary.
The existence of DJI Aeroscope is another evidence that the technology for Remote ID already exists in DJI drones and that they can be used to comply with future standards. After all, the DJI Aeroscope platform worked with all DJI drones without having to do any modifications to them.
Final thoughts
As the date of implementation of Remote ID nears, more people are wondering if they have to do away with their old drones and buy new ones. For drone pilots, the good news is that drone manufacturers are probably already working on this problem as we speak and should have solutions ready by September 2022.
As demonstrated by DJI in the new firmware update, it is entirely possible to set DJI drones to transmit Remote ID using the same hardware. This may not apply to all DJI drones, but any drone more recent than the Air 2S and Mini 2 should work just fine. In any case, there are sure to be lots of third-party devices out there that can make any drone compliant with Remote ID standards.