From televisions to cameras, Sony has a solid reputation for producing top-notch electronics. When the Japanese company announced a foray into the drone industry at the annual Consumer Electronics Show, in early 2021, anticipation naturally ensued. Later that year, the Airpeak S1 was officially released.
The Airpeak S1 is the world's smallest drone capable of carrying Sony's line of full-frame Alpha mirrorless cameras. Initially, it had some significant limitations including a short 10 to 12-minute maximum battery life and the inability to control some of the camera's settings from the remote. These shortcomings have since been rectified with firmware updates and recent product announcements.
Flying the Airpeak provides a significant benefit to creators as the FX3, found on professional film sets, is capable of up to 409,600 ISO and 15+ stops of dynamic range in SLog-3. The a1 can capture 50MP stills and 8K video while the a7R IV takes 61MP stills, making it the highest full-frame camera on the market. These are a few of the options that are compatible. Coupled with a range of Sony or Zeiss lenses, the creative or industrial professional has numerous options.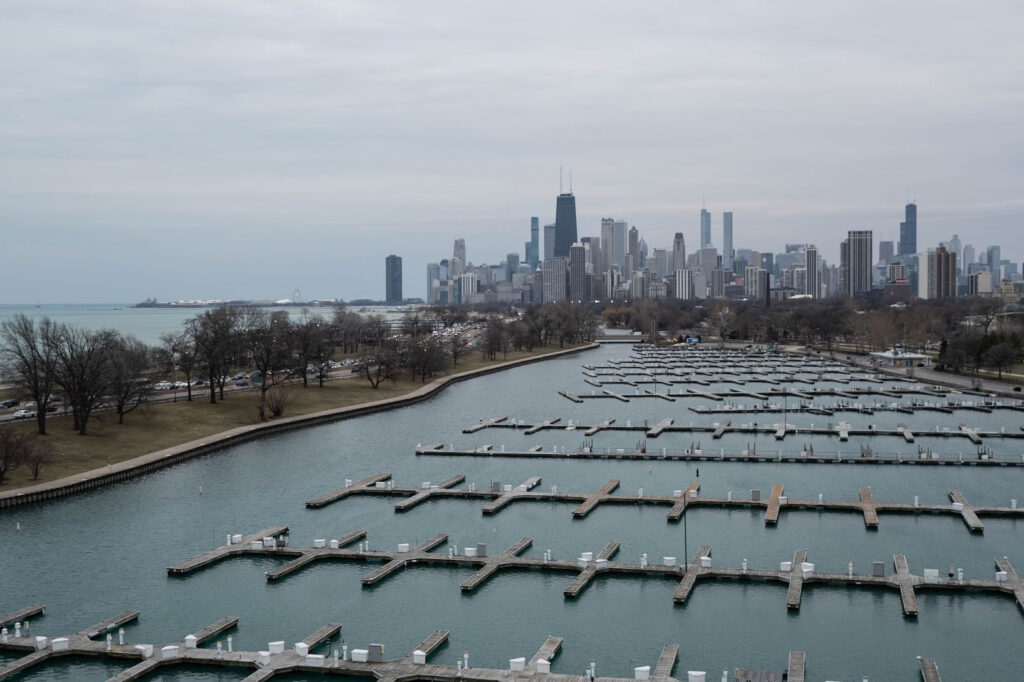 Sony says the Airpeak can house an Alpha camera with lenses as wide as 14mm, extending up to 100mm for a narrower field-of-view (FOV), with apertures as low as F1.8. Comparatively, DJI's recently-announced Inspire 3 drone can capture 8K footage and 45MP stills. It also offers an array of fixed DL-Mount lenses, for its built-in camera, ranging from 18mm, up to 50mm, at an aperture as low as F2.8.
Given these distinct advantages in imaging quality, plus the recent release of a Real-time Kinematic (RTK) kit capable of providing centimer-level accuracy, the question remains: is the Airpeak a worthy alternative to other professional-grade drones? Let's find out.
| | |
| --- | --- |
| What We Like | What We Don't |
| Smooth, agile flight | Limited distance and unreliable transmission |
| Holds up extremely well in high winds | Short battery life that is improved with a new model |
| Obstacle avoidance works on all sides | Third-party gimbal needs a bit of tinkering to balance the camera properly |
| Can customize Sony Alpha camera features in the Airpeak Flight app | The drone and its required and optional accessories are expensive |
The Airpeak S1 Drone
The Airpeak is equipped with an additional FPV camera. It has a 1/4 inch 8.17MP CMOS sensor, 120º FOV, and can tilt and roll on its 2-axis gimbal. When the landing gear is attached, the main body is 20.75 (H) x 23.38 (W) x 20.25 (D) inches. When it fully extends, the width expands to 39.88 inches. The RTK kit adds almost half an inch to the aircraft's height.
Without batteries, the aircraft's main body weighs close to 7 pounds. This is before you attach the gimbal and add on the camera plus any other accessories. The RTK kit will add over half a pound to the takeoff weight, itself. The maximum payload the drone can handle, including either the Gremby GBL-T3 which weighs 2.65 pounds, or the new 40% lighter GBL-PX1 gimbal, is approximately 5 pounds and 9.4 oz.
Sony says the top speed the drone can travel, with obstacle sensing disabled, is 25 m/s or 55.9 mph without payload. Since it doesn't make sense to fly it without some type of camera, the speed I got with mine attached maxed out at around 35 mph. The maximum wind speed, again without payload, is 20 m/s or 44.7 mph. DJI's Inspire 3 can handle 14 m/s or 31.3 mph with its built-in camera.
Sony also says the drone can travel from 0-50 mph in 3.5 seconds, almost twice as fast as its closest competitors. The drone is equipped with stereo cameras on all sides and the bottom, for obstacle avoidance in every direction except upward. While it's limited to a maximum range of 1.2 miles, it has an altitude limit of 8,202 feet Above Sea Level.
The Remote and Airpeak Flight app
The Sony RCR-VH1 remote can mount smartphones and tablets with up to 7-inch screens. While it seems bulky at 8 ½" x 6 5/16" x 2 ½", the remote is a light 2.36 pounds and ergonomically friendly. I have average-sized hands and didn't feel any strain at all. The control sticks are easy to maneuver and four customizable buttons on the back can be accessed without needing to readjust your grip.
The Airpeak Flight mobile app, available in the iOS marketplace only, allows you to control the drone along with the connected gimbal and camera. With a simple touch, you can alternate between photo and video modes while the drone is in the air and adjust the camera's shoot mode, focus area, focus mode, shutter speed, ISO, and aperture. You can also display the first-person view in a small sub-screen.
What is it like to fly?
Sony sent me a partial dual-operator kit, minus one remote, initially intended for a DPReview write-up. I also received four batteries and one charger. I did not receive the PX1 gimbal, higher capacity batteries, or RTK kit to try out. I used my own a7 III camera, which captures 24MP stills, a Sony FE 85mm F1.8 G-Master (GM) lens, Sony FE 14mm F1.8 GM lens, and borrowed a friend's FE 24-70mm F2.8 GM lens for testing purposes.
Before I get into what this drone is like to fly, it's worth mentioning the complexities of the setup process. The 17-inch blades are not foldable, but they are easy enough to snap onto the drone's rotors. The two legs that make up the retractable landing gear snap on, off, and click into place with ease. You don't need any screws or external tools to secure any components. This is where the ease of setup ends, however.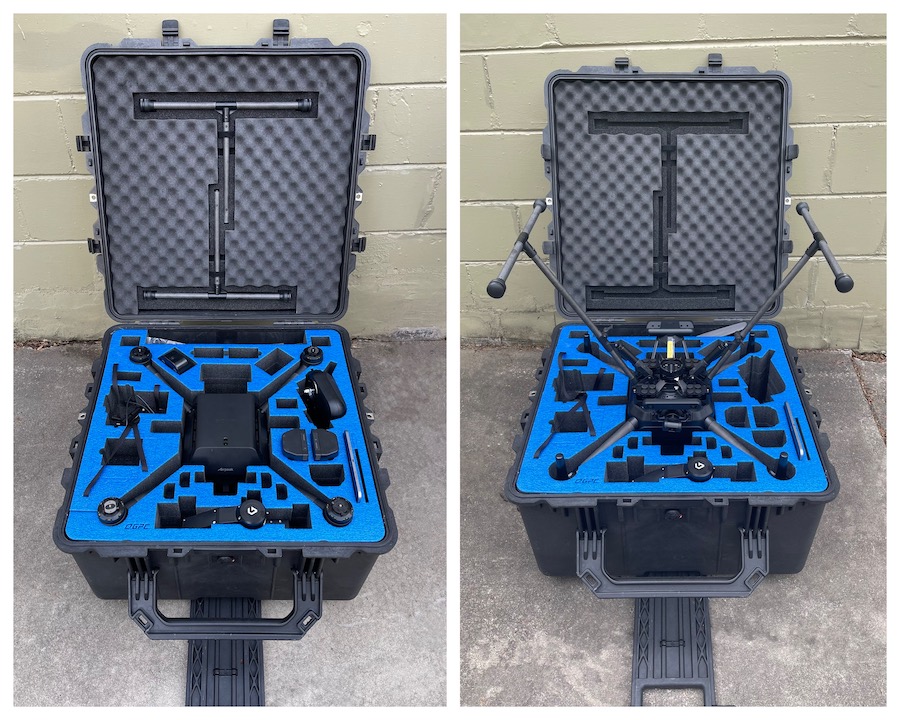 Caption: A Go Professional Case, designed specifically for the Airpeak, holds everything needed for a basic dual-operator setup and makes it easy to attach the landing gear and gimbal.
Sony gives you a variety of compatible Alpha camera and lens combinations to choose from for capturing imagery with the Airpeak. Making sure everything is properly balanced on the 3-axis Gremsy T3 gimbal is a slightly time-consuming process that requires some practice, not to mention trial and error.
First, you'll need to attach a camera plate to the tripod socket found on the bottom of your camera. This will connect it to the bottom part of the gimbal and allow it to slide back and forth for balance. When everything is set and the camera is plugged into the gimbal, you'll need to start the process of adjusting the horizontal and vertical balances on the tilt, roll, and pan axes respectively. It will require rotating the camera at certain and precise angles, all while tightening levers on all sides to secure the camera in place. While Sony provides instructions in their online and physical manuals, this step-by-step guide is easier to follow.
[Embed this YouTube Clip: https://www.youtube.com/watch?v=5UknWOEj-Jg]
You'll know you have achieved equilibrium if the pan frame stays completely still while you physically tilt the entire aircraft forward, backward, left, and right. I accidentally left my lens cap on, and had to go back and make a few readjustments. So make sure you have everything on, or off, including filters and lens hoods before starting this process.
Once the aircraft is ready to launch, it is quite a breeze to fly when it stays connected. In flight, the Airpeak is steady, sturdy, and agile. I felt as though I was flying a smaller, more compact drone instead of a mid-sized rig. When I purposely aimed it at a tree, it identified the obstacle and the drone braked immediately. For the 10 minutes it remained in the air, it was fun to fly. This was in San Diego, at a wide-open park.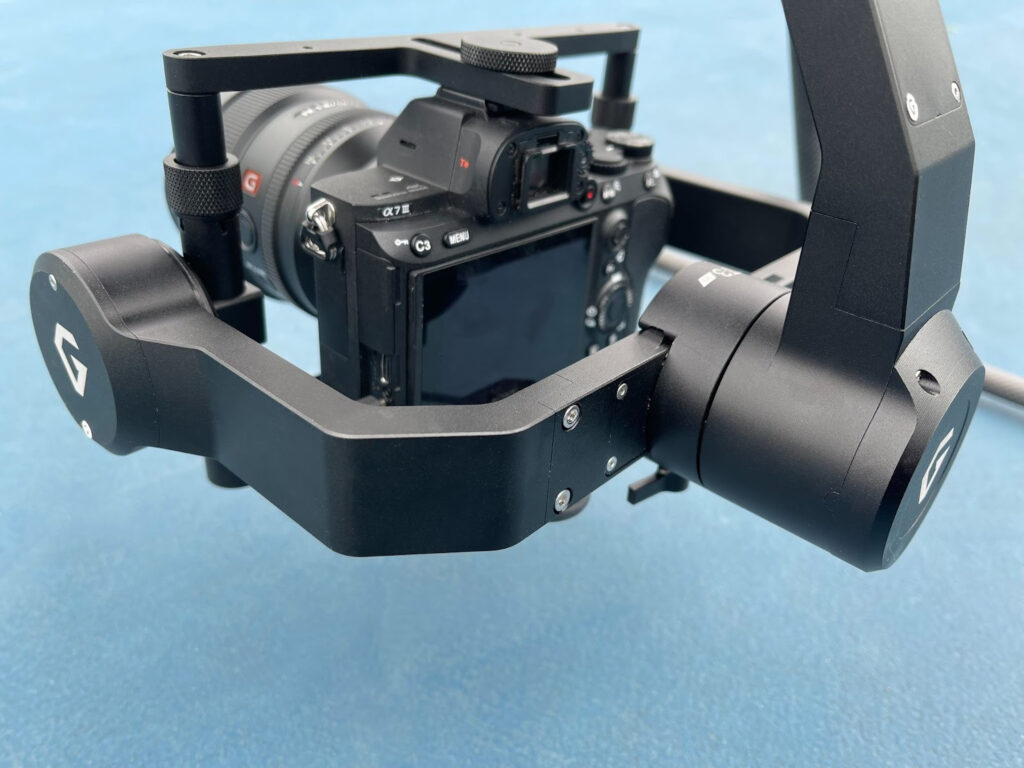 The trouble began in the more congested environment of downtown Chicago. The Airpeak lost its connection, on two separate flights, while it was close to the remote. The drone remained airborne but the screen went completely black. The connection automatically restored both times, but it was nerve-racking.
To make sure this wasn't an issue with my specific review unit, I reached out to a professional photographer, and longtime Airpeak owner, Drew Armstrong. While he loves his drone and can't think of anything better on the market for still photography, he mentioned issues with connectivity as well but found a workaround. "I put an Alientech Duo II on the remote and now I can easily fly 1 mile out in a congested Wi-Fi environment at 200 feet AGL."
"The images I can get blow ANY OTHER camera system that you can fly out of the water. But to really compete they need to fix the transmission distance. It is an overcomeable issue but with the competition in the market, that MUST change. Still, for low light high res photography and frankly, videography, there is not another package out there that compares," Armstrong adds. He also confirmed that his F4 16-35mm GM lens can zoom in flight.
While Sony says the FE 85mm F1.8 G-Master (GM) lens is compatible, I didn't have as much luck getting it to capture stable footage. Even when setting this particular lens with my a7 III up alongside professional drone engineer Antoine Tissier in Chicago, there was still a struggle to get it to fully balance.
Final thoughts
Sony inarguably makes some of the best imaging sensors in the world. I switched from Nikon years ago and couldn't be happier with my decision. The color accuracy is unparalleled and I never find myself color correcting in post-production. Some of the cameras found on consumer drones produced by competitors, including Autel Robotics, use Sony's technology for enhanced quality.
With this in mind, I have to wonder why the company chose to retrofit the Airpeak with a third-party gimbal. It should have developed an integrated sensor where you can simply switch out lenses. This would give any future Sony drone an edge, especially since the Inspire series still only supports a focal length of up to 50mm lenses and is limited to a Zenmuse camera.
Sony says installing two batteries into the aircraft will give it up to 22 minutes of flight time. This is a misrepresentation the figure represents flight time without any payload attached. On average, I got about 10 minutes in the air. The batteries are hot-swappble, which means you don't need to power down the drone when switching them out.
Each battery charges separately and it takes about an hour to power up each one completely. So, once I used up all 4 batteries, I could expect to wait around 4 hours to fully recharge.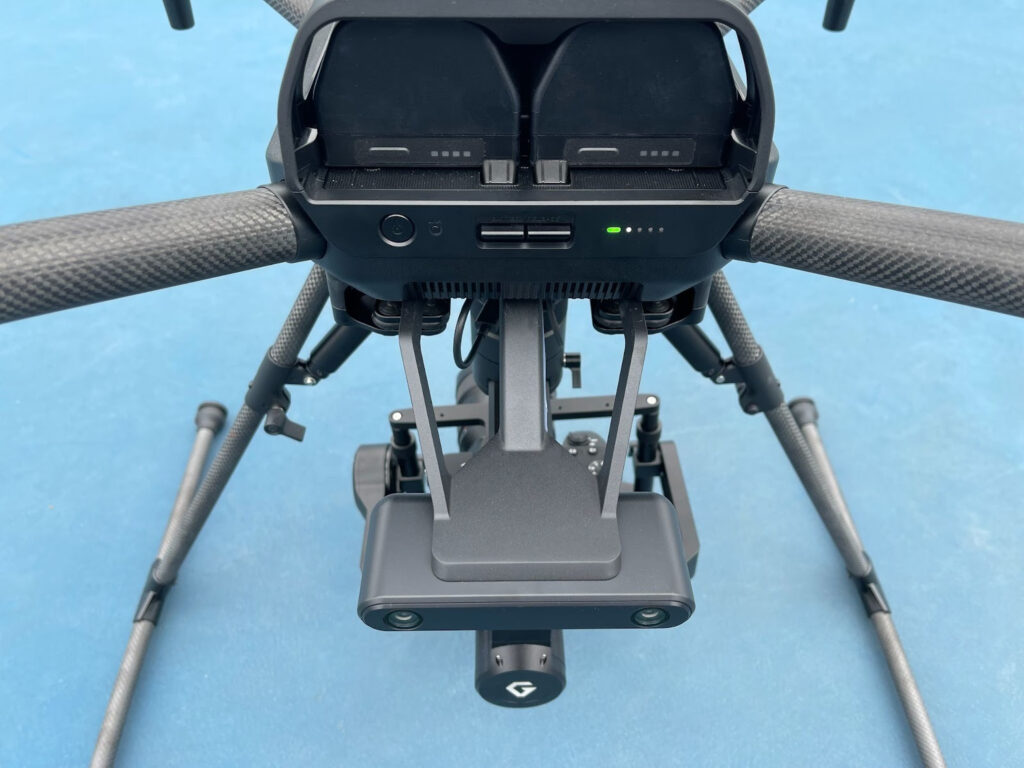 This is where the Airpeak Battery Station, a suitcase with rolling wheels that can hold 10 batteries, and charge up to 8 simultaneously, comes in handy. Even with the higher-capacity batteries, it'll be more convenient to have something that can charge everything, including the remote, on site. At $2,899 for the case, alone, it is pricey.
The Sony Airpeak S1 body, alone, which includes the remote, starts at $8,999. Gremsy now has two compatible gimbals, sold separately. The traditional T3 will set you back $2,200 while the newly-announced lighter PX1 offering is almost twice as much, at $4,000. If you want a longer battery life, the new model will cost $400 vs. the $229 of the original battery.
Let's not forget, if you're an Android user, you'll need to invest in an iPhone or iPad to operate the Airpeak. And then, of course, there is the Sony Alpha camera body of your choice. A compatible model ranges anywhere from $2,000 up to $7,000 while a lens starts at $500 and can go as high as $2,200.
| | | |
| --- | --- | --- |
| Item | Price | Notes |
| Airpeak Drone | $8,999 | Includes remote and two batteries |
| Gremsy T3 gimbal | $2,200 | Can carry all compatible Sony Alpha models |
| Gremsy PX1 gimbal | $4,000 | 40% lighter, can carry Sony a7R IV, a7R IVA and a7R V cameras |
| LBP-HS1 battery | $230 | Maximum 22 minutes flight time (without payload) |
| LBP-HM1 battery | $400 | Maximum 30 minutes flight time (without payload) |
| RTK Kit | $3,999 | Provides centimeter-level accuracy |
| Airpeak Battery Station | $2,899 | Holds up to 10 batteries and can charge 8 simultaneously |
| Sony Airpeak S1 Case | $975 | Includes storage for everything a dual-operator team needs including an extra remote |
You can only use Sony or Zeiss E-mount lenses as each item's identifier also needs to be selected in the Airpeak app pre-flight. For example, my A7 III camera, with an FE 85mm F1.8 lens, would pair up as ILCE-7M3 – SEL85F18.
Ever since Airpeak was released, Sony has consistently come out with updates and improvements. With the addition of the new RTK system, starting at $3,999, the company is entering the industrial sector. In a recent press release, the company claims that a combination of its new gimbal, batteries, and Zeiss E-mount lens can yield a maximum 20-minute battery life.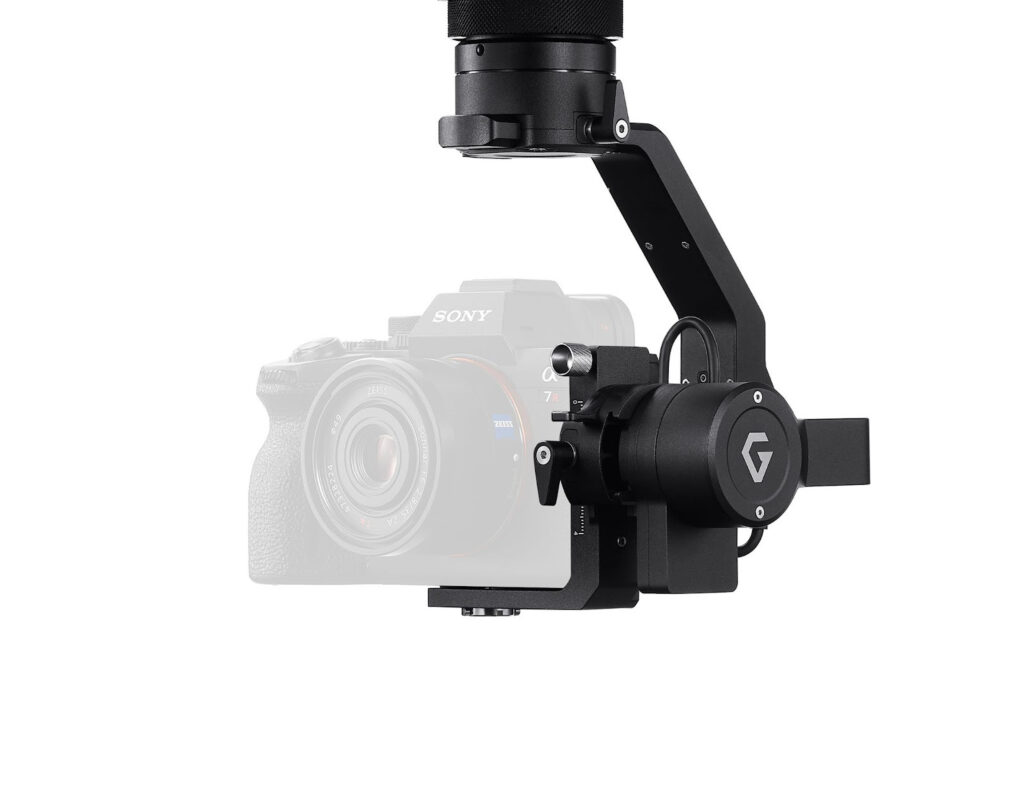 Given the existing NDAA compliance guidelines, which don't encourage the use of DJI drones, or others primarily manufactured in China, a Japanese product may especially appeal to government agencies and enterprises.
If Sony improves the drone's transmission range, considers a built-in sensor instead of a third-party gimbal, and continues to work on increasing the drone's battery life so it can get closer to the 28-minute range of the Inspire 3, it will have a true contender in the professional drone category for creatives and industrial workers alike.
3.5 stars out of 5