You might wonder why a pilot needs a smartwatch when flying an airplane loaded with state-of-the-art instrumentation. While by no means necessary, smartwatches are becoming increasingly popular, and you won't have to look far to find a pilot sporting one.
As a pilot, a quality watch with the right features can be a vital tool inside and outside of the cockpit. Pilots can use smartwatches to verify routes, monitor aviation weather, and set alerts for altitude, among other things.
Furthermore, donning your smartwatch can be a fashion statement. There are numerous styles to pick from, including practical, traditional, contemporary, and vintage-inspired.
This article will discuss the best smartwatches for pilots at various budgets. Here is a quick summary:
Best overall pilot smartwatch: Garmin D2 Delta PX
Best value pilot smartwatch: Garmin D2 Air X10
Most versatile pilot smartwatch: Apple Watch Series 8
Most rugged pilot smartwatch: Suunto Core
First, let's discuss some things you should consider before purchasing your pilot smartwatch.
Best Smartwatches for Pilots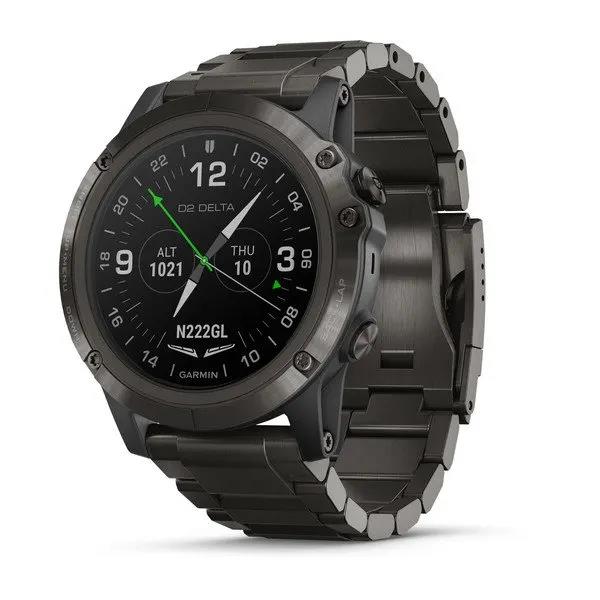 PROS
Garmin pay
Various health and fitness features
Long battery life
Can sync flight plans to watch
Durable
Aviation weather updates
Automatically detect flying
CONS
Garmin smartwatches have advanced significantly and now include several capabilities that provide pilots with a second pair of eyes in the sky.
The Garmin D2 Delta is the company's top smartwatch for pilots. The Garmin D2 Air Aviator is a smartwatch designed specifically for pilots and offers practically everything a pilot might desire.
The smartwatch has dynamic color mapping, which increases the interaction and readability of navigation. The D2 Delta's smartwatch isn't touchscreen and instead has five operation buttons along the side of the case. A sapphire crystal covers the large 30.4mm-wide trans-reflective full-color screen on this more expensive smartwatch (which also has a backlight).
Garmin only produces the D2 Delta in titanium. A dark carbon-colored DLC coating is applied to the titanium. The coating gives a significant layer of surface scratch resistance. The D2 Delta PX can be worn with a silicone strap, but Garmin's big, lightweight titanium bracelet arguably looks better. This smartwatch is relatively light and pleasant to wear despite its large size. The 51MM-sized D2 Delta PX is the only full-featured version with a titanium bracelet. Unlike the 47mm or the 42mm sizes, which can be a deal breaker with the smaller wrist crowd.
Additionally, the smartwatch provides weather updates from NEXRAD, ensuring you are always aware of the most recent weather data. The smartwatch offers important aviation weather updates, such as METARs and TAFs reports. If the weather looks unfavorable for the flight, you can adjust your itinerary accordingly.
The Direct-to and Nearest buttons on the watch make it simple to use the built-in global airport database. You can also follow the HSI course needle or monitor your journey on a moving map display. Even better, you can create waypoints and save them for easy access if your location isn't listed in the database.
Pilots' Garmin D2 Delta smartwatches can alert you if you veer off course. You can even connect the watch to the aircraft's avionics. However, you must purchase Flight Stream 510 from Garmin for cockpit connectivity to connect the smartwatch with the avionics. The flight plan and any modifications made to the existing plan will instantly sync once the watch is linked to the cockpit. Alternatively, install the Garmin Pilot app on your iOS or Android phones and tablets if you don't want to purchase any additional hardware. After that, configure your flight path on the app so that it syncs with your smartwatch automatically.
Most modern smartwatches can automatically recognize when you are exercising, and the Garmin D2 Delta is no exception. However, it can also automatically detect when you are flying. The watch will begin recording your flight as soon as it notices that you are moving at a speed of 30 knots or more and climbing 200 feet per minute.
The smartwatch has a battery life of roughly 18 hours while using GPS mode. On most days, your battery life will be much greater. If the connectivity features are disabled, Garmin claims that the battery life can last up to 20 days.
This smartwatch can be used for any sport or fitness activity outside the cockpit. The titanium body of this Garmin pilot smartwatch ensures that the watch is durable in all environments.
Additionally, the smartwatch has Garmin Pay, so you won't need to carry a phone or credit card around to make wireless payments.
The smartwatch's health-tracking functions provide in-depth analyses of numerous critical vitals. You can check your heart rate and blood saturation level using the watch. You also receive a thorough study of your sleep, including essential details like how much REM, deep, and light sleep you have.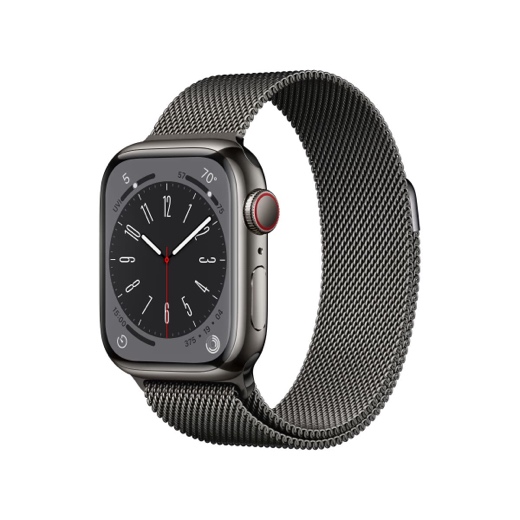 PROS
Compatible with multiple apps
Various health and fitness features
Apple Pay
Offline music from Apple Music and Spotify
CONS
Only compatible with iOS devices
You must buy some apps
Not designed for pilots
Short battery life
Apple has completely changed the smartwatch market with its much-praised Apple Watch Series. Even though the Apple Watch Series 8 was not expressly created for pilots, it has several built-in capabilities that are helpful to pilots. The fact that it supports so many practical aviation-related apps is the best part. The smartwatch is also very user-friendly, as we have come to expect from Apple. The Apple Watch Series 8 can streamline your life in the air and on the ground.
The features include the built-in Global Navigation Satellite System, GPS, blood oxygen sensor, optical heart sensor, electrical heart sensor, and compass. These features will help you track your health to ensure you perform your best as a pilot.
To convert this smartwatch into a pilot watch, you must install third-party apps through the App Store. Keep in mind that you need to buy several of these apps. With the Apple Watch Series 8, you can download apps like AltitudeAlert, which alerts you when deviating from pre-selected altitudes. The smartwatch is also compatible with Aerovie, an electronic flight bag package with enhanced situational awareness technology. Pilots can stay updated about weather hazards and radar predictions thanks to the app's software, which offers a vertical weather profile from departure to destination and geo-referenced approach charts for days ahead. NRST is another essential app; it provides directions and a specific navigation tool to help you find the closest airport. You can also download Zulu Time (to view Local and Zulu time), just to name just a few apps at your disposal.
A downside to the Apple Watch Series 8 is that the battery life only lasts 18 hours whilst in general use. Despite this, unlike previous apple watches, it only takes an hour and a half to fully recharge.
If you enjoy listening to music, you may download and play music offline on the watch by utilizing Apple Music or Spotify. You can connect other Bluetooth-enabled earphones and headphones to the smartwatch because it also has Bluetooth connectivity. Additionally, Apple Pay is included, allowing you to make contactless payments even if you leave your wallet at home. Unfortunately for Android users, Apple smartwatches can only connect with iOS devices.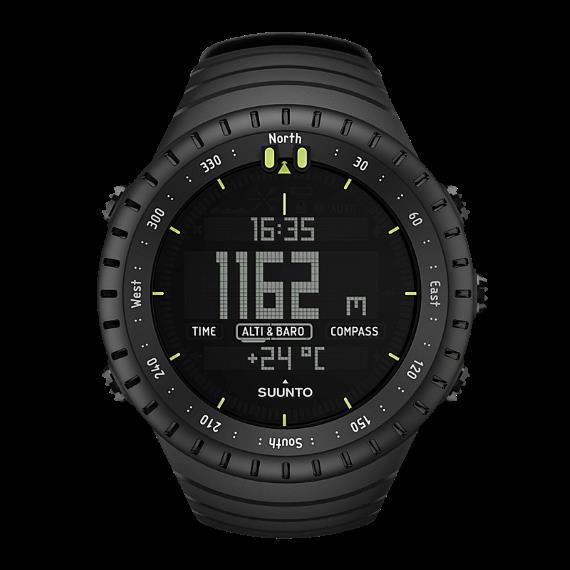 PROS
Doesn't require charging
Inexpensive
Durable
Some aviation features
CONS
Less technological features
Enter barometric pressure to measure altitude
Some pilots prefer a straightforward watch that doesn't require constant charging but don't want an analog wristwatch. Hence, Suunto Core is the best option if you're seeking a trustworthy and reasonably priced smartwatch for pilots.
The mineral crystal and aluminum bezels guard the dial of this tactical watch, which is composed of solid composite construction. The smartwatch is also water-resistant up to 30 meters and can withstand 10 meters of underwater snorkeling.
The watch has an integrated barometer and altimeter sensor; to measure your altitude accurately you must enter the proper barometric pressure on the watch. Furthermore, the watch's storm warning feature can warn you of a potential storm by detecting abrupt changes in atmospheric pressure. The Suunto Core also features a compass sensor. In addition, it has a dual time zone feature so you can monitor multiple time zones (e.g., local and UTC) simultaneously.
The best thing about this watch is that none of these capabilities require your phone or an app to utilize; all you need to do is wear the watch. The watch employs a replaceable coin cell lithium-ion battery, which, depending on usage, can last anywhere from a month to a year. Although this watch doesn't boast as many features as other smartwatches, it is a trustworthy and classic option.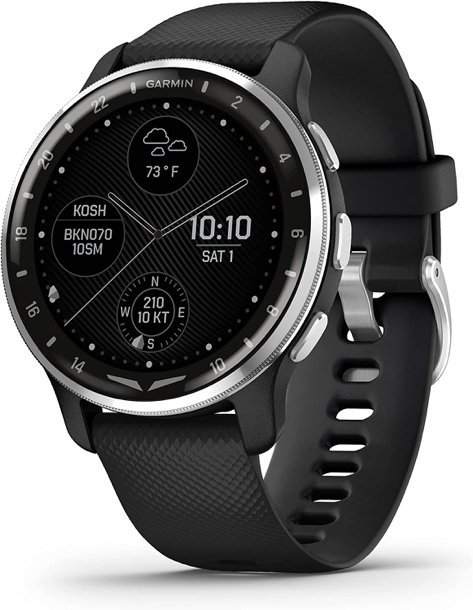 PROS
Long battery life and quick charge
Touchscreen
Several built-in aviation features
Several health and fitness features
CONS
Pricey
GPS significantly affects battery life
The Garmin D2 Air Aviator, a smartwatch designed specifically for pilots, offers practically everything a pilot might desire, all in a user-friendly touchscreen layout.
Thanks to METAR and TAF panels, you can keep track of all the latest aviation weather information with ease. You can also view the current wind, ceiling, and visibility on the main face of the watch.
The Direct-to and Nearest buttons on the watch make it simple to use the built-in global airport database. You can also follow the HSI course needle or monitor your journey on a moving map display. You also have the ability to create your own waypoints and save them for easy access if your location isn't listed in the database.
The D2 Air also has automatic flight logging to avoid the tedious task of recording the date, duration, total flight time, and route each time you fly. It also has customizable alerts so that you can be reminded when you reach a certain altitude, when to switch fuel tanks, or when you deviate from your path.
The animated on-screen exercises and activity-tracking features will undoubtedly be helpful outside of the cockpit as well.
The battery life on this smartwatch is ground-breaking. Whilst in smartwatch mode, the battery life can last up to 7 days. If you are using GPS mode with Pulse OX then it can last up to 20 hours. Ten minutes of charging adds up to about 1 day of battery life in smartwatch mode.
What Should You Look for in a Smartwatch?
You're prepared to buy a smartwatch, then?
Wait a minute.
It's important to consider your needs thoroughly before making a purchase to ensure that you're getting the ideal timepiece.
Aviation and smartwatches have co-evolved. A broad variety of pilot smartwatches have arisen because of watchmakers' adaptation to the needs of pilots. Ponder the points below before making your decision.
Touch Screen Capability
A touchscreen-capable smartwatch is frequently preferred but challenging to perfect. Some smartwatches with touchscreen capabilities no longer have "force touch", which allows users to press more firmly to activate various options. A smartwatch that relies solely on specialized buttons can be more user-friendly for some.
Battery Life
A pilot's lifestyle can be demanding, and their smartwatch must keep up. A good pilot smartwatch should have a minimum battery life of 10 hours with constant GPS functionality to record flight activity without stopping and recharging.
Regarding daily usage, you should expect your watch to operate normally for 5-6 days on a single charge.
Durability and Quality
You want to ensure you get your money's worth out of the smartwatch you purchase.
Your smartwatch must be durable in various environments. Moreover, the watch must remain intact to reduce the possibility of FOD (Foreign Object Debris) damage. Small fragments may become trapped in the flight controls and other aircraft systems if they break apart from your watch while in use, which might have a disastrous result.
It is also essential for the smartwatch to be of such quality that it can give you accurate readings. Receiving an incorrect reading from a subpar smartwatch will be frustrating or potentially dangerous.
Features
Obviously, you do not need a smartwatch to fly an airplane; thus, the purchasing decision is based on your personal and daily needs. However, several of the characteristics of pilot smartwatches might be advantageous and appealing to you.
If you are spending a pretty penny on your smartwatch, ensure it has aviation-related functions like automatic flight logging, weather updates, UTC time keeping, and more. While I cannot imply that your smartwatch is more precise than the cutting-edge technology on your airplane, it can undoubtedly make flying more convenient.
Getting a smartwatch can also make you a better pilot outside of the cockpit. Today's smartwatches can monitor your sleep and let you know if you're well-rested enough to fly the following day. Some watches even offer advice on improving your lifestyle, like exercising or preventing phone usage just before bed so that you can sleep better.
Additionally, you can monitor your blood oxygen level and heart rate anywhere, anytime, by using the smartwatch. Today's watches may also track your athletic endeavors, including running, cycling, swimming, and virtually all other sports. It might inspire you to exercise again and lead a more active lifestyle. Therefore, check that a smartwatch has all the required characteristics before making your choice.
Style
Don't be shy, it's okay to want to look good.
Wristwear is a staple accessory in anyone's wardrobe. If you have a specific idea of what your smartwatch should look like in your head, that's an excellent place to start. Knowing the available styles of smartwatches can help you make your selection. Keep in mind that it will be advantageous to have a versatile watch that fits in at the gym, boardroom, and cockpit.
Legibility
A good pilot smartwatch should allow the wearer to determine quickly and easily what is on the watch's face.
An anti-reflective coating enhances legibility as well. This not only lessens the glare from the sun when trying to read the dial but also stops the unintentional shining of reflections into your co-pilot's eyes.
Finally, let's start unpacking the best smartwatches for pilots in various prices, capabilities, and styles.
Conclusion
Your smartwatch shouldn't only be stylish but also functional, accurate and durable.
Whether you're looking for a basic, durable smartwatch or a multifunctional smartwatch with lots of features, there is something for everyone.
I hope this article has helped you narrow down the perfect pilot smartwatch for you – in the sky and on the ground.
Happy flying!