Although the brand is not discussed in the same air as DJI and Yuneec, Holy Stone has managed to gain a solid following in the drone community. This can be ascribed mainly to their low prices, making Holy Stone drones excellent options for beginners.
This does not mean that Holy Stone drones only have basic features tailored for beginners – they actually have a wide range of camera drones and ultra-portable drones. Holy Stone drones are a great way to get into the hobby of drone flight without having to spend too much. Check out this list of the best Holy Stone drones available in 2022.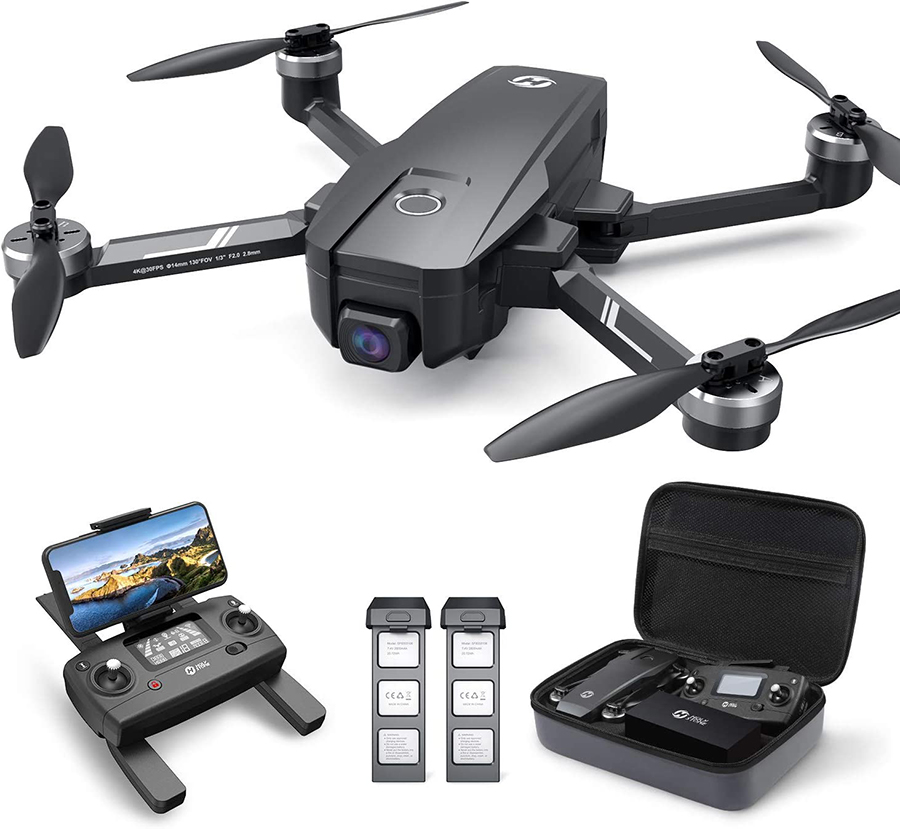 We're kicking off this list with the HS720E, often considered the flagship Holy Stone drone. The drone comes with an ultra-portable—style design with a narrow body and foldable propeller arms. This drone can be considered a "Mavic clone" that costs less than $300.
The HS720E has a camera that can record videos at 4K resolution at 30 fps and 1080p resolution at 60 fps. It does not have a mechanical gimbal but has an Electronic Image Stabilization (EIS) feature. With a selection of intelligent flight modes, you can capture some impressive shots with minimal effort. Flight modes are powered by the drone's onboard GPS, which also provides image stabilization and a Return-to-Home feature.
The HS720E can fly for up to 23 minutes on a single battery cycle. Holy Stone is offering a Fly More Kit which includes an extra flight battery and a carrying bag for the drones and accessories.
The HS720E is accessible enough for beginners but also has enough camera features to satisfy a more experienced user. For less than $300, this is definitely a drone that is worth its price tag.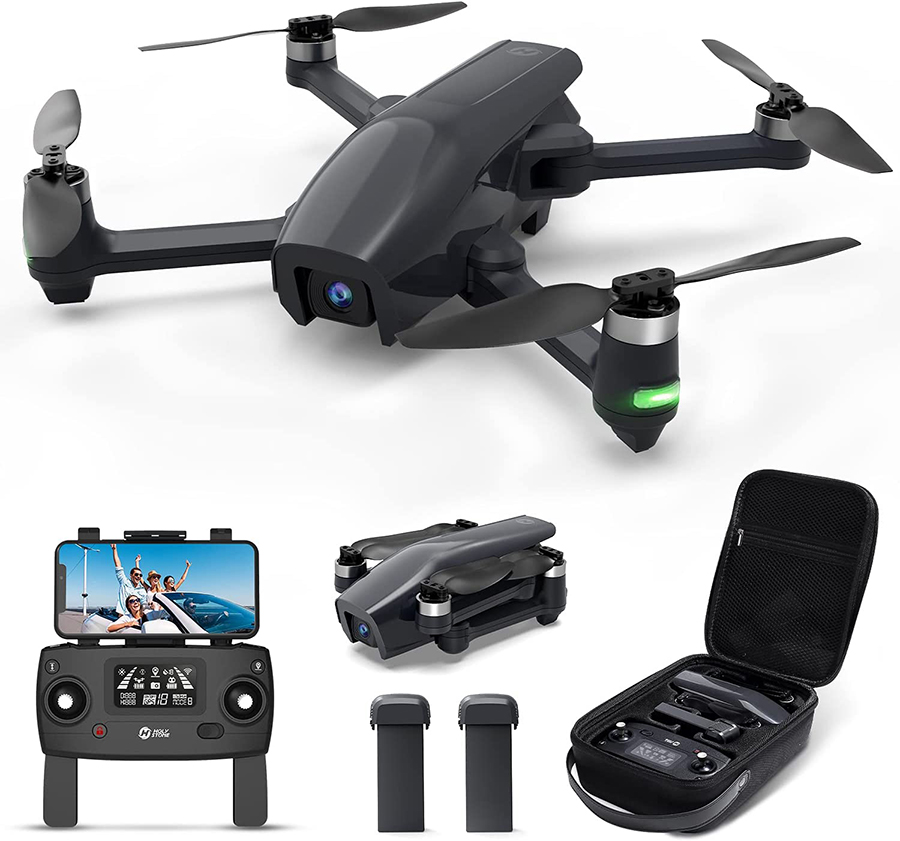 The HS710 is another ultra-portable drone that is a little cheaper than the HS720E. One of its distinguishing characteristics is that it weighs less than 250 grams. This means that you can fly the HS710 for fun without having to go through FAA registration if you are flying for recreational reasons.
Despite the small and lightweight build, the HS710 comes with a camera capable of recording videos at 4K resolution. The camera does not have image stabilization, but the drone itself can be stabilized via GPS. The GPS feature also gives the drone a few nice flight and camera modes, such as Follow Me and Tap to Fly.
A single battery can keep the HS710 flying for up to 25 minutes. The FPV transmission of the camera uses the 5G network, keeping the live footage stable even across long distances.
The HS710 is an excellent option for those who want a good camera drone but do not want to be bothered by the FAA registration. It's also a very inexpensive drone, which is another plus point.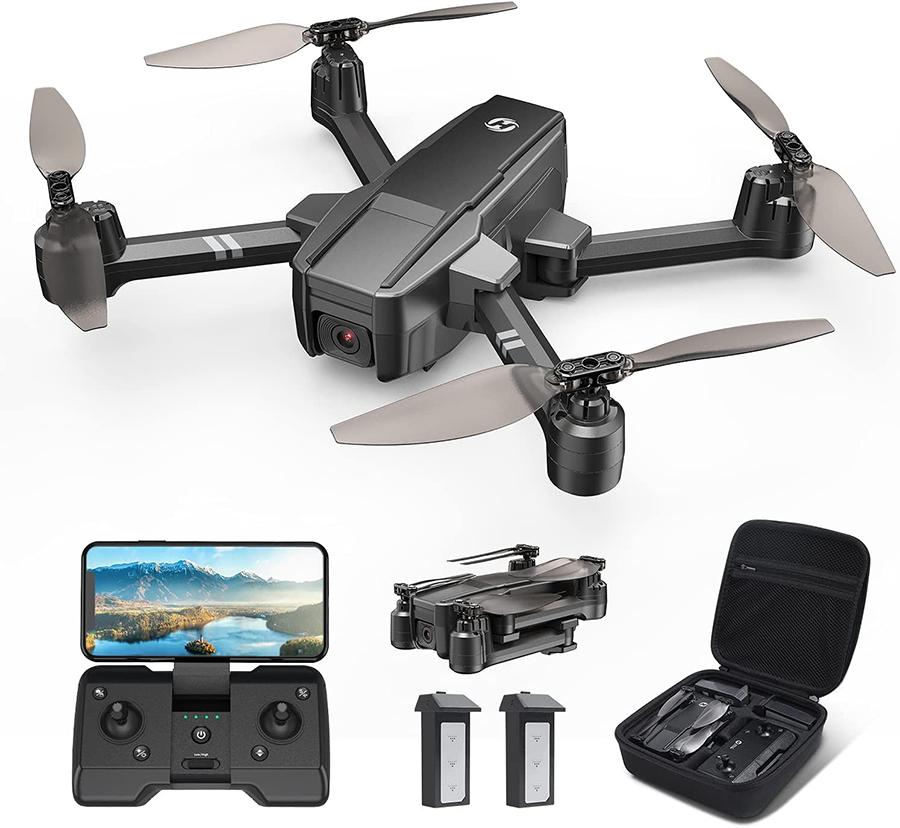 If you want a beginner drone that costs less than $100, then look no further than the HS440. This remarkably cheap drone comes with a camera that can record at 1080p resolution, a 140-degree wide-angle lens, and a host of an automatic camera and flight modes.
The compact frame of the HS440 houses a handful of beginner-friendly features – GPS stabilization, intelligent flight modes, automatic takeoff, gesture controls, and a one-key high-speed rotation maneuver. It might not be the kind of drone you would use for a professional gig, but it sure is fun.
The HS440 can maintain flight for up to 20 minutes on a single battery cycle. The drone comes with two batteries and a carrying case. It is a fuss-free and inexpensive drone that is perfect for when you just want to dip your toes into the hobby.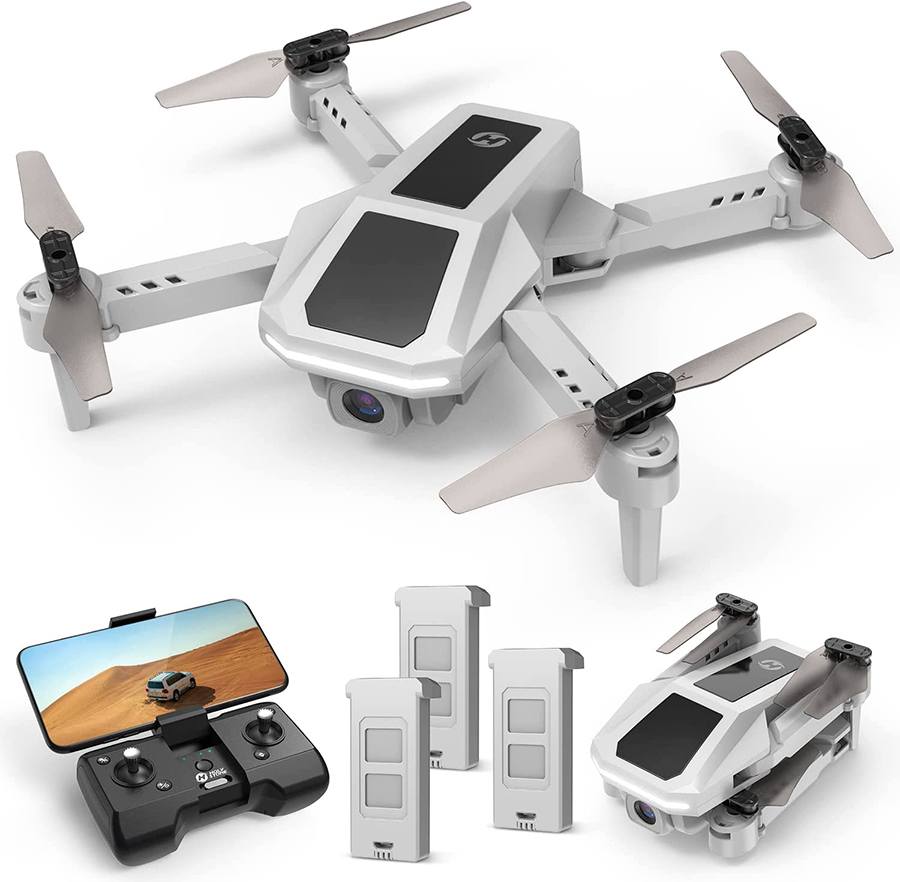 The HS420 is a foldable drone that is geared toward kids. It is a compact drone that comes with rudimentary propeller guards and costs less than $50.
The HS420 comes with a camera that can record videos at 1080p resolution. While the image quality is nothing to write home about, capturing shots is made fun with gesture controls and a couple of automatic flight modes including Trajectory Flight and Circle Fly.
As the drone is designed for kids, it comes with nifty little features that should help keep young users entertained. The drone can be controlled via motion gestures on your phone, although the responsiveness might not be the best. It can also do a 3D Flip and has one-key take-off and landing modes.
The HS420 is an impressive pocket-sized drone that is inexpensive enough to put in the hands of a young drone pilot. It's beginner-friendly, cheap, and fun.
Mini drones are great for some fun indoor drone flights. They are fast, easy to fly, and perfectly safe even around kids. The HS420 checks all those marks and then some.
The pocket-sized drone has fully covered propellers, making it safe to fly indoors or even around young kids. It also has an Emergency Stop mode should something untoward still happen.
The HS420 comes with a 720p drone with an adjustable angle. The quality might not be the best, but photography with the drone is very easy. The camera also works well with fun modes including Gesture Control, Circle Fly, and 3D Flip. The drone comes with three batteries, each one good for around 6 minutes of flight time.
The HS420 is basically a toy drone that your kids can fly around the house or at the park. For around $60, the HS420 already beats a lot of high-end toys that you can buy for kids.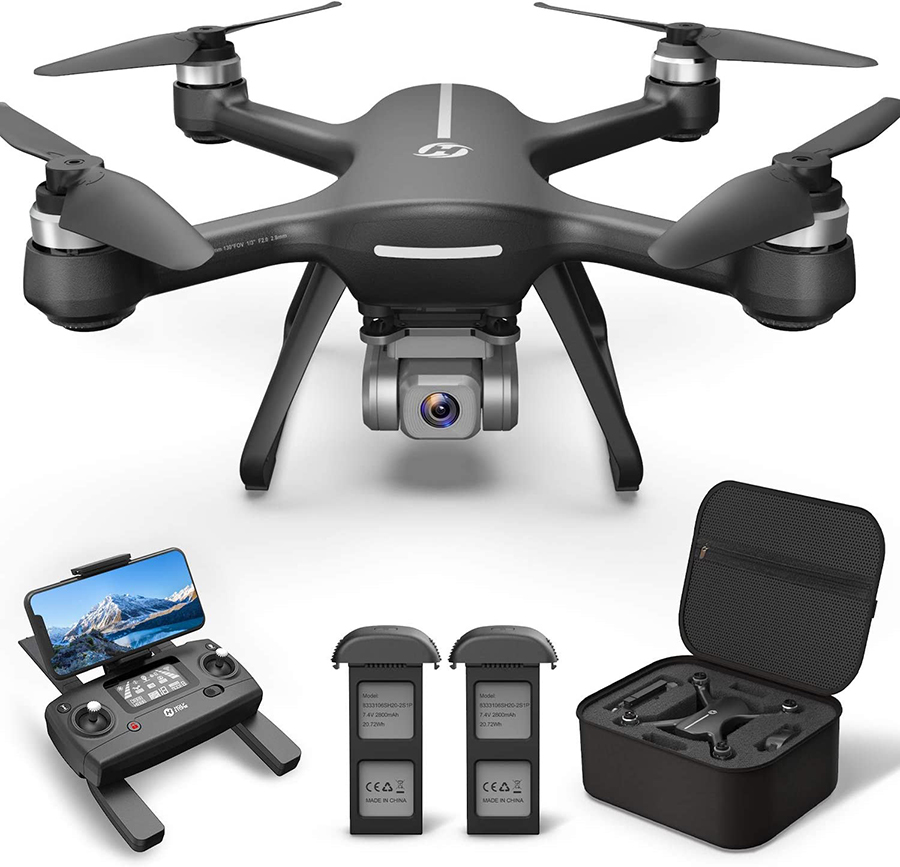 The HS700E is one of the higher-end offerings of Holy Stone. At just below $300, it is also one of the most expensive.
In terms of hardware and capabilities, the HS700E is similar to our top pick, the HS720E. It can record videos in 4K, has Electronic Image Stabilization, has GPS-aided flight, and offers a host of the automatic camera and flight modes. The starkest difference would be the design – the HS700E is not an ultra-portable drone, but has a fixed landing gear similar to the Phantom 4 Pro,
To help justify the somewhat premium price, the HS700E comes with two modular batteries and a carrying case. Each battery allows the drone to fly for up to 23 minutes.
Despite being a premium Holy Stone drone, the HS700E remains very affordable. If you prefer the non-foldable form factor, then this is an excellent drone for both beginners and experienced users.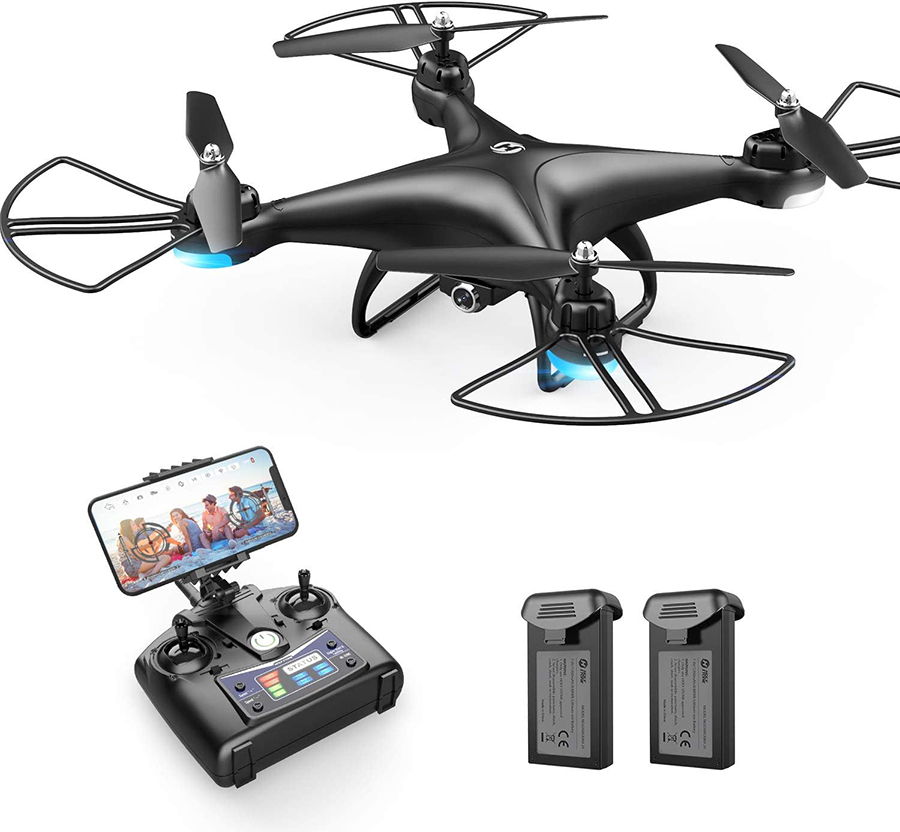 Going back to the sub-$100 range, we have the HS100D – a beginner-friendly drone with removable propeller guards. Like the HS700E, the HS100D has no foldable parts and fixed landing gear.
The drone comes with a 120-degree wide-angle camera that can record and transmit 1080p videos. While it has no image stabilization, GPS stabilization can help you maintain a steady hover while framing your shots. It also has Gesture Control and the Gravity Control feature that lets you move the drone that lets you steer the drone by the motion of your phone.
The form factor of the HS110D makes it look sophisticated drone, but it really is geared towards beginners and even kids. Perhaps the biggest drawback of this drone is that its battery only allows for up to 10 minutes of flight per cycle.
Final thoughts
While Holy Stone has been known as a brand for "cheap" drones, we should not automatically assume that it's a bad thing. Holy Stone drones are much more accessible because of their price range, making them the perfect drones for those who are just starting out.
While the features of Holy Stone drones won't blow anyone away, their range of drones appeals to lots of different types of users. If you're curious about drones but are yet to buy one, we strongly recommend taking a look at the Holy Stone catalog.