The rise in popularity of drones has started a cyclic chain reaction of drones becoming more mainstream, thus enticing more people to try them out. And why not? Drones nowadays have become more accessible than ever with friendly price points and features deliberately designed to be user-friendly.
However, there are still a lot of things about drones that can intimidate potential first-time buyers. A fear of new things is normal, especially if you need to pay a couple of hundred dollars for it. To help who are planning (or need convincing) to buy their first drones, we have compiled a list of the best beginner-friendly models that are in the market today.
Top 5 best beginner drones for hobbyists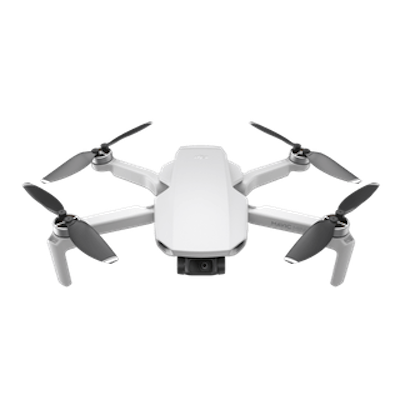 We're hard-pressed to think of any drone that is better for beginners than the Mavic Mini. The lightest and cheapest of DJI's Mavic line of ultra-portable drones, the Mavic Mini stakes its claim as flying just under the FAA's weight limit for registration. The difference is just a few grams, but no one can say that you're not complying with FAA rules when you fly the Mavic Mini without registering it first.
Despite its diminutive size, the Mavic Mini is easily one of the most capable drones in this price range. It comes with a 2.7K camera mounted on a mechanical gimbal, a dedicated remote controller, a 30-minute flight time, and a suite of camera modes and flight modes that have become standard features across DJI drones. This is far from being a toy drone – consider it a scaled-down version of the Mavic Air, one of the most successful drones to even come out of the DJI brand.
Another staple DJI feature found in the Mavic Mini is the Beginner Mode. In this mode, the drone is limited to within 30 meters of the controller. The Mavic Mini is also one of the first DJI drones to come with a flight tutorial video. This is a short 4-minute video that goes through basics of flying the Mavic Mini, some safety tips, and tips on how to make the most out of the drone's camera.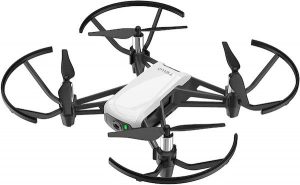 The Tello is technically also a DJI drone, but it was developed in collaboration with startup company Ryze. If you just want your first drone to have a touch of DJI, then this the cheapest way to do it – the Tello costs less than $100.
Considering its price tag, you may want to manage your expectations with the Tello. This is a drone that fits in the palm of your hand. Needless to say, you certainly won't need to register your drone with the FAA. However, it would be an injustice to call the Tello a toy drone because it's far more capable than that.
The Tello comes with a 720p camera aided with an Electronic Image Stabilization feature. While you likely aren't going to be selling videos shot by the Tello, having some of the standard DJI camera modes in this tiny drone certainly makes for fun aerial photography experience. The camera may not seem like much, but you would ha hard-pressed to find anything similar in the sub-$100 price range.
In all other aspects, the Tello more closely resembles a toy drone. It has the usual one-button flips and turns, has a "throw and go" feature, and has no GPS-aided features. The Tello also only has low-power brushed motors on its propellers, severely limiting how well it can fly in windy conditions. You can expect up to 10 minutes of flight time on a single battery cycle of the Tello, which isn't really surprising given its size and weight.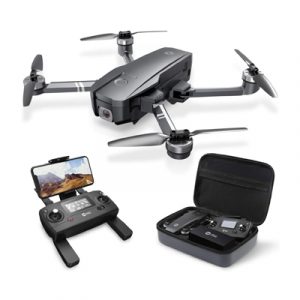 The HS720 is one of the more premium entries from the Holy Stone brand, which makes it perfect for this list. While Holy Stone is mostly known for their line of inexpensive toy drones, the HS720 deserves the spotlight for having some of the features typically reserved for more expensive brands.
The biggest surprise of the HS720 is the fact that it comes with a 4K camera. That alone is incredible value for a drone that costs less than $500. While the camera does not come with a mechanical gimbal, it is mounted on a shock absorption holder which significantly reduces the effects of jitter and vibration.
The onboard GPS module should make the learning process easier for beginner drone pilots as they can enjoy the advantage of GPS-aided stabilization. The HS720 also has Return to Home (RTH) function for when the drone loses the transmission signal from the remote control or if its battery goes below the critical level.
The use of brushless motors helps keep the drone more efficient and lets it fly for up to 26 minutes on a single battery cycle. There are also the various automatic camera modes including a Follow Me feature – a type of feature you would expect from drones in the $700-and-up price range.
All in all, the HS720 is a surprisingly feature-packed drone with a friendly price tag. This is a solid option if you want a drone with a 4K camera but you're also on a tight budget.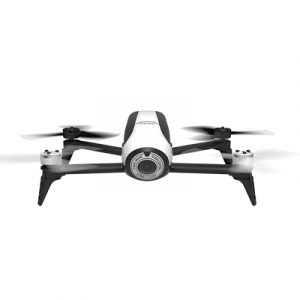 The 2nd generation Bebop drone from Parrot may be just a hair above our self-imposed price limit (although you might be able to find it cheaper elsewhere), but this drone is certainly worth being a little flexible on your budget.
This compact drone has a front-mounted 1080p camera with a 14MP fish-eye lens, giving its photos a unique character. Since the camera is at the front, it can tilt to a full 90 degrees without any loss in quality or obstacles getting in the way of shots. The lens has been specifically designed to perform well even in low-light conditions.
The Bebop 2 has a couple of safety measures that should help give beginner drone pilots some ease of mind. A Return to Home function means that there's little danger of the drone flying away or crashing because of a depleted battery. Should the drone get into a crash, its propellers are programmed to stop rotating immediately to avoid collateral damage. Lastly, the drone has a super-bright rear LED light to help maintain visibility at night.
At the time of its launch, the Bebop 2 made a mark for having 25 minutes of flight time despite its compact and lightweight build. Even now, 25 minutes is plenty of time to get some aerial photography and filmmaking done. If you are inclined to do so, the companion Freeflight app offers a Flight Plan upgrade which allows you to set automated flight paths for the Bebop 2 using simple waypoints.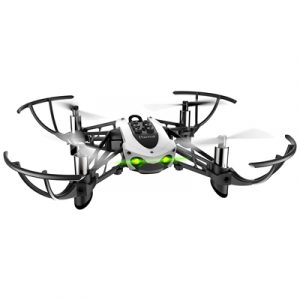 The Mambo Fly from Parrot offers a unique value proposition. First of all, this mini-drone does not have a camera. If you're looking to shoot photos with your drone, then the other four entries in this list will appeal to you better.
What the Mambo Fly offers is pure drone flight bliss. This small drone is surprisingly fast and agile. With three flight modes to choose from, you can transition from Easy to Racing as you develop your drone flight skills. Each step in the progression makes the Mambo Fly more responsive to your commands while gradually removing its built-in speed limits.
While the Mambo Fly does not have GPS stabilization, its combination of a 3-axis accelerometer gyroscope and a bottom-mounted ultrasound sensor helps keep the drone stable.
What makes the Mambo Fly quite unique, especially for this price range, is that it can be used as a tool for coding education. The Mambo Fly can be programmed using block-based coding platforms or standard text-based coding.
For instance, you can program the drone to perform a series of maneuvers as soon as it detects something on its ultrasound sensor. For young students, seeing these self-made programs come to life could open up their curiosity for coding.
What to look for in a beginner drone?
Someone who's looking to buy their first drone might be tempted to go with the ultra-cheap ones. While there are dozens of toy drones out there that cost less than $50, that's not the direction we're going here. What we're looking for here is long-term value – a drone that might be a little more expensive but one you won't outgrow after just a few weeks. That said, here are the qualifications we used to come up with this list:
1. Cheap
While we're not going for the bottom of the discount pile, we also recognize that someone new to drones might not be eager to drop a thousand dollars for a hobby they have never tried before. For the purpose of this list, we're setting a ceiling of $500 with some of the drones in the list selling for a lot cheaper. There will definitely be some concessions – these drones won't have the best cameras or sophisticated sensor systems, but they also aren't the standard toy drones with their fancy flips.
2. Beginner-friendly
For a drone to be considered beginner-friendly, it must come with flight modes and features that can help a complete beginner learn how to fly a drone. Drone manufacturers manage to pull this off in different ways, but the usual beginner mode has a limited flight range, slower flight speeds, and less responsive controls. Features such as GPS stabilization and one-key take-off and landing can also prove to be useful to beginners.
3. Fun
It's not enough for a drone to simply fly – it also has to offer features that can be fun for the drone pilot. This can include any number of automatic flight modes, unique camera modes, and a reasonably high-quality camera. The drone does not need to have top-of-the-line features – it only needs to have enough to not make it boring.
4. Regulations
Those new to drones may be surprised to find out that drone operations are now regulated by the FAA. If you'll be flying just for fun, then you don't need to worry about getting a license to fly a drone. However, you may still need to have your drone registered. While this is a quick process that only costs $5, it's also understandable that some people just want to fly their drones in their backyards without having to deal with the FAA.
The FAA requires the registration of drones that weigh more than 0.55 lbs. The bad news is that there aren't many drones that weigh below this threshold but are not considered toy drones. As we shall see later on, there are a few drones that leverage being just under the weight limit as part of their marketing strategy.
Final thoughts
As we've demonstrated with this list of five drones, buying your first drone as a beginner does not need to be expensive, nor does it mean that you'll have to compromise on quality. While we have tried to come up with a list of high-quality drones that is as diverse as possible, this list barely scratches the surface of inexpensive drones that are highly suitable for beginner drone pilots.
If you're looking for your first drone, then here's our best piece of advice – don't go for the cheapest one you can find. If you can save up a couple of hundred dollars, then it would still be more cost-efficient to go with a more sophisticated model that you won't outgrow once you develop your skills and become a better drone pilot.
Note: Pilot Institute is part of the Amazon Associates program. We may earn a commission on sales, although this does not increase the cost for you.