The DJI FPV Drone – How Good is the First Racing Drone from DJI?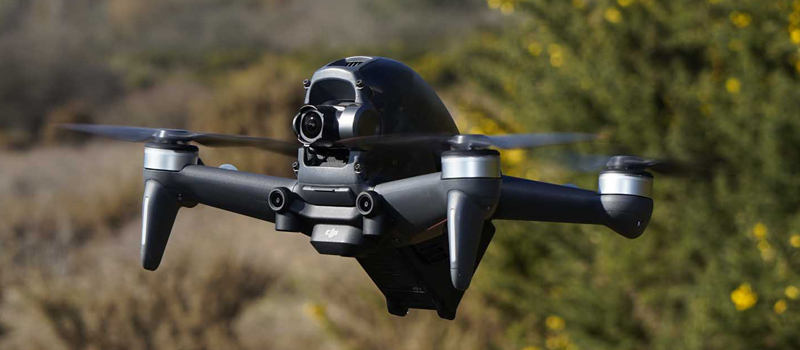 DJI' s first foray into the FPV racing drone market, the DJI FPV drone has finally been released following several months of anticipation. How will DJI fare in this market that has been long dominated by DIY drone racers?
With more responsive controls and a crisp front-facing FPV camera, it's pretty clear that DJI has taken a different approach to designing the DJI FPV. While it's not going to win a race against a souped-up DIY racing drone, there's no doubt that this drone delivers more fun than the usual Mavics.
Let's take a detailed look at what the DJI FPV has to offer.
Build quality
At first glance, the DJI FPV already looks unlike any other drone that DJI has launched so far. Measuring 255 x 312 x 127 millimeters (including the propellers), the DJI FPV cannot exactly be described as compact or portable. It does not have foldable arms, which has been the trend of the drone industry for the last couple of years.
At 795 grams, the DJI FPV is a lot heavier than many other FPV racing drones. The drone makes up for this fact by being fully pre-assembled out of the box. This is a massive departure from the standard practice in the drone racing world of putting together a drone from a chassis and spare parts. From this fact alone, we can already tell that DJI is positioning the DJI FPV as an entry-level FPV racing drone.
DJI has still integrated some elements of the DIY craft in this drone. It has been designed with parts that can be replaced by the user – including the propellers, arms, top housing, and the camera/gimbal module. All these parts can be purchased separately from DJI.
Being able to make repairs yourself is a nice feature, although we would have preferred to see less plastic in the DJI FPV. The top housing, in particular, will almost certainly pop off and break at the first crash. Considering its intended use case, this is a drone that needs to survive through multiple crashes.
Right now, DJI sells no officially carrying case for the DJI FPV. This is a shame considering how relatively difficult it is to carry around the DJI FPV drone. Your best bet would be to get a sturdy Pelican case.
Camera
As with standard FPV racing drones, the DJI FPV comes with a front-facing camera. In terms of quality, however, the camera of the DJI FPV is leagues better than any other camera we have seen in the drone racing community.
The camera comes with a 1/2.3-inch sensor, which is the same one that DJI used in the Mini 2. It is supported by a one-axis gimbal but is reinforced by the Rocksteady EIS (electronic image stabilization). The camera can capture 4k videos at 60 fps or 1080p videos at 120 fps. This is a great feature for capturing and slowing down action shots.
The super-wide 150-degree field of view provides much better situational awareness when flying in FPV. Most of the time, you will even see the tips of the propellers on the FPV video. These can be easily edited out during post-processing if you want your videos to look good.
The camera of the DJI FPV can capture stills in JPG format while simultaneously recording videos in MP4 or MOV. Unfortunately, the drone does not offer recording in DNG format and its still resolution is limited to 12 MP.
Despite having a better camera than all other FPV racing drones, the DJI FPV is still not a replacement for the standard camera drones like those of the Mavic line. Although the Rocksteady EIS feature works well enough to avoid the "jello effect", the lack of an auto-horizon function may result in an entire gallery of crooked photos. Pictures and videos also tend to look a little grainy when shooting in low-light conditions.
Although the wide-angle FOV is useful for FPV flight, it tends to emphasize the heavy fisheye distortion. This means that considerable work needs to be done in post-processing.
Battery life
Uncharacteristic of an FPV racing drone is DJI's focus on battery capacity for the DJI FPV. The 2000 mAh battery gives this drone about 20 minutes of flight time on a single battery charge. This is a huge upgrade from the usual FPV racing drones that are designed to fly no longer than 10 minutes.
The battery of the DJI FPV is also a usual DJI "Intelligent" flight battery. This means that the battery self-discharges after a few days spent in storage. This helps make the battery last longer.
The only downside of using such a large battery for the DJI FPV is that it is also heavy. At 250 grams, the Intelligent battery takes up almost a third of the weight of the entire drone. On the bright side, this also means that DJI can make this FPV drone lighter simply by releasing a lighter, lower-capacity battery. This is just our idea – there is no indication that DJI is actually headed in this direction.
Transmission technology
A major upgrade that DJI has made with the first-ever FPV-only drone is the switch from analog to digital transmission. Normally, such a switch places a priority towards extended range while compromising latency. However, this theoretical latency increase is compensated by the use of DJI's signature OcuSync 3.0 transmission technology.
The transmission range has a maximum of 10 kilometers, although we won't be surprised to see images start to stutter way before your hit this number. It supports dual-frequency transmission and a maximum bitrate of 50 Mbps.
To customize the flight experience, the DJI FPV supports three transmission modes:
Low-latency HD mode, which lowers resolution but support low-latency near-real-time FPV video
Smooth mode, which sacrifices latency to provide higher framerate videos
Audience mode, which allows other DJI FPV goggles to watch the feed from your drone
FPV goggles
The FPV Goggles V2 that come with the DJI FPV drone is a bit of an acquired taste, appearance-wise. With bug-eyed protrusions and four co-axial antennas, the FPV Goggles V2 looks unlike any other FPV or VR goggles that we have seen before. Strange as they may seem, they also easily stand out – which probably ticks off an objective of the design team.
Measuring 202 x 126 x 110 mm, the FPV Goggles V2 is hefty but not comically big. Its screens support 810p resolution at a maximum framerate of 120 fps when set in low-latency mode. It runs on the DJI Fly app which can be navigated by using the joystick-type controller on the lower-right corner of the goggles.
As far as image quality is concerned, there is nothing we can complain about. Images on the screen look crisp and sharp. With a 144 Hz refresh rate and less than 28 ms latency, the FPV Goggles V2 is more than capable of showcasing the speed and maneuverability of the DJI FPV drone.
The sole point of criticism that we have about the goggles is its 1800 mAh battery. Instead of being integrated into the goggles itself, it is on a separate battery pack that is connected via a USB-C cable. You will then need to place the battery pack in the pants of your pocket. This is quite an inconvenience, although you get to enjoy 110 minutes of use on a single battery cycle.
Controller
The controller of the DJI FPV is suitably compact. It is about the size of the redesigned controller that comes with Mavic Air 2 and Mini 2. A unique design element is that the controller comes with handles, similar to the controllers used for game consoles.
The controller comes with the usual flight sticks, RTH button, gimbal wheel, and a switch for toggling between the different Flight Modes. It also has an Emergency Stop button and an automatic Hover button, which are great for when you need to let go of the controller for a moment.
As this is an FPV drone, the controller does not have a slot for a smartphone. In its place is a prominent and oversized antenna.
DJI also sells a new motion controller that is compatible with the DJI FPV drone. This new type of controller works almost like a flight stick. Based on testing, the motion controller is satisfyingly responsive and intuitive. This also opens up opportunities for one-handed drone flight, especially for those who want to fly drones but have disabilities.
Flight performance
The DJI FPV drone has three flight modes – Normal, Sport, and Manual.
The Normal mode works just like the Normal modes of other DJI drones. In this flight mode, the DJI FPV drone performs almost like a standard Mavic. What makes the DJI FPV drone a lot easier to fly than the usual FPV drone is that it has a GPS receiver. This gives it an auto-leveling feature – something that standard FPV racing drones do not have.
Under Normal mode, the drone's ground speed is capped at 31 mph. Switching over to Sport Mode increases this limit to 60 mph.
Manual Mode offers the real FPV experience. Without any automatic altitude or orientation features, Manual Mode allows you to do fancy flips and rolls with the drone. The speed cap is also increased to the maximum that the drone can muster – an impressive 97 mph.
Flying in Manual Mode is a completely different discipline. You will need to keep your fingers on the flight sticks at all times to maintain the drone's position. There is no auto-hover feature here, neither are there any obstacle avoidance features. If you've never tried flying completely manual before, you will want to get some practice first before letting loose.
To keep the DJI FPV beginner-friendly, DJI has designed a flight simulation program that can be accessed via the FPV Goggles. This simulation allows you to practice your skills safely and get over any feelings of motion sickness.
As far as flight performance is concerned, anyone who has never flown a racing drone before would be quite impressed with the DJI FPV drone. It's fast, powerful, nimble, and very loud. Manual Mode unlocks the drone's full potential, although it is gated by the need to develop more advanced flight skills.
Compared to other FPV racing drones, the DJI FPV is far from being the fastest or more maneuverable. It is still heavier and larger, after all. However, the DJI FPV drone offers a fun and new experience for those who are new to the racing drone market.
Safety
One more thing that distinguishes the DJI FPV from other racing drones is that it comes with several safety features. Aside from the GPS receiver that allows for auto-leveling and the RTH function, the DJI FPV also has obstacle avoidance sensors.
With two sensors at the front and two at the bottom, it's pretty clear that the DJI FPV is still a step down from the modern Mavic drones when it comes to obstacle avoidance. Frankly, simply having obstacle avoidance in an FPV drone is already a pleasant surprise. It's worth noting that the sensors are only activated when flying in Normal Mode.
The DJI FPV drone also has a built-in ADS-B receiver. This keeps the drone pilot informed should there be any manned aircraft nearby that are transmitting ADS signals. This has been fully integrated into the FPV goggles – you should see a visible notification if such an event happens. Again, this is a feature unexpected of an FPV drone.
Price
The DJI FPV bundle starts at $1299. This includes the drone, the FPV Goggles V2, the remote controller, a set of spare propellers, a spare top shell, and several other essential accessories.
For an additional $299, you can get the Fly More kit that adds two spare Intelligent Flight Batteries and a 3-way charging hub. You may also consider getting the Motion Controller for $199.
At $1299, the DJI FPV is significantly more expensive than the DJI Mavic Air 2 or the Mini 2. Price-wise, its contemporaries are the pro-level ultra-portable drones like the Mavic 2 Pro or the Autel Evo 2. Considering how the DJI FPV bundle already comes with the FPV Goggles, this is actually a very good price range.
It's also worth noting that the DJI FPV is significantly more expensive than buying separate drone components and putting them together yourself. Of course, this is not an approach that appeals to everybody.
Should you buy the DJI FPV?
Is the DJI FPV bundle worth the $1299? Considering all the included accessories and the technology that went into the drone, we would not feel short-changed having to pay that amount.
Understandably, the price is high enough that the DJI FPV might not gain the mainstream appeal of inexpensive DJI drones like the Mavic Air 2 and the Mini 2. However, those who are curious about pure FPV drone flight may still want to consider this drone.
The DJI FPV drone straddles between the market for DIY FPV drones and those who are looking for a more casual experience. This is probably the best "plug and play" FPV racing drone available today. DJI hopes to appeal to the market who want to experience FPV drone racing but aren't keen to put together an entire drone from spare parts.
Another unique experience that the DJI FPV drone offers is the chance to record cinematic videos using an FPV racing drone. By equipping the DJI FPV with a camera of the same quality as the Mini 2, it has become an incredibly fast and agile tool for aerial filmmaking. We find it very exciting to see what the drone community can come up with.
If you're an experienced drone racer, then this product isn't likely to appeal to you. Not only does it cost more than putting a drone together yourself, but it also does not offer the same level of customization as a DIY solution. After all, being able to create incremental upgrades to a drone is the very essence and source of satisfaction of DIY drone racing.
Things to watch out for
Just a word of warning for first-time FPV drone pilots – getting the hang of flying in Manual Mode is going to take a lot of practice. Even if you've been flying Mavic drones for a long time, some rewiring will have to happen in your brain before you can get used to flying FPV. You will also need to get over the initial feeling of motion sickness – something that is worse for some people than others.
The FAA rules require that drone pilots maintain visual contact with the drone at all times. This is impossible if you're flying with FPV goggles. This means that you will always need to have someone else by your side to act as a visual observer. This is a safety measure to make sure that you don't run into any hazards that would not have been visible with your FPV goggles. Make sure that you and your visual observer can communicate clearly while your drone is airborne.