With more than 163,000 holders, the private pilot license (PPL) ranks as one of the most sought-after pilot certificates in the US. Statistically, it's second only to the student pilot certificate.
As a private pilot, flying for compensation or hire is almost out of the question.
Why is the PPL so popular then? What can you do with a private pilot license?
The private pilot license affords you a middle ground. It allows you to go on weekend getaways while also the foundation you need for an aviation career. The FAA permits private pilots to share flight expenses with passengers as well as get paid for a limited number of jobs like towing gliders or being an aircraft salesman.
But if you think about it, your flight experience and skills are useful in other domains.
How so?
Next, we discuss 7 interesting pursuits you can engage in with a private pilot license.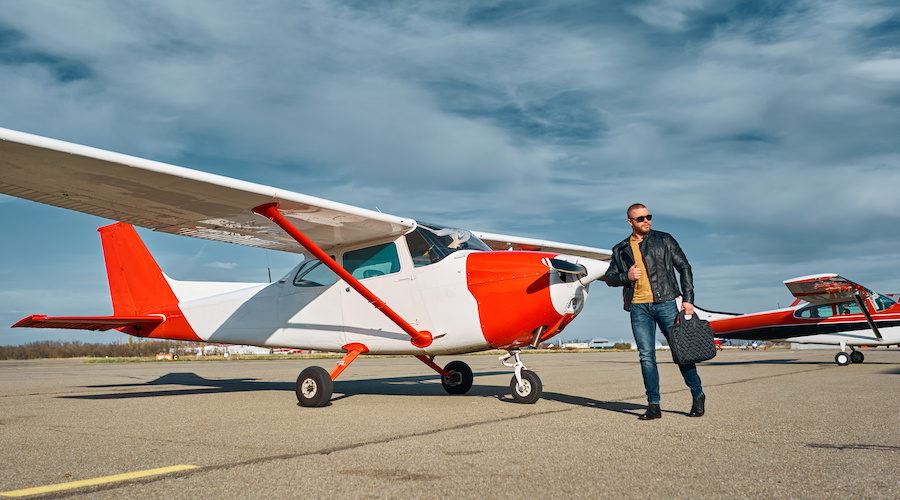 1. Travel in Style
You can fly to work with a private pilot license. Well, if your work has a runway nearby.
Although a man in Seattle does it, commuting by plane is a little farfetched.
You can take friends or family on fun trips to exotic locales, though, which is more plausible.
It's okay for private pilots to carry passengers and property according to the FAA, you just can't do it for compensation.
However, you can share the operating expenses with your passengers. Your friends can chip in for fuel, oil, and aircraft rental.
Besides, it's an ingenious way to build flight experience toward a commercial license without breaking the bank.
2. Become an Instructor
If you enjoy helping student pilots learn aviation theory, then your private pilot license can help you secure a teaching position.
A PPL isn't a requirement to become a ground instructor. However, your knowledge and experience as a private pilot make you a better candidate for the job.
What are the requirements for a ground instructor certificate? Well, if you only have your PPL, then you need to:
Be at least 18 years old
Pass a knowledge test on the fundamentals of instructing
Pass a knowledge test on prescribed aeronautical knowledge areas
As a basic ground instructor, you can conduct the ground training required for a sport, recreational, or private pilot flight review or certificate issuance. You can also give recommendations for the associated knowledge tests.
Interested in teaching more complex subjects?
You may opt for an advanced or instrument ground instructor rating.
Although it involves no actual flying, ground instruction is a rewarding job you can do with a private pilot license.
3. Make a Sale
The FAA permits private pilots to make money in very few ways, one of which is being an aircraft salesman.
How big is the aircraft sales market?
Well, the US has a fleet of more than 200,000 general aviation aircraft, the largest in the world. Thousands of new and used aircraft get sold every year.
Starting off, the only requirements for the job are a private pilot license, a high school diploma, and a mandatory minimum of 200 flight hours. However, a college degree in sales, marketing, or business gives you an edge.
As an aircraft salesman, you demonstrate an aircraft in flight to a prospective buyer. If you make a sale, you often get a handsome commission.
Selling hardly depends on your flying skill.
Sure, you can show the aircraft's good condition, safety, and maneuverability, but you need to be persuasive to seal the deal.
4. Volunteer with Nonprofits
In medical emergencies, the difference between life and death can be mere minutes. Air travel saves a ton of time, which is why several nonprofits use aircraft to aid people in distress.
Organizations such as Air Care Alliance, Angel Flight, and Pilots for Patients enlist the help of volunteers to transport people around the nation.
Several outfits go beyond serving patients, though. For example, Vital Flight transports individuals with special needs to participate in competitions.
However, most organizations specify the following requirements for pilots to join:
Valid and current private pilot license and third-class medical certificates
250 hours as pilot in command (PIC)
Access or ownership of a suitable aircraft
Instrument rating
Flying charitable missions makes for an admirable way to serve your local community.
5. Join the Patrol
Civil Air Patrol (CAP) is the official civilian auxiliary of the United States Air Force. The nonprofit owns the largest fleet of single-engine piston aircraft in the nation.
The auxiliary unit performs missions in service to local communities, which include reconnaissance, search and rescue, and disaster relief flights.
How do you become a CAP pilot? The general qualifications require you to:
Be an active CAP member
Be at least 17 years of age (16 years for CAP glider pilots)
Hold a valid FAA private, commercial, or airline transport pilot certificate
Have a third-class or higher medical certificate (not required for gliders)
Possess a current flight review
You start as a VFR pilot.
You can quickly move to more complex roles later on, though.
After you log enough flight time and complete required training, you can become a mission, orientation, or a check pilot.
6. Fly Upside Down
Want to learn aerobatics? A private pilot license is a great way to get you started.
During PPL training, you perform maneuvers that require skill, such as steep turns, chandelles, and lazy eights.
Aerobatics make those maneuvers look like child's play as pulling off aerial stunts require a much higher degree of precision.
While no minimum requirements exist, you must train to become an aerobatic pilot. The International Aerobatic Club is the division that administers the sport in the United States.
How do you go about it?
You get a tailwheel endorsement. Why? Because most aerobatic aircraft use conventional, or tailwheel, landing gear.
You then need to take an introductory aerobatics course, which involves ground instruction and 5-10 of flight training. Your instructor teaches you how to execute and recover from basic loops, rolls, spins, and inverted flight. Common aerobatic airplanes include the following:
American Champion Decathlon
Pitts Special
Extra 300
If you're looking for an adrenalin rush as a pilot, learning aerobatics will get you a good dose.
7. Tow a Glider
Here's another way you can make money as a private pilot:
Tow gliders and unpowered ultralights.
You need more than a PPL to become a tow pilot, though. The requirements include:
At least 100 hours of pilot-in-command time in the aircraft category, class, and type.
A logbook endorsement from an authorized instructor who certifies that the person has received ground and flight training in gliders or unpowered ultralights.
At least three actual or simulated tows of a glider or unpowered ultralights within the preceding 24 calendar months.
But that's not all.
You must also meet other requirements specified in the Federal Aviation Regulations.
If you're contemplating towing for a living, it's a good idea to consult a seasoned tow pilot or an experienced flight instructor.
One More Thing
Obtaining your private pilot license requires quality ground training.
If you're bored with classroom instruction, a viable alternative is to enroll in a virtual ground school like the one at Pilotinstitute.com. The online private pilot course has helped over 2,000 students pass the knowledge test from the first attempt.
The ground school features hundreds of videos, test-like questions, and a free instructor endorsement.
The best part?
It costs you a fraction of what flight schools charge for a formal ground school.
Final Thoughts
People become pilots for a variety of reasons, and yours determine the type of pilot license you go for.
What sets the PPL apart from lower airmen certifications is that it grants you far more privileges.
What can you do with a private pilot license? Quite a few things as you saw up there.
You can enjoy a memorable trip with family or friends.
You can do more, though.
A common misconception is that you can't make a living with a private pilot license, which is hardly true.
Although the FAA is strict on flying for hire or compensation, you can earn a pretty penny as a private pilot.
You can also leverage your flying experience to help people in need or distress.
No money there, perhaps, but it's commendable.