A roof inspection may seem like a relatively simple field of commercial application of drones, but it is undoubtedly one of the more profitable ones. A roof inspection can be done by contractors, insurance adjusters, or even homeowners. With such a diverse customer base, there are lots of opportunities for commercial drone pilots to find work in this field.
In this article, we're tackling the question – which drone works best for roof inspection? The application may be simple, but there are still certain needs to get the job done right. Check out this detailed guide for using drones for a roof inspection.
What to consider when buying drones for a roof inspection
Contrary to what many may believe, roof inspection requires more than just a drone that can take photos. Yes, a good camera is essential, but you will also want a drone that is rugged and can handle more challenging conditions. The goal here should be to use drones to save both money and time compared to more traditional roof inspection methods. Maximizing cost and time savings will help you make the most out of a drone-based roof inspection program.
A good camera
An excellent high-resolution camera is a must for drones being used for a roof inspection. There are many factors at play here, but the general rule is to have as large an image sensor as possible. This allows the drone to take photos and videos at a higher level of detail.
This should not be a problem if you choose a drone from a reputable brand that was released in the last one or two years. These drones will likely be able to capture 4K or 5.2K images. This should be a good baseline for selecting a drone based on camera quality.
Option for thermal imaging
A visual roof inspection to look for visible damage covers most of the needs of the roof inspection industry. However, some clients may have higher-level requirements. In these cases, drones with thermal imaging capabilities will have a huge advantage.
Thermal imaging is typically done to check for damaged insulation or gaps in insulation. Thermal scans are very profitable because they can fetch much higher rates. However, they also require a large capital, as drones with thermal imaging capabilities are more expensive. You can also consider having your drone customized with an after-market thermal camera.
Flight stability
You will want to use a drone that can maintain a stable hover even in strong winds. Doing roof inspection means having to do jobs in conditions that may be less than ideal. Drones with GPS stabilization, obstacle avoidance, and powerful motors can help in this regard. This should not be a problem with the range of enterprise-level drones available today.
Automated flight
When doing roof inspection jobs, you will want to get consistent and repeatable results. This is best done by having your drone fly through a pre-determined flight path automatically. This can be done with a GPS-capable drone and the appropriate mapping or roof inspection software.
Using a drone for automated flight also saves a lot of time and effort in doing roof inspections. In this profession, time is as valuable or perhaps even more valuable than money.
Obstacle avoidance
In some cases, you may need to fly your drone close to a roof to check on its finer details or to look more closely at damaged sections. This can be quite risky but you can reduce the risk level by using a drone with good obstacle-avoidance technology.
With obstacle avoidance, a drone will automatically stop short of colliding with an object. This prevents damage both to the drone and to the roof being inspected.
Software compatibility
There is a wide range of software platforms out there that can make roof inspection jobs easier or more effective. These can be used for flight planning, data acquisition, data processing, or visualization. If you can find a platform that you like, make sure that you get a drone that is compatible with that software. The right software can massively influence the quality of output of a roof inspection job.
Rugged build
If you're buying a drone for professional use, you will want to get a drone that will last a long time. Commercial use is typically more demanding than using a drone to fly for fun. Repairs can be costly and can result in missed opportunities. The drone you get may be the single most important investment that you can make if you want to get in this field, so it's wise to pick a high-quality drone even if it's slightly more expensive.
Drone roof inspection jobs are not so demanding that you need the best high-end drone. You can probably get by with a nice prosumer model, but it will not be the best tool for the job. An enterprise-grade drone in the lower price range would probably give you the most value for money.
Top 5 Best Drones for Roof Inspection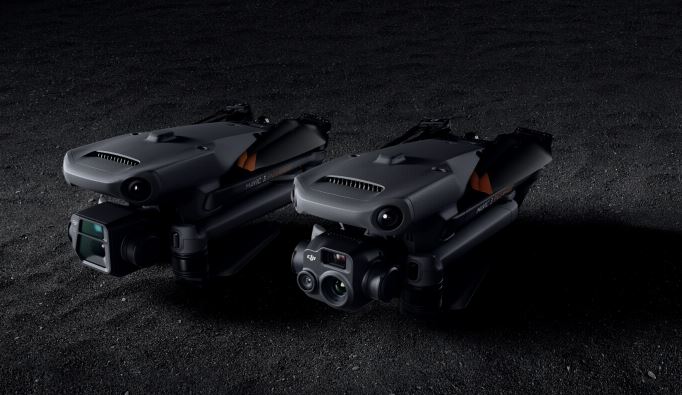 Providing thermal imaging to your roof inspection service adds huge value, and few drones capable of thermal imaging are as excellently built as the Mavic 3 Enterprise. More specifically, this pertains to the DJI Mavic 3T model that comes with a 48 MP camera and a thermal camera.
The thermal camera of the Mavic 3T has a resolution of 640 x 512, a 61-degree field of view, and a 40-mm focal length. It is capable of spot and surface temperature measurements, temperature alerts, and adjustable color palettes and isotherms. Needless to say, it is a well-equipped drone to spot thermal anomalies during a roof inspection. The identification and annotation of thermal anomalies are made easier using the DJI Thermal Analysis Tool 3.0.
Alongside the thermal camera, is a 48 MP camera with a ½" CMOS image sensor. With support for up to 56x hybrid zoom, this camera is more than capable of capturing fine details during a roof inspection.
The Mavic 3T has a powerful object avoidance system supported with APAS 5.0, a feature that allows the drone to automatically fly around surrounding obstacles. It also has the DJI AirSense system that will notify the pilot of any nearby manned aircraft.
At around $5000, the Mavic 3T is a significantly large investment. Having a thermal imaging feature makes this drone expensive, but also allows professional drone pilots to offer services at premium costs.

The EVO II Dual 640T is Autel's answer to the DJI Mavic 3 Enterprise line. It is an ultra-portable drone that comes with a visual camera and a thermal camera. It also features some of the most sophisticated technologies that Autel has ever used in their drones. The EVO II Dual 640T is part of Autel's enterprise drone line.
The thermal imaging sensor of the EVO II Dual 640T has a 640 x 512 resolution, a 13-mm focal length lens, and a digital zoom of up to 16x. It is capable of spot, regional, and central temperature measurement modes and has a wide range of thermal color palettes for easy visualization of thermal anomalies.
The visual camera uses a 0.8" image sensor that can capture 50MP stills and performs excellently in low-light scenarios. Fine details are easy to document with up to 4x lossless zoom and up to 16x digital zoom. The drone can also shoot in HDR mode even at 4K resolution, allowing for quick correction of exposure problems.
Among the other impressive features of this drone are the 360-degree obstacle avoidance technology, a maximum of 38 minutes of flight time, and the ability to transmit real-time video to an external device.
Like the DJI Mavic 3 Enterprise, the Autel EVO II Dual 640 T costs close to or more than $5000. This is the typical price range for enterprise-grade drones and can be a huge initial cost for starting a career in the drone-based roof inspection.
The Mavic 3 Classic is a notch lower than the Mavic 3 Enterprise in terms of both technology and price. Right off the bat, the Mavic 3 has no thermal imaging capabilities. However, it is still an excellent drone for visual roof inspection jobs.
The Mavic 3 comes with a state-of-the-art 4/3" CMOS image sensor on a Hasselblad camera with a video resolution of up to 5.1K at 50 fps resolution, an adjustable aperture, and a 24-mm equivalent lens. This makes the Mavic 3 easily one of the best camera drones available today.
The Mavic 3 also comes with some of the most useful DJI features. It has a 46-minute flight time, a collision avoidance system, and intelligent flight and photo modes. It does not have a telephoto lens, so its zoom capabilities are quite limited.
Perhaps the most distinguishing trait of the Mavic 3 Classic is that it is a very affordable drone compared to other Mavic 3 drones. At less than $2000, the Mavic 3 Classic is priced close to that of prosumer models.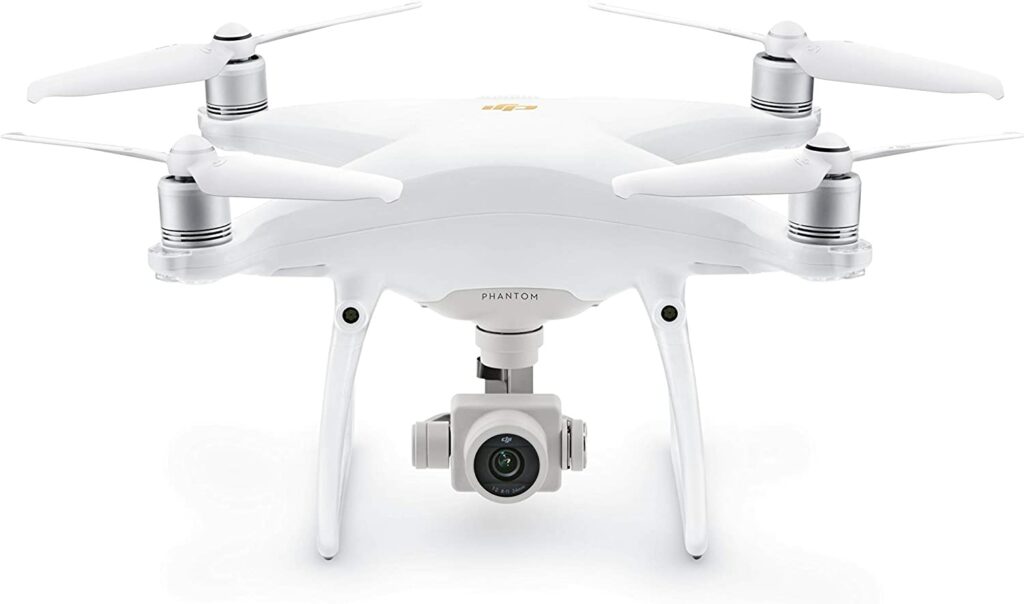 It speaks of the excellent design of the DJI Phantom 4 Pro that many drone pilots still consider it one of the best drones for professional use, even nowadays. Fortunately, the Phantom 4 Pro V 2.0 was relaunched back in 2020 after having been initially discontinued.
The technical specs of the Phantom 4 Pro V2.0 may seem outdated compared to the other drones on this list. It has a 1-inch CMOS image sensor that can capture 20 MP images and 4K videos at up to 30 fps. It also comes with the OcuSync transmission technology, albeit an older version of the feature that comes with the newer drones. The V2.0 of the P4P comes with upgraded propellers compared to the original release.
The mechanical shutter is one of the things that sets the Phantom 4 Pro apart. With this setup, you get to avoid the distortion effect of using an electronic shutter.
Despite being an old drone, the Phantom 4 Pro remains a veritable workhorse of the drone industry from photography to mapping and everything else in between. It is certainly more than capable of doing a roof inspection job. You may lose out on the portability of smaller drones, but there is something appealing about the classical design of the Phantom 4 Pro.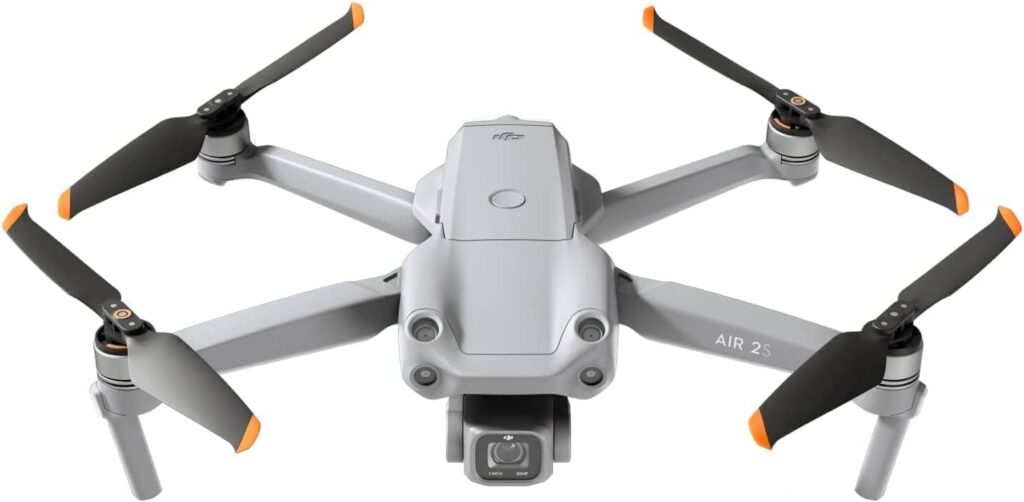 The DJI Air 2S can be considered a scaled-down version of the Mavic 3 Classic, both in terms of price and size. Despite its highly compact build, it comes with an impressive 20MP 1" CMOS image sensor. This makes the Air 2S a prime choice for a roof inspection, especially for those who are looking for an affordable drone to provide less demanding services.
The camera of the DJI Air 2S has 4x zoom at 4K resolution and up to 8x zoom at 1080p resolution. Its fixed aperture is offset by good image quality even at low light and high ISO settings. The drone also has an obstacle avoidance system, albeit one that is limited only to four directions.
There is currently no official way to modify the Air 2S to have thermal imaging capabilities. Third-party options may be available, but results cannot be guaranteed. The two biggest advantages of the Air 2S are its price and portability. It is outclassed by the other drones on this list in all other aspects.
Why use drones for roof inspection?
Roof inspection has been done for years without drones, so why start using them now? There is some extra cost in buying a drone for roof inspection, but there is also a very solid business case that supports this change. Using a drone is not just a novelty – it might be better for any business that requires roof inspection.
It saves time
A drone can do a complete roof inspection job in several minutes to an hour, with just a single operator flying the drone. Contrast this to traditional roof inspection which can take a few hours and may have to be split among two or three inspectors. Drone-based roof inspection saves time and labor. In just about any industry, time is money.
The speed with which drones can do roof inspection jobs makes them valuable tools for rapid inspection or for high-volume work.
It's more thorough
Perhaps the biggest benefit of using drones for roof inspection is just how thorough the inspection can be. While drones can take excellent aerial photos of a roof, they can do so much more. Using a technique called photogrammetry, overlapping aerial photos can be stitched together to create a 3D model of the roof being inspected.
The 3D model is essentially a digital twin of the real-world asset. This model can be analyzed and measured in almost infinite ways. This is crucial for planning repair jobs or assessing damaged sections in a roof. This is also a great way to ensure that inspectors are not missing any important details.
In some cases, drones can also do thermal imaging. This is quite a specialized service that can help identify damaged insulation in buildings. Again, the mobility of drones helps in conducting thermal scans quickly and safely.
It is safer
Drones eliminate the need for inspectors to physically go to high elevations and expose themselves to fall hazards. Of course, people will still need to go up the roof to perform repairs, but less time exposed to hazards also reduces the probability of accidents.
Less equipment needed
Doing roof inspection via drone is so much simpler logistically than having to do it the traditional way. For inspectors to go up a roof, they will need to bring harnesses and possibly several ladders. They will also need cameras and measuring tools to do the inspection. All this hardware can be done away with by just a single drone.
Less equipment means faster and simpler deployment of people for a roof inspection. It can also reduce costs associated with equipment acquisition or maintenance.
Drones may be expensive initially, but they certainly pay for themselves in terms of productivity, output quality, and safety.
Final thoughts
A roof inspection is a very traditional job that is now being revolutionized with the introduction of drone technology. Enterprise-grade drones are best suited for a roof inspection, but the more affordable prosumer models can also the job satisfactorily well. In any case, drones provide lots of benefits in terms of finishing roof inspection jobs quickly, thoroughly, and safely.
If you're going to use a drone for a roof inspection, keep in mind that you will need to have it operated by a pilot with a Part 107 license. Also take note of airspace rules, especially when doing roof inspection jobs in new and unfamiliar places.