Part 107 Remote Pilot Certificate: What Is It and How to Get It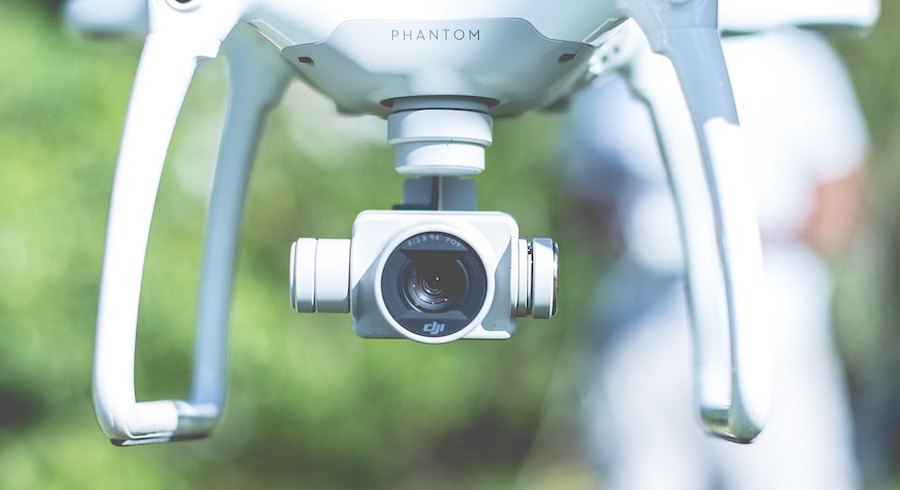 There are a lot of factors that have contributed to the growing popularity of drones –increased visibility through marketing and media, models designed to be easy to fly even for beginners, and an apparent race to the bottom when it comes to the price, among others. The point is that there are more drones and drone owners than even before.
The FAA has been tasked to maintain the safety of national airspace despite the huge number of drones that have popped up. At the same time, they also need to foster an environment that is not hostile against the commercial drone industry. Thus, the Part 107 remote pilot certificate was created.
What is the remote pilot certificate, and who needs to get it?
Back in 2016, the FAA created the Part 107 Small Unmanned Aircraft Rule to govern all commercial drone operations. Aside from imposing flight rules and restrictions for commercial drone activities, Part 107 also required commercial drone pilots to become FAA-certified before they are allowed to operate legally.
The Part 107 Remote Pilot Certificate, more commonly known as the drone license, is granted by the FAA to commercial drone pilots who have demonstrated a standard level of knowledge and proficiency and have passed a vetting process by the TSA. It also helps the FAA establish documentation of commercial drone pilots in the US, thereby also creating a system of accountability and traceability.
All drone pilots who fly for profit or in aid of a business, using drones that weigh less than 55 pounds, are required to secure the Part 107 remote pilot certificate. Take note that the rule includes not just pilots who accept direct compensation for their work, but also those that use the output of their drone flight operations to aid or advance a business. This can include the use of aerial photos to advertise a property or the use of precision agriculture surveys to improve crop management.
The Part 107 remote pilot certificate was primarily designed to be earned and used by US citizens and is only valid within the United States and its territories. Although it's possible for a foreigner to get a remote pilot certificate, it can be a long and tedious process that involves securing an Economic Authority from the Department of Transportation.
Does a Part 61 certified pilot still need to get a Part 107 remote pilot certificate?
Pilots that have been certified under 14 CFR Part 61 still need to get a Part 107 remote pilot certificate, but they will go through a different and much easier process. The assumption at work here is that a Part 61 certified pilot has already undergone a much more rigorous screening process than what Part 107 requires. However, only Part 61 pilots who have completed a flight review within the last 24 months are eligible to receive this exception.
If you qualify for the exception, all you need to do is to create an account on the FAA Safety Team website and complete the ALC-451 Part 107 Small Unmanned Aircraft Systems online course. This course consists of several short videos and a short quiz at the end, and it shouldn't take you more than two hours to finish.
After completing the course, log in to your Integrated Airman Certification and Rating Application (IACRA) account, fill up the 8710-13 electronic form, and print out the filled form. Bring the printed form, the certification of completion of the online course, the documentation of your flight review, and a photo ID to any of the following personnel for validation:
FAA Flight Standards Office
FAA-certified Flight Instructor (CFI)
FAA-designated pilot examiner (DPE)
Airman certificate representative (ACP)
The FAA-certified personnel will give you a temporary certificate. Meanwhile, your permanent certificate should be making its way to you by regular mail.
What are the requirements for getting a Part 107 remote pilot certificate?
The major hurdle that sits between you and that remote pilot certificate is the Part 107 knowledge test – a 60-item multiple-choice test that covers aspects of aeronautics and communication that are all somewhat essential to commercial drone flight. However, to even be eligible to sign up for the test, you must satisfy these three requirements:
Be at least 16 years of age
Be able to read, write, speak, and understand English
Be physically and mentally fit to fly a drone
With regard to your physical and mental condition, you will not need to present a medical certificate as proof of such. Rather, the FAA expects you to do a self-assessment of your level of fitness.
Due to some recent changes in the testing procedures, you will also need to get an FAA Tracking Number before you sign up for the knowledge test. You can get one quickly by signing up for an account on the IACRA website. Your unique FTN will serve as the identifier associated with you for your aviation career, or at least as far as the FAA is concerned.
How do I sign up for the knowledge test?
Once you're sure that you satisfy the requirements and you have your unique FTN, it's time to sign up for the knowledge test. This is done through the Computer Assisted Training Service, Inc. (CATS), a company that the FAA has tapped for test administration. The knowledge test has to be taken on location, so you'll have to sign up for a schedule in any of the more than 700 FAA-accredited testing centers all over the US. You can look for the testing center nearest to you through the CATS website.
Once you've picked a testing center, look for the days and hours of the center's operation. If their schedule works for you, then simply get in touch with them to set the appointment. You may have to provide your personal details, the FTN assigned to you, and pay the $160 testing fee.
What does the Part 107 knowledge test cover? How do I prepare?
The Part 107 knowledge test consists of 60 multiple choice questions, at least 70% of which have to answered currently for you to pass. The questions that will come up on your test will be randomly picked from a much larger pool of questions, thereby ensuring that each set is unique. Considering the scope of topics covered by the test and the 'random' nature of the questions you'll encounter, a good deal of preparation is necessary for you to pass.
The FAA has published a general list of the topics that will come up in the knowledge test along with how they are distributed:
| | |
| --- | --- |
| Topic | Percent of test coverage |
| Aircraft operations | 35 – 45 % |
| Airspace and requirements | 15 – 25% |
| Regulations | 15 – 25% |
| Weather | 11 – 16% |
| Loading and performance | 7 – 11% |
This table of topics should come in handy while you prepare for the knowledge test. On the topic of preparation, we recommend setting aside at least two weeks of study time to make sure that you've covered everything. This is something you'll need to consider when you set the appointment with the testing center.
There are a lot of online resources nowadays that can help you prepare for the Part 107 knowledge test. Even the FAA provides a study guide and dozens of sample questions, all of which you can access for free. There are also a lot of YouTube videos and podcasts that provide a comprehensive review of the topics for the knowledge test. It's going to be tough to dig through all the noise and organize the ideas from these various sources, but it's doable with a bit of creativity.
If you want training materials that are much more organizes and complete, then the Part 107 Commercial Drone Pilot Course provided by PilotInstitute has just about everything you need. With more than 12 hours of easy to follow instructional videos, more than 250 quiz questions, three practice exams, and an 11-page illustrated cheat sheet, going through this training course should give you a huge advantage when you take the knowledge test.
One more thing that adds value to this training course by PilotInstitute is that you only need to pay the one-time fee to gain lifetime access to the course contents. PilotInstitute periodically reviews and updates the course to keep it up to date with current Part 107 rules and drone technology. When the time for the renewal of your remote pilot certificate comes around, you'll be thankful that you don't need to pay any additional fees to brush up on your Part 107 lessons.
No matter which route you take, the important thing is that you commit to the process. Preparing for the knowledge test means having to learn about things that might not have been familiar to you before. Your time is limited, so make sure that you don't get caught up on minor topics if it means losing precious study time on more important subjects, such as how to read sectional charts and the airspace classes.
What happens on the day of the knowledge test?
When the day of the knowledge test comes, make sure that you show up at the testing center with several minutes to spare. You will be allowed to bring a basic calculator and a magnifying glass to make it easier to look at sectional charts. The testing center will also provide you a pencil and several sheets of paper to do long-hand calculations. However, you may not bring your phone inside the testing center.
You may be prompted to show a valid photo ID to confirm your identity before getting escorted to an enclosed room where you will take the test. You will be taking the test on a computer while a security camera keeps watch. The test needs to be completed within two hours. Don't worry too much about the time limit, though – the experience of thousands of test-takers confirms that this is more than enough time to finish the test.
You may be able to see the results of your test right after completion. However, the official results will only be available once they are uploaded to the FAA site within 48 to 72 hours.
What do I need to do after I pass?
Once the successful results of your test have been uploaded to the FAA site, you can then apply for the Part 107 Remote Pilot Certificate through the IACRA website. Your Airman Knowledge Test Report (AKTR) should indicate the score you got, your unique FTN, and a 17-digit Knowledge Test Exam ID. As you fill-up the electronic form 8710-13, you will be prompted to indicate the Exam ID. Submit the form for processing.
At this point, you will have to undergo a TSA background check before you can finally be granted the remote pilot certificate. There isn't much to do but to wait. The background check can be done in less than a week to as long as two months, depending on the backlog of airmen certification requests that the FAA is accepting.
What does the TSA look for in the background check?
It's par for the course with the TSA, but nobody really knows what they look for when they do a background check. According to the FAA, applicants for the FAA remote pilot certificate go through the same vetting process as other types of pilots and airport security personnel. As long as you haven't made any serious aviation-related offense and are not included in some terrorist list, then you should be fine. We have even heard of accounts of people with past felonies who were still granted their Part 107 drone licenses.
How long does the remote pilot certificate remain valid? Do I need to renew it?
The Part 107 remote pilot certificate, per se, has no expiration date. However, the privileges granted to you by the FAA for passing the Part 107 knowledge test are only valid for 24 months. To renew these privileges, you will have to take and pass a recurrent knowledge test.
The process for taking the recurrent knowledge test isn't all that different from when you took the first knowledge test: you also have to get in touch with CATS, pick testing center and schedule, and pay the $160 testing fee. The good news is that the recurrent knowledge test is shorter (just 40 items instead of 60) and has a smaller scope of topics. You can do away with the Loading Performance and Weather portions of the original knowledge test, so preparing for the recurrent test should be a breeze.
When you pass the recurrent knowledge test, you will be issued a new AKTR that shows the score you got. This serves as your proof that you have passed the recurrent knowledge test, essentially renewing your privileges to fly under Part 107 rules. Since no drone license will be issued, you must keep a copy of the AKTR with you whenever you fly your drone commercially.
For those who are certified under Part 61, you also need to renew the privileges of your Part 107 drone license. To get a renewal, you simply need to complete the Part 107 Small Unmanned Aircraft Systems Recurrent online course. As with the scenario mentioned above, no new drone license will be issued. Instead, you'll need to keep a copy of your certificate of completion with you whenever you fly your drone commercially. Take note that you'll also need to have completed a flight review within the last 24 months to be eligible for this method of renewal.
A few tips for when you get your Part 107 remote pilot certificate
1. Keep your drone license (or equivalent) with you whenever you fly commercially
Any representative of the FAA, TSA, or local law enforcement has the authority to ask a commercial drone pilot to show proof of their Part 107 certification. This means that it's absolutely essential that you have your drone license with your every time you fly your drone for profit. If you've already taken the recurrent knowledge test, then you also need to have a copy of your test results.
2. Don't forget to register your drone
All drones used for commercial purposes need to be registered with the FAA. This is done through the FAA DroneZone portal, where you need to provide your personal details, email address, and pay the $5 registration fee. Registration adds another layer of traceability for the FAA and may eventually form the foundation of the proposed Remote ID system.
An added requirement of registration is that your drone should be marked with its unique serial number in a highly visible manner. We prefer doing this by permanent marker or by putting a piece of water sticker somewhere in the drone that can be easily seen upon visual inspection.
3. Get insurance before you accept any jobs
Signing up for an insurance policy may be an additional expense, but you will be very thankful if you end up needing it. The proper insurance policy will save you from massive financial obligations that could come up if you run into any drone-related accidents while doing a commercial flight.
Drone hull insurance is great for when your drone needs to be repaired or replaced, but liability insurance is more important simply because of the cash value that the policy can cover. Liability insurance will cover your financial obligations should your drone operations result in severe property damage of personal injury. This can be huge, depending on the circumstance, so you might want to think about the level of risk you are undertaking in the context of the drone-based services that you are offering.
Final thoughts
The 14 CFR Part 107 may be the most significant drone-related legislation that has ever been created by the US government. The goal of the law isn't just to control drone flight in the interest of airspace safety, but it must also create an environment that fosters the growth of the commercial drone industry. This is a delicate balance to maintain, and it's still arguable exactly how successful the FAA has been so far.
Getting a Part 107 remote pilot certificate can be a long process, but we don't expect it to become any easier or shorter soon. On the bright side, the knowledge test requirement has created a population of drone pilots who are very proficient with aeronautical matters. If it's airspace safety that the FAA is after, then we can't imagine a better safeguard than hundreds of thousands of well-educated drone pilots.