As many law enforcement agencies and emergency response teams around the world have demonstrated, drones are no longer just toys for fun or tools to earn money. The speed at which drones can be deployed and their versatility in terms of payload equipment have made them invaluable tools for maintaining public safety.
Drone manufacturers have recognized this opportunity and designed drones that are specifically suited for public safety use. The selection is still quite small, but there are some very good products in this category. Check out our recommendations.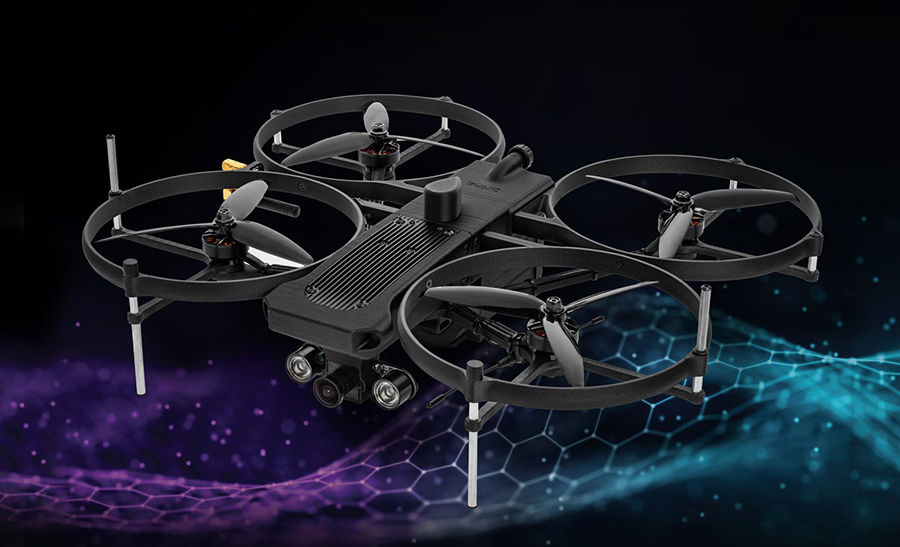 The American-made BRINC Lemur S is probably one of the most unique drones available today. It was designed specifically for use by law enforcement agencies by entering dangerous spaces such as hostage situations or active shooter scenarios. This allows law enforcers to gather critical tactical intelligence without having to expose themselves to unnecessary danger.
The Lemur S is small, tough, resilient, and smart. Weighing a little above 1 kilogram and measuring 15 inches across, the Lemur S has a nylon-reinforced carbon fiber body and built-in propeller guards. It also has a LiDAR vision system that helps it detect nearby obstacles and prevents it from crashing.
Should the Lemur S crash, it is not yet a goner. The drone has a Turtle Mode that allows it to flip over to a position where it can be relaunched. This is a crucial function that can help the drone finish very important missions.
The Lemur S still has a couple of tricks up its sleeve – an optional high-powered light accessory, a general-purpose dropper accessory, and a tungsten carbide glass breaker that allows it to enter glass doors and windows. It also has an integrated speaker and onboard microphone for two-way communication. This is essential for hostage situations or for search and rescue missions.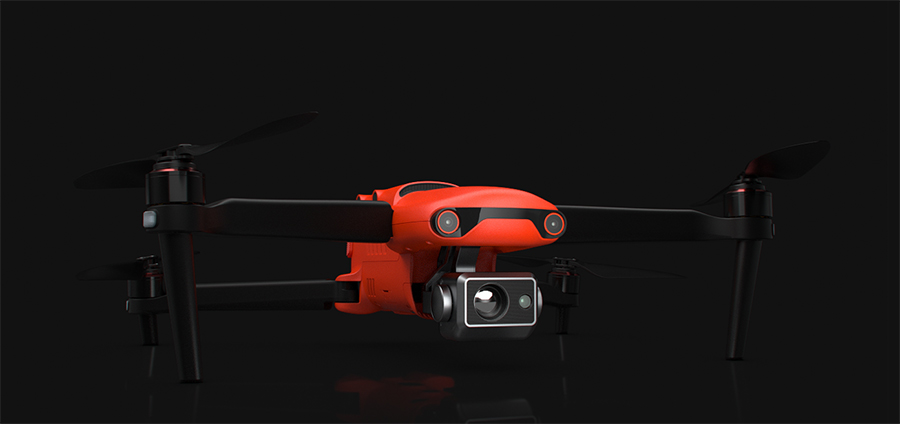 The Evo II Dual is just one member of an entire family of drones that Autel launched with the Evo II. It is one of the most capable and feature-rich foldable drones available today. Emergency response teams and law enforcement agencies may find this drone useful because of its dual vision and thermal cameras.
The Evo II Dual has a 640 x 512 thermal sensor with 16x digital zoom and can recognize objects up to 100 meters away. The thermal image can be viewed in picture-in-picture (PIP) mode with the visual camera for better situational awareness.
The visual camera of the Evo II Dual is also best in class with its ability to record 8K videos, 48MP stills, and at up to 8x lossless zoom. The drone can be programmed to follow a selected subject, flying automatically to avoid obstacles via its omnidirectional sensing system.
The Autel Evo II Dual is the ideal drone for search and rescue operations. It remains usable even at night because of its thermal camera. Foldable drones like the Evo II are also much easier to transport and deploy, making response times faster. Perhaps one of the advantages of an Autel drone over a DJI drone for public safety is that Autel drones do not come with automatic geofencing features.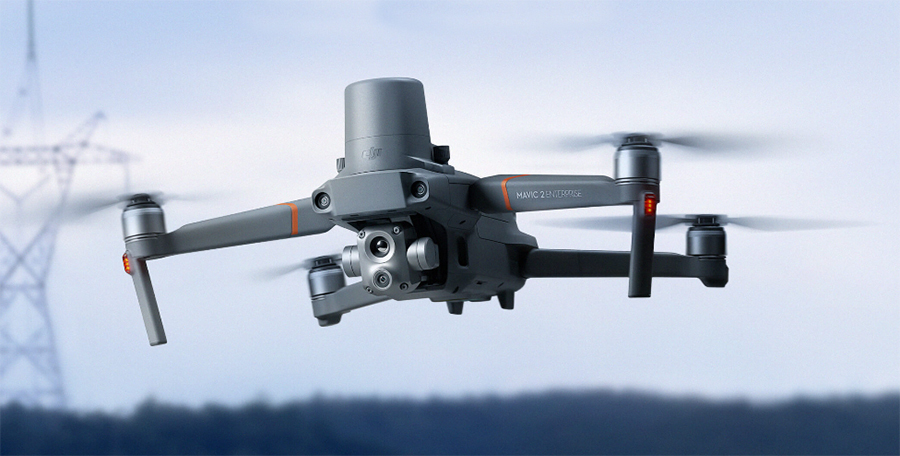 The Mavic 2 Enterprise Advanced (M2EA) is DJI's version of a foldable drone that is fit for public safety use. It is considerably more versatile than the Evo II Dual, as its top-mounted accessory can be swapped between different options. It also has a dual visual and thermal camera that can be useful for night operations.
The M2EA has a 640 x 512 thermal sensor with 16x zoom that can measure temperatures at an accuracy of 2 C. It also has a ½-inch CMOS sensor with 4x lossless zoom and up to 32x digital zoom. The cameras can be viewed individually or in split-view mode.
The top-mounted accessory is what sets the M2EA apart. The drone can be augmented with either an RTK module, a speaker, a beacon, or a spotlight. Any of these accessories can be massively useful in the right situation. The RTK module can even make the M2EA suitable for mapping or inspection surveys.
Perhaps the only downside of going with a modern DJI drone comes from the fact that it has a built-in geofencing feature. This means that you may need to go through a DJI unlocking process should you need to fly the drone in controlled airspace. While it's likely that law enforcement or an emergency response agency can request a permanent unlock, it's one more thing you need to bother with when buying this drone. More importantly, this is not a problem that exists in other drone brands.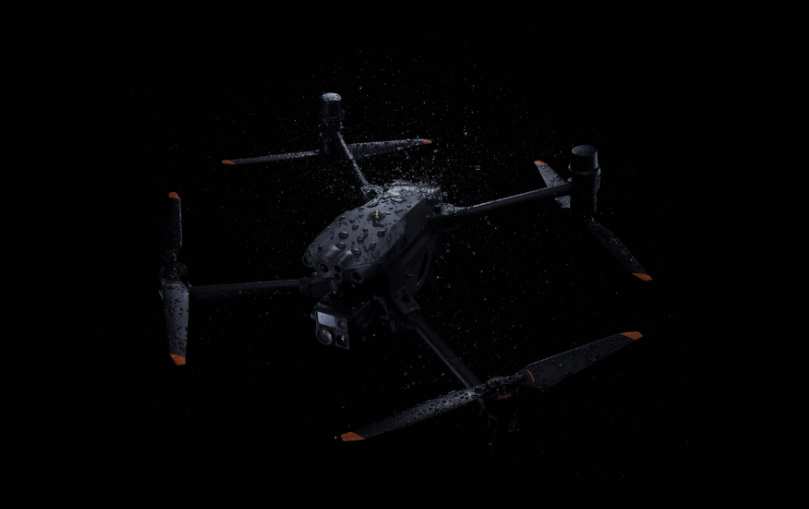 The Matrice 30 T (M30T) is one of the higher-end DJI drones. Although it also sports foldable propeller arms, it is decidedly larger than the other drones on this list. This makes the M30T a bit more rugged and suitable for difficult flight conditions, but it does make transportation less convenient.
The M30T has three cameras – a 640 x 512 thermal camera, a wide-angle camera with an 84-degree field of view, and a zoom camera capable of up to 16x optical zoom and 200x maximum hybrid zoom. Having such a powerful set of cameras in a single drone is quite rare and elevates the M30T into an elite tier of public safety drones.
The M30T has an IP54 rating for waterproofing and dust-proofing. It is also capable of operating across a temperature range of -20 C to 50 C. Coupled with an omnidirectional obstacle avoidance system, the M30T is the kind of drone you would want to have if you need to fly in unfavorable conditions.
Field teams can use the drone's Dual Operator mode to add a redundant layer of safety in case one controller loses connection with the drone. When this happens, a second controller can resume flying the drone. This allows missions to be continued without having to waste time if RTH is triggered.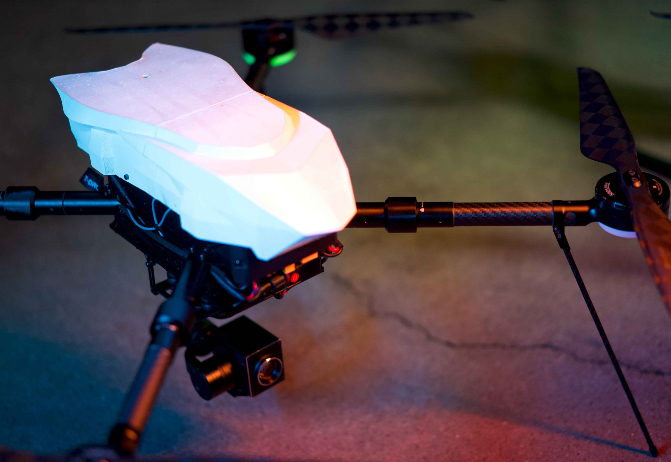 The Knighthawk by Paladin is another American-made drone and is also one of the more unique entries in this list. The Knighthawk is specifically designed for the Drones as First Responders (DFR) system. This means that the Knighthawk will be deployed automatically once an emergency is called in, arriving at the site perhaps even earlier than the human response team.
The idea is that the Knighthawk can start documenting the site once it arrives, feeding critical tactical information to the central deployment. This information can then be used to ensure that response teams are equipped to handle the situation. The benefit of such a system is the fact that the drone can fly very quickly to the site of the emergency.
The Knighthawk system can also be used for automatic drone-based surveillance of critical infrastructures such as power plants and other utility companies. Multiple drones can be managed and monitored using Paladin's Watchtower platform.
Using the Knighthawk adds a layer of complexity as it will require a waiver for drone flight conditions that are normally restricted under Part 107. The use case is certainly compelling, but there will be lots of additional legwork before an agency can use this type of drone.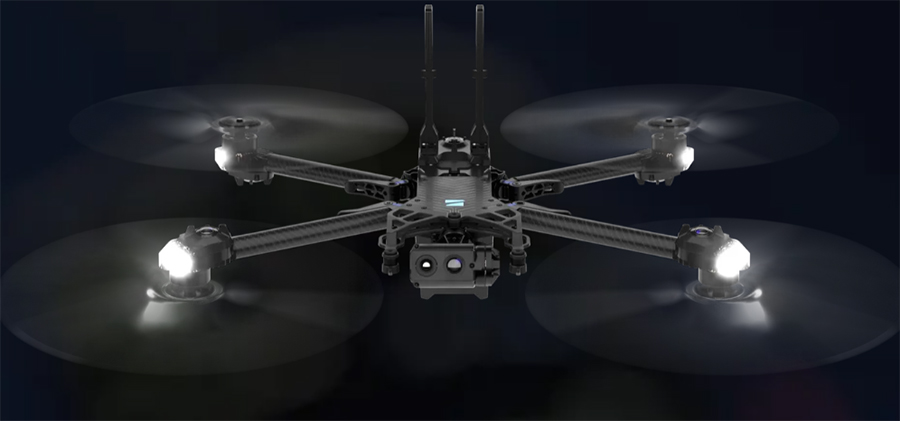 Skydio is a brand that built up a good reputation for autonomous drone flight. The brand's autonomous system has been refined and improved over a few generations of drone models. With the X2E, Skydio brings this technology to an enterprise platform that is fit for public safety use.
The X2E comes with six 4K navigation cameras and an onboard AI for omnidirectional obstacle avoidance. The design features foldable arms and a small footprint for quick deployment. The frame of the drone is made of magnesium and fiber composites, giving the drone an optimal lightweight and durable construction.
The X2E can be outfitted with a dual visual-thermal camera. This combines a FLIR Boson 320 x 256 thermal camera with 8x digital zoom and an HDR-capable visual camera with 16x digital zoom and can record 4K videos at 60 fps. The drone can fly for up to 35 minutes on a single battery cycle. At night, the drone can be operated either with strobe lights or completely in the dark using GPS-aided stabilization and navigation.
The X2E is an American-made drone that has been certified compliant by the NDAA and is one of the few drone platforms approved under the Blue sUAS program. This should make the adoption of the drone easier for law enforcement agencies or defense contractors.
It's worth noting at this point that these drones are likely some of the most expensive drones that you can buy today. Advanced features like thermal cameras and obstacle avoidance systems are still uncommon and can drive drone prices up. These drones are meant to be used by enterprise-level customers and you can expect them to cost around $5000 and above.
Final thoughts
Public safety has become an established use case for drones around the world. There are already a few hundred success stories out there of missing people being located quickly because of drones, or law enforcement operations that were completed safer through the use of drones. These drones may be expensive, but the investment easily pays off as lives are saved.