Private Pilot License Requirements for Dummies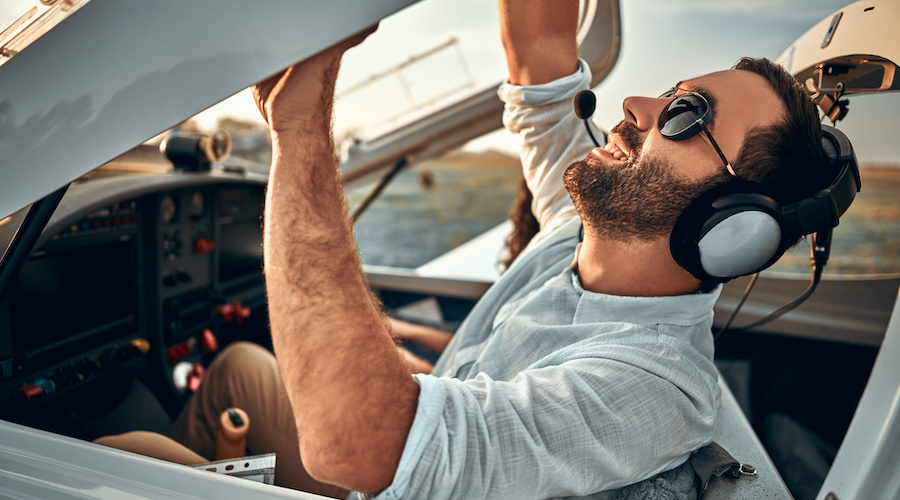 Flying aircraft makes for a fascinating pursuit.
Getting your private pilot license (PPL) is one way to do it.
What's great about a PPL is that it allows you to fly one or more kind of aircraft:
Airplane (single-engine and multiengine)
Rotorcraft (helicopter and gyroplane)
Lighter-than-air (airship and balloon)
Powered-lift
Glider
How do you get your PPL, though?
For starters, you should know the private pilot license requirements.
What are they? Let's find out.
Note: Although you may fly several aircraft categories and classes with a PPL, this article focuses mostly on the airplane single-engine land (ASEL).
What are the Private Pilot License Requirements?
The private pilot license requirements are a set of perquisites the FAA established for applicants to qualify for a PPL.
Here's a synopsis of the FAA requirements for private pilot certification:
Be at least 17 years of age (16 for a glider or balloon)
Be able to read, speak, write, and understand English
Hold a U.S. student, sport, or recreational pilot certificate
Hold at least a third-class medical certificate
Receive a logbook endorsement from an instructor certifying you're prepared for the knowledge test
Receive flight training and a logbook endorsement from an instructor certifying you're prepared for the practical test
Meet the aeronautical experience requirements
Pass the knowledge test
Pass the practical test
That's the short version.
Enough to get an idea about the PPL requirements? Probably.
If you want to know everything, though, you should read on.
Medical Certificate Requirements
You must have at least a third-class medical certificate to take the practical test and exercise the privileges of a private pilot license.
An FAA Aviation Medical Examiner (AME) will issue the third-class medical certificate after you:
Fill an official FAA application form through MedXPress
Schedule an appointment
Undergo a physical examination
Meet the medical standards for the third-class medical certificate
How long is the third-class medical certificate good for?
It's valid for two years if you're 40 years of age or over and five years if you're under 40.
Do you have another option to meet the medical requirements?
Yes.
The FAA came up with BasicMed back in 2017, though, which permits private pilots, among other airmen, to fly without a medical certificate provided that they:
Take a medical education course
Undergo a medical examination every four years
Abide by the aircraft and operating restrictions
Are you medically fit?
Great, let's talk about your aviation knowledge.
Aeronautical Knowledge Requirements
Aeronautical knowledge constitutes one of the integral requirements for private pilot certification.
You must receive and log ground training to qualify for a PPL. However, the way you receive ground training depends on the type of pilot school.
You see, flight schools can operate under Part 61 or Part 141 of the Federal Aviation Regulations (FAR).
What's the difference?
You can choose between taking lessons from an authorized instructor and completing a home-study course in Part 61 school. Conversely, you must complete an FAA-approved course that consists of at least 35 hours of training in Part 141 schools.
The aeronautical knowledge areas are the same in either type of school, though.
Here's a list of what your ground training must cover:
Federal Aviation Regulations relating to private pilot privileges, limitations, and flight operations
Accident reporting requirements of the NTSB
Using the Aeronautical Information Manual (AIM) and FAA Advisory Circulars (AC)
Using aeronautical charts for VFR navigation (pilotage, dead reckoning, and navigation systems)
Radio communication procedures
Recognition of critical weather situations, windshear avoidance, and obtaining and interpreting aeronautical weather reports and forecasts
Safe and efficient operation of aircraft (collision avoidance, and recognition and avoidance of wake turbulence)
Density altitude effect on takeoff and climb performance
Weight and balance calculations
Principles of aerodynamics, powerplants, and aircraft systems
Stalls and spins awareness, entry, and recovery techniques
Aeronautical decision making and judgment
Preflight action that includes:

Obtaining information on runway lengths, takeoff and landing distances, weather reports and forecasts, and fuel requirements at airports of intended use
Planning for alternatives
Your aeronautical knowledge is only one half of your pilot training.
What's the other half?
Exactly, your flight training.
Flight Proficiency Requirements
You must receive ground and flight training on the following:
Preflight preparation, preflight procedures, and postflight procedures
Performance, ground reference, and basic instrument maneuvers
Takeoffs, landings, and go-arounds
Airport, emergency, and night operations
Navigation
Slow flight and stalls
So, you got a good idea about the private pilot ground and flight training.
Fantastic, but you should also know about the private pilot hours requirements.
Let's jump in.
Aeronautical Experience Requirements
Summary
Part 61 and Part 141 schools are quite similar in terms of flight time requirements for the PPL. The two differ only in the minimum total hours and solo flight time.
Here's a snapshot of the minimum private pilot license hours requirements:
| | | |
| --- | --- | --- |
| Minimums | Part 61 | Part 141 |
| Total Flight Hours | 40 | 35 |
| Flight time with an Instructor | 20 | 20 |
| Solo Flight Time | 10 | 5 |
| Cross-country Flight Training Time | 3 | 3 |
| Takeoffs and Landings | 10 | 10 |
| Night Flight Time | 3 | 3 |
| Instrument Training Flight Time | 3 | 3 |
| Practical Test (Checkride) Preparation Flight | 3 | 3 |
And here's the rundown:
Flight Instruction
Your flight training in both Part 61 and Part 141 schools must involve at least 20 hours of flight training with a flight instructor, which include at least the following minimums:
3 hours of cross-country flight training
3 hours of night flight training, including one cross-country flight with a distance of more than 100 nautical miles total, 10 takeoffs and 10 landings to a full stop in a traffic pattern)
3 hours of flight training on flying solely by reference to instruments
3 hours of flight training in preparation for the practical test within 60 days of the test
Solo Flight Hours
You must log a minimum of 10 hours of solo flight time, including at least 5 hours of solo cross-country time in a Part 61 school. On the other hand, you must log at least 5 hours of solo flight training in Part 141.
Your solo flight time in either type of school must include:
One solo cross-country flight of 150 (100 for Part 141) nautical miles total distance, with full-stop landings at three points, and one segment of the flight consisting of more than 50 nautical miles straight-line distance between takeoff and landing
Three takeoffs and three landings to a full stop within a traffic pattern at an airport with an operating control tower
The difference in the minimum total hours between Part 61 and Part 141 is pretty insignificant.
Why?
Most pilots need to log 60 to 75 hours to be ready for the private pilot practical test (checkride).
Speaking of tests, they come with requirements too.
Knowledge Test Requirements
Prerequisites
You must meet the following prerequisites before you can take the private pilot knowledge test:
Have an acceptable form of identification
Be at least 15 years old
Meet or will meet the age requirements for the private pilot certificate before the expiration date of the airman knowledge test report
Receive an endorsement from an authorized instructor certifying that you accomplished the appropriate ground-training or a home-study course
In January 2020, the FAA started assigning a Federal Tracking Number (FTN) to all applicants applying for FAA certification. Therefore, you must now obtain an FTN by creating a profile in the Integrated Airman Certification and Rating Application (IACRA) System.
Additionally, you must present the following documents before taking the knowledge test:
Identification
A current, valid form of identification that must include your photo, date of birth, signature, and physical, residential address. Acceptable forms of identification are as follows:
U.S. Citizens & Resident Aliens
Non-U.S. Citizens
·       U.S. Identification card, such as a driver's license

OR

·       Passport

OR

·       Alien residency card

Passport

AND

·       Driver permit or license issued by a U.S. state or territory

OR

·       Government-issued Identification card
If you're under the age of 18 and don't have an acceptable form of identification, a parent or legal guardian is required to accompany you to attest to your identity.
Test Authorization
A test authorization proves that you have met all of the requirements to take the knowledge test. You must have at least one of the following acceptable forms of test authorization:
A certificate of graduation from a pilot training course or a statement of accomplishment certifying satisfactory completion of the ground school of a pilot training course at an FAA-approved pilot school or an agency (e.g. the Civil Air Patrol)
A written statement or logbook entries from an FAA-certified ground or flight instructor, certifying that you've satisfactorily completed the required ground instruction
A certificate of graduation from a home-study course by the enterprise providing the course
Retest Authorization
An acceptable form of retest authorization to retake the test, which can be either a passing, expired, or failed Airman Knowledge Test Report (AKTR).
If you're retesting to achieve a higher passing score, you may retake the same test 30 days after the date of the last attempt. Retesting requires submitting only your AKTR in this case.
If you fail the test, though, you must also have an endorsement from an authorized instructor certifying that you received additional training and are proficient to pass the test. The endorsement may take the form of:
Signed written statement
Signed logbook notation
A completed Authorized Instructor's Statement portion of the failed AKTR
What comes after the knowledge test?
Yes, the checkride.
Practical Test Requirements
Prerequisites
You must meet the following prerequisites to be eligible for the private pilot checkride:
Pass the knowledge test within 24 calendar months from the practical test
Present the knowledge test report when applying for the practical test
Have satisfactorily accomplished the required training
Obtained the required aeronautical experience
Hold at least a third-class medical certificate
Meet the prescribed age requirement (17, or 16 for balloon and glider)
Have a completed and signed application form
Have an endorsement in your logbook or training record signed by an authorized instructor, certifying that you:

Have received and logged training time within 2 calendar months before the month of application in preparation for the practical test
Are prepared for the required practical test
Have demonstrated satisfactory knowledge of the subject areas in which you were deficient on the knowledge test (if applicable)
Documents
You must provide an airworthy aircraft with equipment pertinent to the operations required for the private pilot practical test. You must also have all the relevant aircraft documentation available for inspection, such as the aircraft's airworthiness certificate, logbooks, and maintenance records.
Furthermore, you must have the following documents:
FAA Form 8710-1 (Application for an Airman Certificate and/or Rating), with the flight instructor's recommendation
Student pilots certificate with endorsements for solo, solo cross-country, and for the make and model of airplane used in the practical test
Your Knowledge Test Report
Photo ID
Your medical certificate
Your FCC radio station certificate
Your pilot logbook
Your graduation certificate from an FAA-approved school (if applicable)
Still reading? You deserve a pat on the back if you made it here.
Operating Requirements
Privileges
You must have the following items in your physical possession or readily accessible in the aircraft when exercising the privileges of your PPL:
Valid and current private pilot certificate
Valid and current medical certificate
Valid Photo ID
Currency
You must complete a flight preview within the preceding 24 calendar months to act as pilot in command of an aircraft.
The flight review must involve at least one hour of flight training and one hour of ground training, and must include:
A review of the current general operating and flight rules (Part 91)
A review of the maneuvers and procedures necessary to demonstrate the safe exercise of the privileges of the private pilot certificate
What if you want to carry passengers?
Then you must have made:
At least three takeoffs and three landings (to a full stop if the aircraft is an airplane with a tailwheel) within the preceding 90 days
For night flights, the landings must be made to a full stop during the period beginning one hour after sunset and ending one hour before sunrise
As the sole manipulator of the flight controls during the takeoffs and landings
in an aircraft of the same category, class, and type (if required)
Proficiency
The aforementioned requirements are for currency, which correlates with remaining legal to fly aircraft.
Proficiency is equally important, which means you should fly as often as possible and refresh your aeronautical knowledge regularly.
One More Thing
First things first, this article is for informational purposes only.
It gives you quick, easy access to the PPL requirements, but it doesn't substitute the regs.
You should definitely consult the FAA website and Federal Aviation Regulations for the complete, verbatim private pilot license requirements.
What else?
Well, if you're about to become a private pilot, you'd be wise to check the private pilot ACS (Airman Certification Standards).
It's a useful resource for the knowledge and practical tests.
Final Thoughts
Knowing the rules, regulations, and requirements makes you a safe pilot.
The private pilot requirements state the prerequisites, knowledge areas, and flight skills you need to qualify for the license.
However, getting your PPL requires study, practice, and dedication.
If you're thinking about getting your PPL, it's a good idea to invest in quality ground training.
What's a great way to learn tedious aviation theory?
Short, easy-to-follow videos.
Pilotinstitute provides just that in the private pilot airplane course, which helped tens of thousands of students ace their tests.
In conclusion, a good pilot knows his or her aircraft, books, and license requirements.
Be a good pilot.