The Mini 3 Pro, the latest entry to the DJI Mini series, is simply one of the best drones you can buy today. It can shoot 4K videos, has a 3-axis gimbal, has obstacle avoidance sensors in all directions, and has a full suite of intelligent flight and camera modes. It does all this while managing to still weigh less than 250 grams.
As excellent as the Mini 3 Pro is, its experience can still be improved with the right set of accessories. Check out this list of accessories that are perfect for the Mini 3 Pro.
Intelligent Flight Battery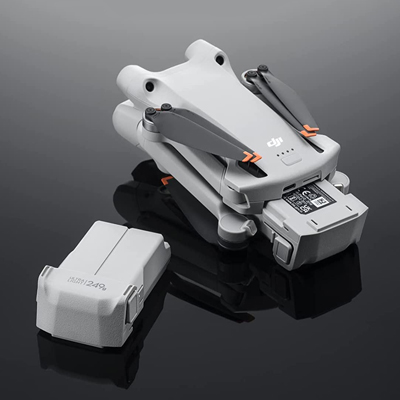 When you're flying a drone as excellent as the Mini 3 Pro, one battery is not enough. For a satisfying session of drone flight, we recommend grabbing one or two extra Intelligent Flight Batteries. The default version of the battery provides about 34 minutes of flight time. There is a heavier and more expensive alternative that lets the drone fly for up to 47 minutes but will also push its weight past the 250-gram limit.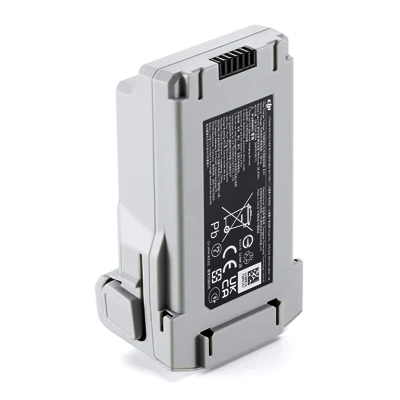 Once you have several Intelligent Flight Batteries on hand, it makes sense to go ahead and buy a Charging Hub as well. The hub allows you to charge three batteries simultaneously. The hub also covers a power bank for charging your external devices from the Mini 3 Pro batteries.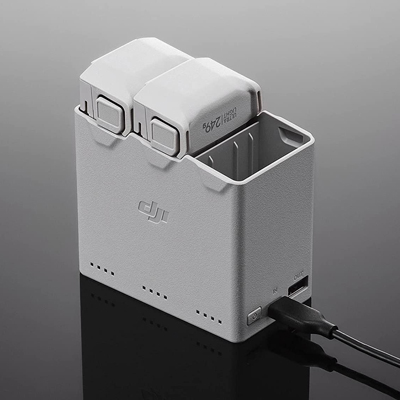 Spare propellers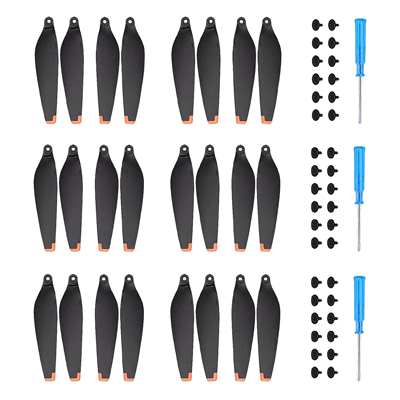 It is always wise to carry around a few sets of extra propellers, no matter which drone you're flying. Propellers will always be the most damage-prone part of any drone, so having a set of spares means that you don't have to cancel a planned flight. This set of 24 propellers should be more than enough for several sessions.
There is a wide selection of third-party propellers out there for the Mini 3 Pro. This particular brand has hard plastic tips, instead of the soft gel tips of the original DJI propellers. This makes the third-party propellers a little cheaper, though may lack the safety factor of the soft-tipped DJI version.
Carrying Case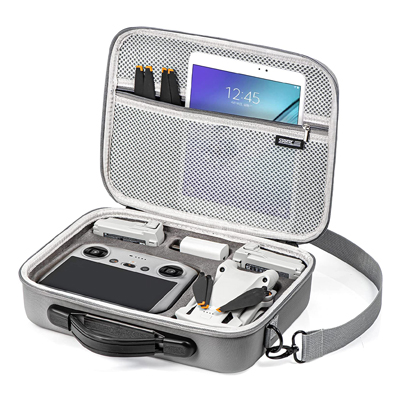 If you plan on going anywhere with your Mini 3 Pro, then you should invest in a good carrying case. The Mini 3 Pro is not a cheap drone so spending a bit to keep it protected is a sound decision. The Mini 3 Pro Carrying Case from STARTRC has a hard shell cover and enough space for the drone, a remote controller, spare batteries and propellers, a charging hub, and a tablet.
Everything fits nice and snug inside the carrying case, which is perfect for constantly moving about or presenting the drone during a TSA check in an airport. A major downside is a fact that the drone prominently displays that it contains a Mini 3 Pro.
ND filter set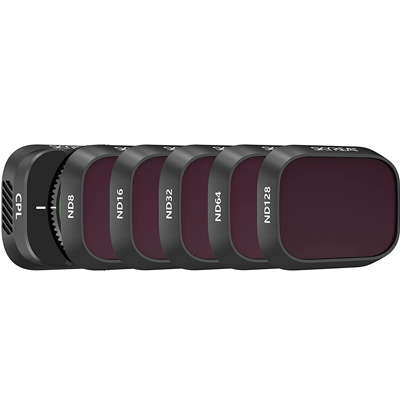 The wide ISO range of the Mini 3 Pro makes it more suitable for low-light photography, but what if you are in a setting where the lighting is too harsh? That's exactly where having a complete set of ND filters would be great.
The 6-Pack set of ND Filters from SKYREAT has filters for 3 to 7 stops plus a circular polarizing filter. The filters are light enough to not cause any interference during gimbal calibration. The magnetic closure ensures that the filters click in place snugly and in the proper position. A cleaning cloth is included for when you inevitably get fingerprints on the filters.
Drone landing pad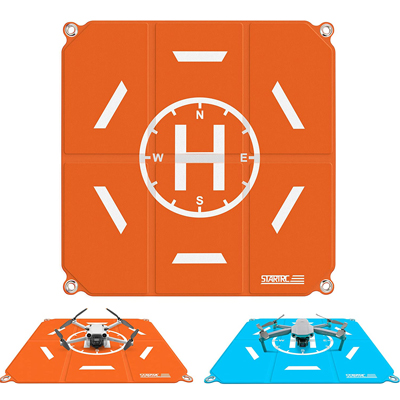 One drawback of the unique design of the Mini 3 Pro is that it has very short landing gear. This makes the bottom side of the drone prone to getting damaged, particularly when landing over an uneven surface. A good landing pad provides a measure of protection for the drone in any spot where there is grass, snow, or loose sand or soil.
The STARTRC landing pad provides a high-visibility landing spot. The pad itself has waterproof and stainproof material and can be folded down for easy packing.
Detachable landing gear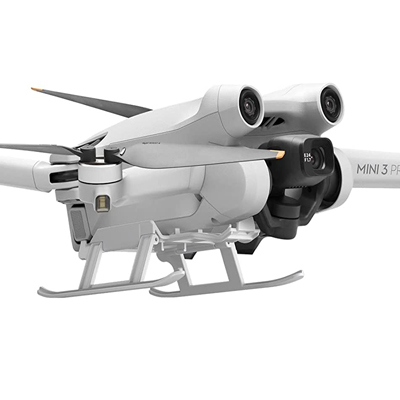 Since we're already on the topic of the Mini 3 Pro's tiny landing gear, why not just extend it? This detachable accessory from STARTRC gives the Mini 3 Pro a bit of much-needed height. The landing gear can also be folded down for better portability.
The landing gear only weighs 10 grams and will not affect the Mini 3 Pro's flight performance. However, having it on the drone will push its take-off weight beyond the 250-gram limit. Take note of this fact if you're flying the Mini 3 Pro for commercial purposes.
Propeller holder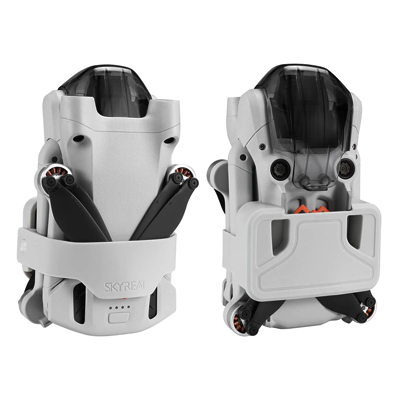 The light and compact design of the Mini 3 Pro makes it excellent for moving around constantly, but carrying it in a bag can cause some damage to its propellers. To avoid this, we recommend putting on a propeller holder. This wraps around the body of the Mini 3 Pro when folded down to prevent the propellers from moving around.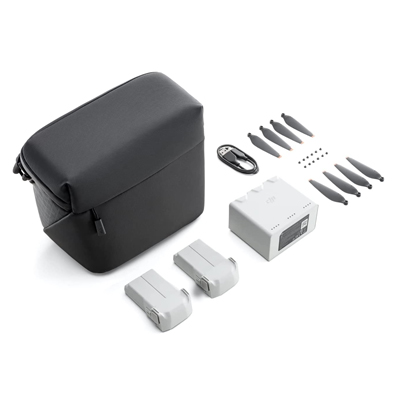 The propeller holder is made of soft silicone material, so it should not cause any scratches on the drone's body. This is a must-have accessory if you're storing your Mini 3 Pro in the soft carrying bag that comes with the Mini 3 Pro Fly More kit.
Propeller guards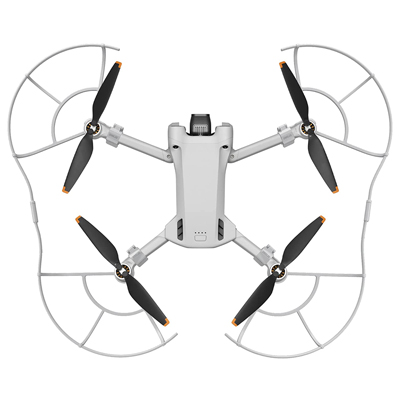 Being a small drone, it's tempting to fly the Mini 3 Pro close to obstacles and even to other people. This isn't safe at all, but some protection will help. These propeller guards from STARTRC form a protective barrier around the propellers, keeping them from causing injury or property damage.
The propeller guards attach quickly via wraparound buckles on the propeller arms of the drone. Although light enough to not disrupt the drone's flight performance, these propeller guards will still increase the takeoff weight past the 250-gram limit. Take note of this if you are using the Mini 3 Pro without an FAA registration.
Lanyard strap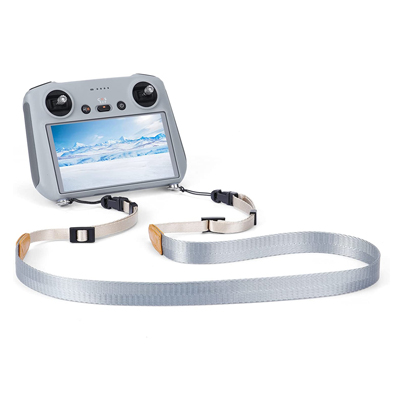 The Mini 3 Pro comes with an appropriately compact remote controller, but that does not mean that it's not tiring to carry around. To ease this burden, it's a great idea to use a lanyard strap. Having a lanyard is also useful for when you have to use the remote controller with just one hand, such as if you're hand-launching the Mini 3 Pro.
Made with a combination of polyester and faux leather, this lanyard from Seasky is both comfortable and strong. It comes with adjustable straps and quick-release buckles. With an unassuming design, the Seasky lanyard for the Mini 3 Pro puts function over form.
Sun hood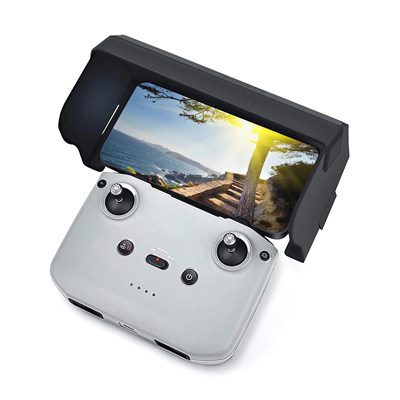 A bright and sunny day is the best time to fly a drone, but it also means having to deal with glare on the screen of your remote controller. Make sure that you are ready for such a scenario with a good sun hood. The sun hood from STARTRC is made of lightweight PU and PC, attaches via Velcro, and can be folded down for easy storage.
A potential issue with this sun hood is that it reduces the space on the touch screen interface, particularly for pulling down the main menu from the top edge of the screen. This could have easily been solved with a thinner frame. Another point against using a sun hood is the fact that the Mini 3 Pro controller has a very bright screen that maintains good visibility even under peak sunlight.
Final thoughts
The Mini 3 Pro is one of the best drones to come out in recent years, notably because it packs in so many features for a drone that weighs less than 250 grams. However, getting the most out of this small but powerful drone will require getting a few accessories.
It's important to note that attaching any accessories to the Mini 3 Pro will increase its weight substantially. There's a good chance that it will weigh above the weight limit that FAA allows for non-registered recreational drone flights.