In a niche of gaming that is already considered very specialized, it speaks a lot about Microsoft Flight Simulator 2020 that many consider it to be a disruptive title. With amazing imagery, real-world map information, dynamic weather and traffic, and expansive aircraft customization options, the game delivers one of the most realistic simulations of aviation that we have seen so far.
Maximizing the capabilities of Flight Simulator means investing in some pretty high-end hardware. Aside from a lot of hard drive space and a powerful GPU, the simulation is best enjoyed with special joysticks and yokes. Can't decide which one to buy? Then check out our recommendations below.
Should you buy a yoke or a joystick?
When playing Microsoft Flight Simulator, you have a choice between two control options – a yoke or a joystick. Both options are good and somewhat accurate representations of how aircraft are controlled in real life. As with any decision worth making, each of the options has its set of benefits and drawbacks.
A yoke is a controller that looks more like a steering wheel and will give you a more realistic experience of flying a large commercial aircraft like a Boeing 747. The larger interface provides more expansive controls and a more fully realized flight experience.
Flight yokes aren't as common as joysticks. If you manage to find one, it's likely going to be a bit more expensive than the average joystick. Yokes also suffer from a lack of versatility – they aren't good for any other type of game that isn't a flight simulator.
In the world of flight simulators, a joystick is more commonly referred to as a Hands On Stick and Throttle (HOTAS) controller. HOTAS controllers for flight simulators typically come with several axes of motion and numerous buttons that can be re-mapped in various ways.
HOTAS controllers don't quite deliver the same level of immersion as a flight yoke, but they can be useful for more arcade-like flight games. This versatility, aside from the fact that HOTAS controllers are quite common and typically cheaper, make them the more practical option if you're on a tight budget.
The top 5 best yokes and joysticks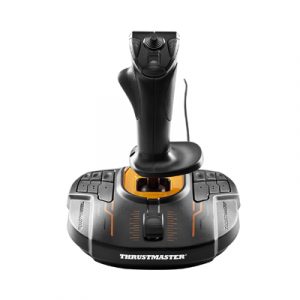 If you're looking to try out the feeling of flying a simulator with a joystick but do not want to spend too much, then the T1600M from Thrustmaster is one of the most affordable options. This is just a joystick, though, so you're going to miss out on the experience of using a throttle or a more complex control panel.
The T1600M FCS isn't going to leave you short-changed when it comes to interaction. The flight stick itself can move across four independent axes, including a twisting rudder to yaw your aircraft. The 16 action buttons with tactile Braille markings can be re-mapped to your most critical needs. The stick also has an 8-way hat switch and a quick trigger button.
The T1600M FCS is designed to be ambidextrous. Two of these flight sticks can be combined for games that can be played using two joysticks – quite a rarity but a nice option to have, nonetheless.
The great thing about buying a flight stick from the Thrustmaster brand is that you can readily expand your flight control system with their other products. Thrustmaster also sells throttles and pedals which use the same TARGET software and are compatible with the T1600M FCS.
The biggest downside to buying a budget flight stick like the T1600M FCS is that it's not the most durable out there. The much-touted twist rudder is often the first part of the stick to be damaged.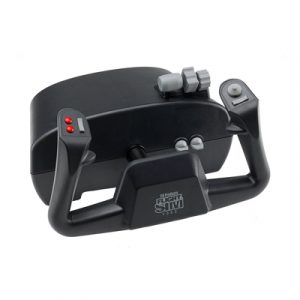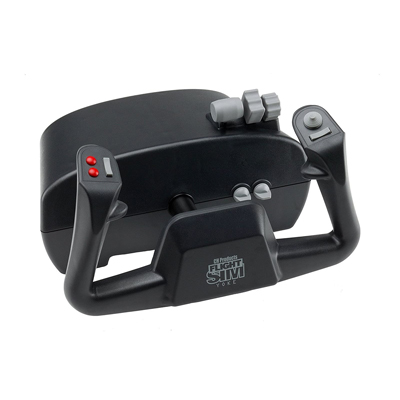 A flight yoke that costs less than $300 is a rarity, so this Flight Sim Yoke from CH Products is a great entry-level product for those who want to "upgrade" from a HOTAS controller. This yoke has all the bells and whistles a beginner can look for – five-axis motion, thrust levers, flip switches, rocker switches, an 8-way POV hat switch, and a total of 144 programmable functions.
In terms of sensitivity and responsiveness, there is little to complain about when using the CH Products flight yoke. Experienced gamers will enjoy how well the yoke responds to even the slightest movement, adding to the immersion of the simulation. If exceptionally sensitive controls aren't your thing, the yoke also has trim controls to reduce sensitivity to the levels you're comfortable with.
For a flight yoke at this price range, it can be surprising how smooth the controls of the CH Products flight yoke are. A major thing at it lacks is that it does not have an accurate re-center function like a real yoke should. This is something you get used to after a while, and you simply learn to adapt to it.
In terms of build quality, the CH Products Flight Sim Yoke somewhat painfully reminds us how relatively inexpensive it is. It lacks the heft and premium feel of the more high-end flight yokes. Instead, the plastic construction feels too light and flimsy. This does not mean that it will break down prematurely, but we advise not putting it through too much abuse.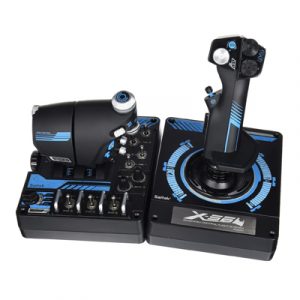 Just one look at the X56 Rhino HOTAS controller from Logitech and you know that this is a controller that means business. Made with military-grade materials, this joystick and throttle combo is easily one of the most premium flight controllers out there and comes with an appropriately premium price tag.
The X56 Rhino offers controls that are much more refined than other HOTAS controllers. The flight stick allows for six axes of motion, along with a multitude of buttons and triggers. A groundbreaking feature of the stick is the option for the user to replace the entire spring system so that moving the stick has just the right level of resistance. There will be some assembly needed to perform this function, but it's nothing too complex.
To expand the control options, the X56 Rhino also comes with a Twin Throttle module. This is excellent for flight simulators with twin-engine controls, as it allows you to vary the throttle between the two engines. For single-engine simulators, the twin throttles can also be locked together. The panel for the throttles adds an array of buttons and flip switches for more expansive and granular control.
To make sense of an overwhelming control system, the X56 Rhino can be programmed using the Saitek HUD configuration software. This allows you to assign buttons to specific on-sim functions and to fine-tune the response curve of the throttles and flight stick. It does seem overwhelming at first, but tweaking your controls is a part of the full flight simulation experience.
There are huge barriers to entry to using the X56 Rhino, both in terms of price and complexity. This is easily one of the most complicated HOTAS controllers in the market. At more than $400, it's also pricey enough to turn off gamers who are still new to flight simulators.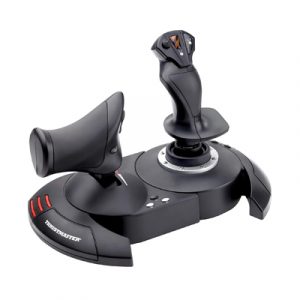 One thing we don't like about most of the HOTAS controllers is that their designs all seem too busy. The T-Flight from Thrustmaster takes a more conservative approach to typical HOTAS design, making a controller that looks sleeker without losing out on all the features that are critical to playing flight simulators.
The T-Flight HOTAS controller comes with both a flight stick and a detachable throttle. The flight stick provides all the motion controls needed for flight simulators, including a rotating function to yaw an aircraft. Most of the buttons are on the stick itself, allowing for easy access.
Should you need more control options, you can quickly dock the throttle together with the flight stick. The throttle comes with a wide ergonomic hand rest, adjustable resistance, a multi-directional hat switch to shift perspectives, and several other programmable buttons. The throttle and flight stick can also be used together, even when they are undocked.
In terms of ergonomics, the T-Flight HOTAS controller seems like the most intelligently designed controller for flight simulators. The modular configuration is genius, as it makes the controller so much more adaptable to different gaming spaces. The contour of both the flight stick and the throttle is also excellent. If you tend to play flight simulators for hours on end (who doesn't?), then playing with this controller is a great way to avoid wrist and hand problems.
This is another good budget option as the whole setup costs less than $200. However, this also means that the built quality isn't top-notch. Not that it's surprising, but the plastic material of the T-Flight controller feels flimsy and less than premium.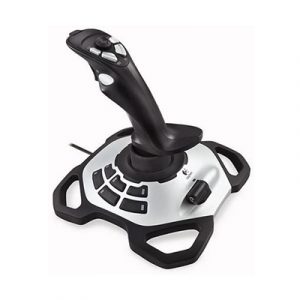 The first thing you need to know about the Extreme 3D Pro Joystick by Logitech is that it's really old. It has been in the market for close to seven years, so you can just imagine how outdated its technology is by now. This may seem like an unwise decision if you're playing something as advanced as the Microsoft Flight Simulator 2020.
However, it also cannot be denied that it's one of the cheapest flight joysticks out there. Because of the friendly price, the Extreme 3D Pro remains on the most popular joysticks today despite its age. Years of use have proven how rugged this joystick is – some gamers have been using the same joystick for five or six years without needing a replacement.
The Extreme 3D Pro comes with a twist rudder, an 8-way hat switch, a quick trigger, and 12 programmable buttons. All the controls are contained in a comfortable and ergonomic construction with a wide weighted base that adds stability. This joystick is just as comfortable as the best flight sticks that have been developed more recently.
Although very cheap, one cannot help but realize how the Extreme 3D Pro was designed for the flight simulators of its time. The 12 programmable buttons might have been enough for the older games, but today's games are so much more complex. If you don't mind mapping some of the functions of modern flight simulators to your keyboard, then the Extreme 3D Pro is a time-tested flight stick that won't break the bank.
Final thoughts
We'll be honest – getting into flight simulators can take an absolutely huge investment in hardware. The latest title in this genre, the Microsoft Flight Simulator 2020, further emphasizes this point. Between the powerful GPU needed to run this simulator in ideal settings, the only way to enjoy the full experience is to get away from your mouse and keyboard and play with a flight stick or yoke.
As we've seen from this list, flight yokes and joysticks are typically a lot more expensive than your standard game controller. This can't be helped, as they are also extremely complex controllers. If you're still a beginner in playing flight simulators, we have also presented entry-level options that are less expensive.
Note: Pilot Institute is part of the Amazon Associates program. We may earn a commission on sales, although this does not increase the cost for you.