The US has some of the most robust and comprehensive for drone flight in the entire world. If you're a foreigner who wishes to fly a drone in the US, then don't let this little fact deter you. There is a clear method to comply with these rules.
However, we must warn you early on – there is a huge difference in the complexity of the procedures depending on whether you plan to fly your drone just for fun or for profit. Whichever your case may be, we have prepared this guide for you.
Flying a drone for fun in the US
If you're just flying a drone for fun, then the rules for drone flight are considerably easier to comply with. Just take note that the FAA is very strict about maintaining that recreational drone flight remains within the bounds of flying just for fun. Any drone activity that is meant to generate a profit or to aid any business or institute can no longer be classified under the umbrella of recreational flight.
1. Register your drone
The first thing to do before flying your drone is to register it with the FAA. This can be done easily through the FAA DroneZone website. The process is pretty straightforward but make sure that you are registering the drone under the "Exception for Recreational Flyers."
Take note that you need to be at least 13 years of age to register a drone with the FAA. You will need to provide some personal details and pay the $5 registration fee. You only need to register once under recreational rules even if you plan to operate multiple drones.
You will also need to label your drone with the corresponding registration number before flying. We recommend doing this with a sticker, although a permanent marker also works nicely. It is important to place the label in a spot on the drone that is easily visible upon visual inspection.
2. Take the TRUST
The Recreational UAS Safety Test (TRUST) is a fairly recent addition to the list of requirements for recreational drone pilots in the US. Naturally, foreigners must also take the TEST before flying a drone for fun. Don't worry – this test is quick and painless.
The TRUST is completely free and can be done online. You also cannot fail the test – you just have to complete it. The TRUST simply ensures that all recreational drone pilots know the basic rules for maintaining the safety of the national airspace. You can take the TRUST right here at Pilot Institute.
3. Fly within the rules for recreational drone flight
Once you have passed the TRUST, make sure to print proof of your completion and you should be good to go. Just make sure to fly within the rules of recreational drone flight in the US. The relevant law to follow would be Section 44809 or The Exception for Limited Recreational Operations of Unmanned Aircraft. We suggest reading up on it before you head out with your drone.
Flying a drone commercially in the US
If you're planning to fly a drone for a business or for a paid job, then you're going to have to go through a considerably more complex process. We suggest planning ahead for such a task because the processing of the documents can take a few weeks.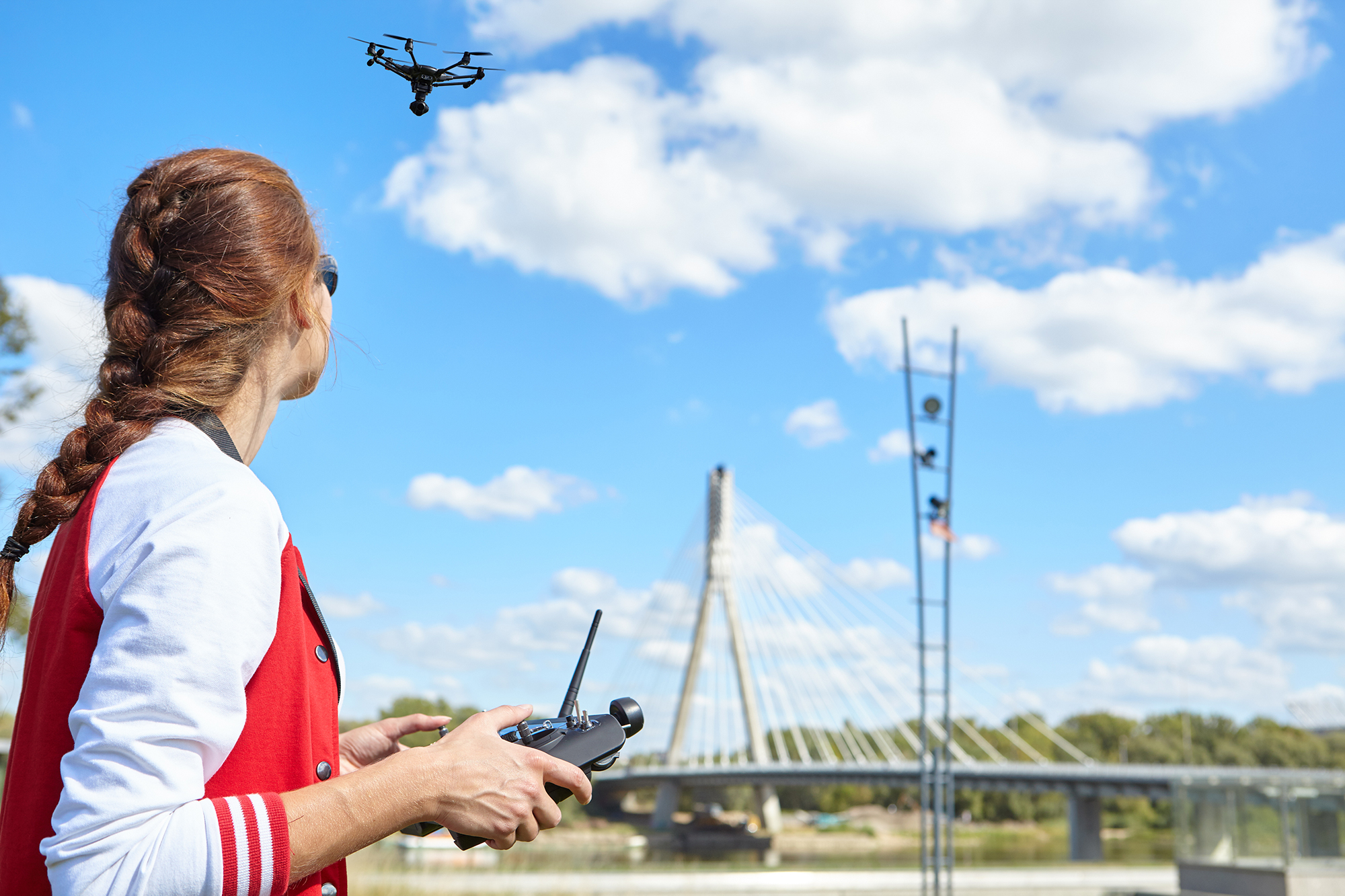 Before we dive into the whole process of flying under Part 107 rules, we would like to point out that it is entirely possible to just hire a drone pilot who is already licensed under Part 107. This will save you a lot of time and paperwork. It's even possible for you to fly a drone as long as you are being physically supervised by a Part 107-licensed drone pilot.
If that's not an option, then you will have to go the longer route. Here are the steps:
1. Get an Economic Authority
This first step ideally should be done well ahead of your planned drone operations. We suggest setting a lead time of at least 30 days just for this step.
According to 14 CFR Part 375 or "Foreign Air Carrier Economic Licensing," a foreigner who wishes to fly a drone for profit in the US must first secure an Economic Authority or a Foreign Air Carrier Economic License from the US Department of Transportation. This is a requirement that applies to both drones and manned aircraft.
Applications for Economic Authority are to be filed electronically via www.regulations.gov. In your application, you will have to specify the nature of your proposed operations, the type of drone that you will use, your country of citizenship, and whether you hold any drone licenses from your home country.
There are certain exceptions to the rule. Applicants from EU member states have the privilege of an abbreviated list of submissions, although the rule does not specify if this also applies to drone flight.
Canadian and Mexican citizens may no longer need to apply for an Economic Authority based on the North American Free Trade Agreement (NAFTA) given that their drone operations are included in a list of pre-approved commercial activities or Specialty Air Services (SAS). These include surveying, mapping, photography, and spraying among others. To check if your planned drone activities will not need an Economic Authority, you may read this NAFTA Information Packet.
2. Register your drone
Once you have complied with the requirements of the DOT, you can then proceed to do the requirements of the FAA. These two sets of requirements are completely independent of each other.
Registering a drone for Part 107 operations is really no different than the process for recreational flight. Just head over to the FAA DroneZone website and make sure to click the button for registering a drone under Part 107.
The only major difference is that you will need to register your drones individually, should you be planning to fly multiple drones. This means that each drone will be granted a unique registration number and that you will have to pay the $5 registration fee multiple times. The rules on labeling still apply.
3. Get a Part 107 drone license
Finally, you will need to apply for a Part 107 remote pilot certificate or drone license. 14 CFR Part 107 or the "Small UAS Rule" is the set of rules that govern commercial drone flight in the US. Among its many requirements is that all drone pilots who fly commercially in the US must earn a drone license by passing a 60-item knowledge test.
You will have to be physically present to take the Part 107 knowledge test. However, you can start preparing for the test even before you arrive in the US. The Part 107 Made Easy training course by Pilot Institute can be accessed anywhere on both mobile and desktop. Paying a one-time fee also gives you lifetime access to the course, so you may take the knowledge test at your convenience.
You will first need to get an FAA Tracking Number (FTN) by signing up for an account on the Integrated Airman Certification and Rating Application (IACRA) website. You will then need this FTN to set an appointment for your knowledge test via the PSI website. You can choose to take the knowledge test in any of the 700+ testing centers of PSI.
Once you have passed the test, you can proceed to apply for the remote pilot certificate through IACRA. After a background check, your temporary certificate will be sent by email. Print a copy of this and take it with you whenever you fly a drone commercially. Meanwhile, the permanent certificate should arrive by mail after a few weeks.
Read up on airspace rules
One of the primary goals for all these drone flight regulations is to preserve the safety of the national airspace. Drone pilots play a significant role in this objective, especially considering how the number of drones in the US grows steadily.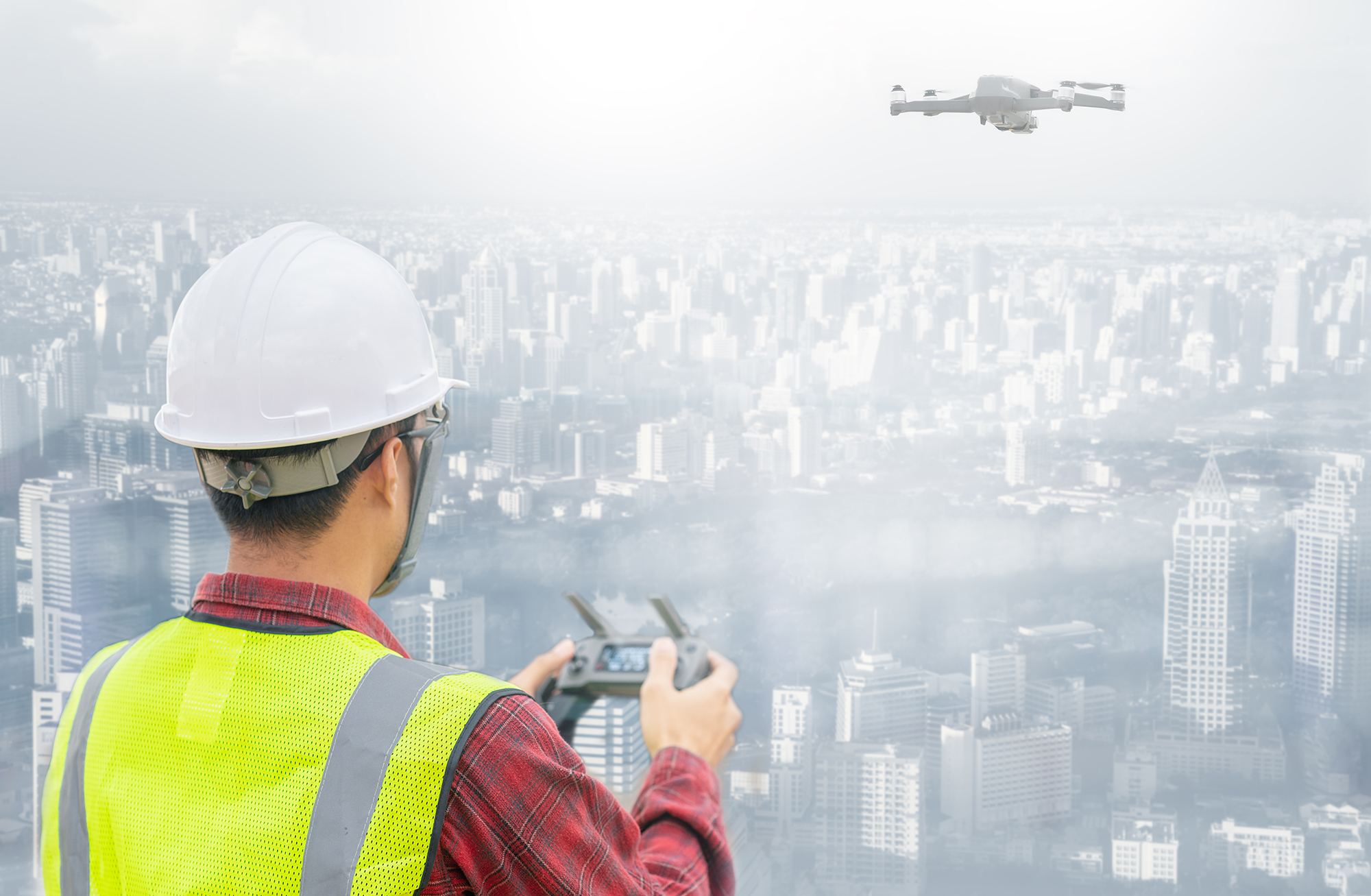 Whether you're flying commercially or recreationally, the knowledge test that you have taken should have already covered the basic aspects of airspace rules. The most important concept to know is that of controlled airspace – typically the airspace that exists around airports. You can check for the location and extent of controlled airspace by consulting a sectional chart or drone flight planning apps like AirMap, Aloft, or Skyward.
To fly in controlled airspace, you will have to request airspace authorization. This can be done easily through the Low Altitude Authorization and Notification Capability (LAANC). Through LAANC, you can request airspace authorization using a drone flight planning app and receive a response from the FAA almost immediately.
Research on local laws
Following Part 107 or Section, 44809 rules are usually enough for federal-level compliance. However, there are also states or cities that have their own drone flight rules. This is a somewhat controversial matter as the FAA maintains that they have authority over the entire national airspace. Despite that, this is not the type of conflict you would want to be caught up in.
Before you set off on your trip, spend a few minutes researching for any drone flight rules on your destination city or state. This is particularly important if you're planning to fly to a public place like a park or a historical landmark. These rules can change pretty quickly, so make sure that your information is up to date.
The absence of any rules posted online does not mean that you can assume that there are no rules. To be doubly sure, you may get in touch with local law enforcement or someone from the local government. If you're going to fly in a public park, then making a call to the park administration office should be a good idea.
National parks are an entirely different thing. These parks are managed by the US National Parks Service (NPS) who has previously issued a blanket declaration that drone flight is prohibited in all parks under their jurisdiction.
In any case, a bit of due diligence will help you avoid any troubles with the locals. The FAA rules may address issues concerning airspace safety, but they do not address the valid concerns over privacy and noise pollution.
Final thoughts
Flying a drone in the US as a foreigner can be simple or complicated depending on how you choose to go about it. If you're just flying for fun, then it just takes a few minutes to comply with federal regulations. Flying for profit is significantly more complex. You also have the option of just hiring a licensed drone pilot to help you with your drone operations.
Equally important is to make sure that you also comply with local regulations. These have been put in place mostly because of the concerns of the locals with privacy, safety, and noise. We recommend doing a bit of research on local rules before starting any drone operations to avoid trouble with locals.