The Part 107 exam costs $175 to take. You can also budget for a Part 107 study course that will cost approximately $149. There are no additional fees after getting a certificate and you can renew your license every 24 calendar months for free.
Within the past three to four years, the FAA has licensed more than a hundred thousand drone pilots under the Part 107 certification. Part 107 refers to the 'Small UAS Rule,' the legal framework that regulates the operations of professional drone flight over national airspace.
As drone pilots typically take the FAA drone license to run their own drone-based businesses, the cost of getting one is certainly something to consider. While not overly expensive, the initial investment may be quite hefty if you choose to take the associated training. If you are trying to earn an FAA drone license, how much can you expect to spend?
Registering your drone
Buying a drone for professional use may happen before or after getting a drone license, but the point remains that it needs to be registered with the FAA. This is probably one of the simplest and cheapest steps towards starting your career as a professional drone pilot.
Drone registration is done through the FAA DroneZone website. Make sure to choose the option to register your drone as a Part 107 pilot. This makes no difference – you will have to pay the $5 registration fee regardless.
Once you sign up for an account on the website you will have to provide your full name, email address, mailing address, and the make and model of your drone. You will then be sent a unique registration number once you have paid the fee. Take note that you will have to do this multiple times if you plan to fly multiple drones commercially, thus paying the $5 registration fee multiple times as well.
Taking the Part 107 knowledge test
The biggest part of the FAA drone certification is taking and passing the Part 107 knowledge test. This is a 60-question multiple-choice test designed to assess your level of knowledge about various aviation-related matters. You will be given 120 minutes to finish the test and the questions you receive will be randomly picked from a much larger pool of questions.
The Part 107 knowledge test is administered by Computer Assisted Training Service (CATS), a company under PSI. Through CATS, the knowledge test is made available in more than 700 FAA-certified testing centers nationwide. This has made Part 107 certification accessible to just about every US citizen, including those in some US territories.
When signing up for the Part 107 knowledge test, you will be asked to pay for a $175 testing fee. This fee goes only to CATS to compensate the company for the use of their facilities, the testing materials, and their operational expenses. None of the fees go to the FAA.
One thing you need to remember about the testing fee is that it's non-refundable. This means that you cannot get the amount back, regardless of whether you pass or fail the knowledge test. If you failed to show up for your scheduled appointment without notification, then you might also have to pay the fee again if you wish to take the test on another date.
Preparing for the knowledge test
As we've mentioned, the knowledge test will cover a long list of topics related to aviation. These include reading maps and sectional charts, the airspace classifications, interpreting weather reports and forecasts, predicting how meteorological factors and loading affect drone flight performance, and the types of behavior that are considered risky for pilots. This is on top of a deep familiarization of the various flight rules and restrictions under Part 107.
As you can tell, passing the Part 107 knowledge is no simple task for a person with no formal background in aviation. With thousands of people taking the Part 107 knowledge test each day, this has created a demand for more specialized training courses for Part 107 test preparation. This is something you can consider, but you will have to prepare for added expenses.
Part 107 test prep course
Fortunately, preparing for the Part 107 knowledge test does not need to be terribly expensive. Pilot Institute offers a Part 107 Commercial Drone License Course which covers all the required topics through more than 13 hours of instructional videos, more than 300 sample questions, unlimited practice tests, an illustrated cheat sheet, and a Flashcard app. You will also be given access to an exclusive study group where you can interact with other students and have one-on-one conversations with an instructor.
The course offers a couple more perks. The content can be accessed through desktop or mobile, so you can continue preparing while taking a break at work or while in line for groceries. Once you've paid the one-time fee, you are given lifetime access to the course. PilotInstitute periodically revises and updates the course contents, so it can be a good reference material for your professional drone career moving forward.
One of the best things about the course is the money-back guarantee. Should you fail the Part 107 knowledge test on your first try, Pilot Institute will reimburse you for the entire cost of the course. This amount will be just about enough for you to take the knowledge test a second time. With a 99% passing rate, PilotInstitute offers the guarantee as a vote of confidence for the quality of the course.
For a limited time, the course is available at $100 off for a low price of $149. An incredible value on its own, the course also comes with a bonus Drone Maneuvers Mastery course. The bonus course is also only being offered for a limited time.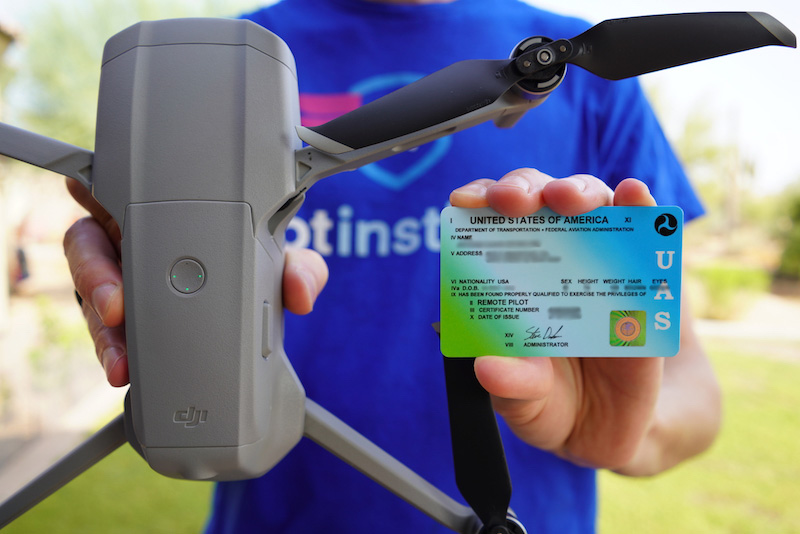 Part 107 test prep and how to run a drone business
If you're planning to start a drone-based business right after earning your FAA drone license, then this bundle was designed especially for you. The $199 bundle includes the standard Part 107 test prep course plus the Drone Business Made Easy course.
The drone business course will guide you through the first few steps of starting a business centered on drone-based services. Through the seven hours of instructional videos, you will learn how to create a business plan, which services to offer, how to choose a name, and which marketing strategies to use.
You will also learn about the various legal issues to consider from an instructor with years of business experience who also happens to be an aviation professional.
Like all other Pilot Institute courses, the Drone Business Made Easy course provides lifetime access through both desktop and mobile upon payment of the one-time fee.
Can I prepare for the knowledge test for free?
It's perfectly understandable if you're not willing to spend on the prep work for the knowledge test. After all, just signing up for the knowledge test already pricey enough.
The good news is that there are more than a dozen free resources for preparing for the Part 107 knowledge test online. These resources can take the form of YouTube videos, podcasts, or online sample test. Even the FAA has a free Part 107 online course hosted on their website. Some of these have been around and have remained fairly popular over the past several years.
Just a note on free training resources – don't expect them to be as organized and updated as those that are curated and maintained by professional organizations. As we've mentioned, some of these resources have been around for years and likely have not been reviewed during that period. It's going to take a bit of work to organize all the content and ideas from these free resources, but it's not impossible.
Retaking the test, if needed
We've mentioned how the $175 testing fee is non-refundable. This means that you won't be able to get the cash back if you fail the knowledge test on your first try. If you want to give it another shot, you may do so after 14 calendar days and after paying the testing fee anew. This is the worst outcome possible, especially if you were leaning towards saving some money and spending it instead on starting a business.
This is where a paid training course with a money-back guarantee comes in handy. Most training courses will offer to reimburse you for the cost of the knowledge should you fail it in your first try. Take note that most companies will set some sort of restriction before you are eligible to receive the reimbursement, such as needing to go through 100% of their content or getting a passing rate in any of their sample tests.
Renewing the drone license
While the drone license itself has no expiration date, the FAA states that the privileges granted upon you when you passed the knowledge test are only valid for 24 months. Fortunately, the FAA is now allowing people to renew their Part 107 license online. You can take ALC-677 on the FAA's website for free to renew your license.
The roundup
At the minimum, you will need to pay for both the drone registration fee and the sign-up fee for the Part 107 knowledge test – a total of $180. This is assuming that all other expenses are kept to a minimum, that you only need to register a single drone, and that you pass the knowledge test on your first try.
The cost of training will depend on whether you go for a paid training course or make do with free resources. While we recommend the PilotInstitute Part 107 test prep course, there are dozens of similar training courses out there. Some of the others can even cost close to $500.
Your measures may vary, but for the sake of coming up with a quick estimate, let's stick to the cost of the PilotInstitute course – $149. This brings our total expenses to $329. If you can pass the Part 107 knowledge test on your first try, then this should just be the amount that you will need to spend.
Failing the knowledge once or multiple times is a different matter. If your training course offers a money-back guarantee, then you're extremely lucky. This means that you won't need to spend additional cash just to take the knowledge test a second time. However, the money-back guarantee can no longer cover you if you fail more than once. Thankfully, this is something that very rarely happens.
Final thoughts
What we can glean upon after this discussion is that you'll need to prepare around $300 if you plan on earning the FAA drone license. The actual cost could be much higher or much lower depending on how well-prepared you want to be for the knowledge test.
Some of the training courses out there can be very expensive. On the other end of the spectrum are drone pilots who have been able to pass the knowledge test without having to pay for any training.
If you plan to use the drone license as a kick-off point for a career as a professional drone pilot, then consider the cost of the license as an initial investment. More than just a means to comply with legal requirements, the whole prep work for the drone license ensures that you're familiar with all the aviation-related concepts that you will need to become a proper drone pilot.