The DJI FPV is an incredibly fun drone and is a change in flavor when it comes to DJI drones. It is a fast and agile drone that is made to be piloted in FPV and also features the usual bells and whistles that come from DJI including an excellent camera and an obstacle avoidance system.
As with any drone, having a good set of accessories is the way to make the most out of the DJI FPV. If you already own a DJI FPV, then we highly recommend getting these accessories to go along with it.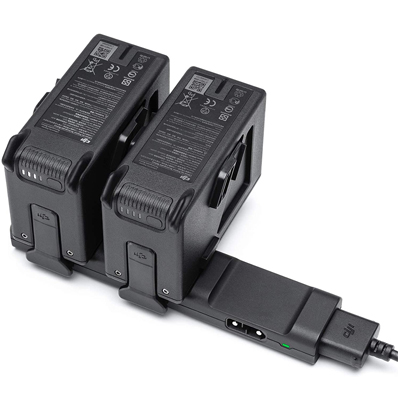 The DJI Fly More Kit can be purchased separately from the DJI FPV and is the single most useful set of accessories if you want to spend more time flying your drone. The Fly More Kit is actually quite basic – it includes two spare Intelligent Flight Batteries and a three-way charging hub.
According to DJI specs, the DJI FPV can fly for up to 20 minutes on a single battery cycle. In practice, the actual flight time would probably be within the 10 to 12-minute range. Having at least two spare batteries should give you close to half an hour of total flight time.
A drawback of the Fly More Kit for the DJI FPV is that it does not come with a bag or carrying case. Unfortunately, this is an accessory that you will have to buy separately.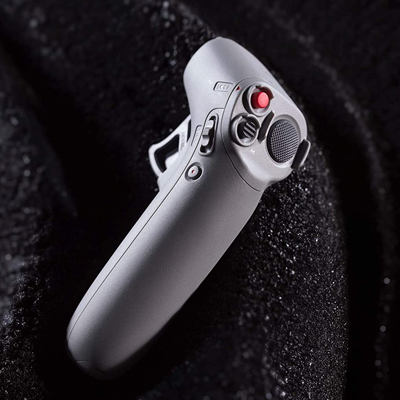 By default, the DJI FPV comes with its own standard controller. If you want to fly your DJI FPV in a fancier way, then you can consider getting the new DJI Motion Controller. This single-stick controller allows you to fly the DJI FPV drone using just one hand.
The compact and intuitive controller goes very well with the high maneuverability of the DJI FPV. It is an entirely new and potentially more enjoyable way of flying a drone. The motion controller, combined with the FPV goggles, makes flying the DJI FPV a truly immersive and intuitive experience.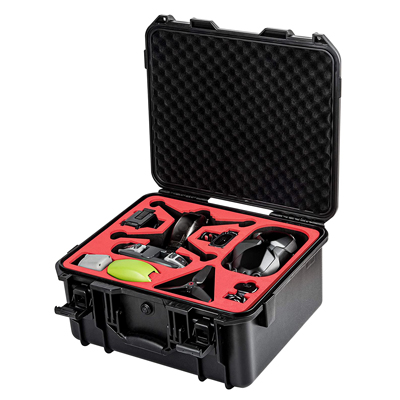 Between the fancy controller and the FPV Goggles, there is a lot of hardware that you need to pack and carry around if you're flying the DJI FPV. This STARTRC hard plastic carrying case with custom-fit compartments provides an easy to organize your accessories and safely move them around.
The hard ABS plastic shell keeps the drone and its accessories safe from physical damage. The case closes with a tongue and groove fit and a polymer O-ring, effectively making the case waterproof. It also comes with a convenient carrying handle. If you're planning to travel with your DJI FPV for any reason, we highly suggest getting a carrying case of this caliber.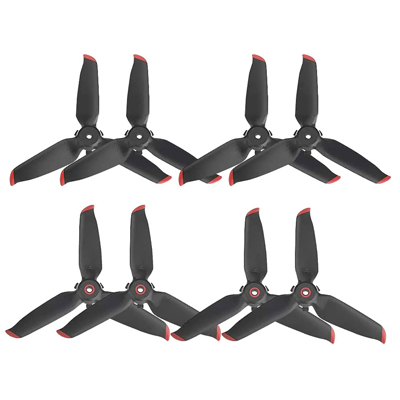 It would be foolish to fly a drone as fast and maneuverable as the DJI FPV without having spare propellers. No matter how good a drone is, its propellers will always be the first to be damaged in the event of a crash. We can even recommend having at least two sets of propellers packed in your carrying case.
The propellers for the DJI FPV are specifically designed for low noise, high speed, and high maneuverability. Having three blades gives the drone more lift, but also introduces more drag, resulting in shorter flight times. Unfortunately, this is a factor that is necessary for FPV drones, whether you buy the propellers directly from DJI or from a third-party brand.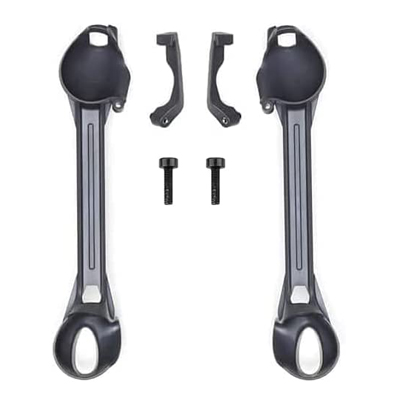 When you're flying FPV drones, crashes are inevitable, even expected. The best that you can do is to try and minimize the damage to your drone when a crash happens.
This pair of bracers secure the two pairs of propeller arms of the DJI FPV. This makes the drone's propeller arms just a bit more resilient to damage. The bracers have to be secured upon assembly, so taking them off for easy storage isn't exactly easy. This is not exactly a bad thing, as it also means that they will not come off should the drone crash.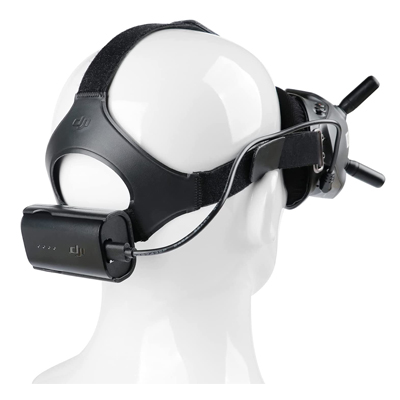 Version 2 of the DJI FPV Goggles fits immensely well with the new DJI FPV drone. Even the bug-eyed look, as strange as it seems at first, grows on you after a while. However, having to power the goggles with a battery pack placed inside your trousers pocket just seems like a bad design.
This battery holder and short power cable kit try to address this flaw. The battery holder clips to the rear portion of the FPV Goggles strap at just the perfect distance for the included short power cable. This design makes the FPV Goggles a lot more streamlined and gets the long power cable out of the way. It does put the weight of the battery pack on your head, but it honestly is not heavy enough to be bothersome.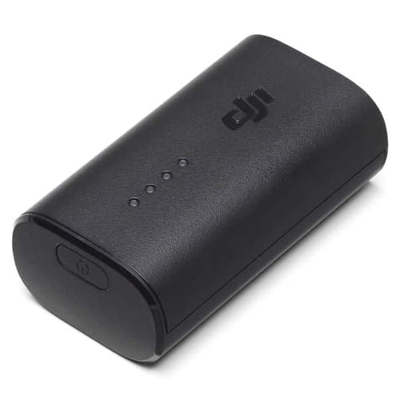 The DJI FPV Goggles V2 is powered by a propriety battery pack that can keep the goggles running for about 110 minutes. While this is pretty long, it's no guarantee that you will not get a low battery warning in the middle of an important flight. For this reason, it is still a good idea to have a spare battery for the FPV Goggles.
The FPV Goggles Battery requires a USB-C charging cable and has a built-in battery level indicator. It is advised to use the battery only for the FPV Goggles V2 and not for any other electrical device.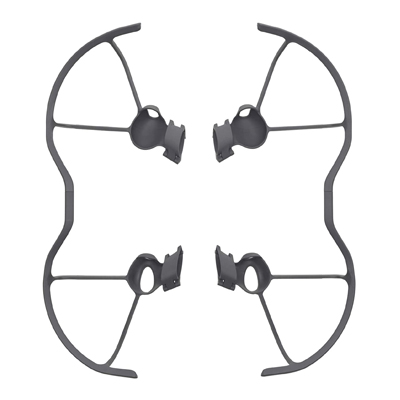 Even if you have spare propellers on hand, you still would not want the propellers of your DJI FPV breaking after every crash. Replacing propellers can get expensive after a while, not to mention quite bothersome. To give tour DJI FPV propellers a bit of extra longevity, we suggest outfitting the drone with these propeller guards.
The propeller guards snap on easily on the propeller arms and give the drone a bit of extra protection from crashes. Take note that having these on may alter the flight performance of the DJI FPV, especially if you're the type to do fancy maneuvers around tight spaces. Consider these as "training wheels" that you may have to remove eventually if you want to fly at an advanced level.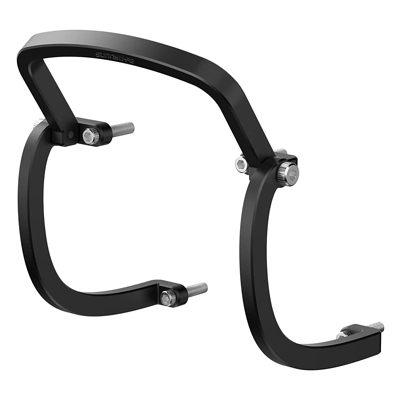 The most sensitive component that could easily get damaged in your drone is the gimbal camera. This is bad news for the DJI FPV, considering its propensity to crash at high speeds. This handy bumper that covers the sides and top of the gimbal can help prevent irreparable damage.
The gimbal bumper is made of strong but lightweight aluminum alloy. It has to be screwed in place, so it's not exactly designed for snap-on assembly. However, the bumper does not interfere with the gimbal cover, so you can just keep it on during storage.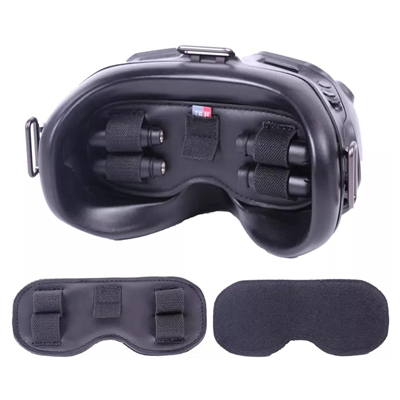 If you're taking extremely good care of your DJI FPV drone, then don't forget to be just as diligent for the FPV Goggles V2. In particular, you want to make sure that the screens are protected from scratches, dust, and oil, especially during transport and storage.
This cover for the FPV Goggles slides right above the eyepiece, effectively acting as a physical barrier from damage or contaminants. It also has straps to store the antennae, a cleaning cloth, and a small pocket for a microSD card. This is an incredibly simple accessory that could help keep your FPV Goggles in good condition for years.
Final thoughts
The DJI FPV is an amazing drone that is sure to satisfy those who like flying their drones at high speeds and with the level of immersion that only FPV goggles can give. However, they are also prone to crashes. In choosing which accessories to buy for the DJI FPV, think about those that can give it a bit of extra protection. Making the investment in these accessories now might mean not sitting on a broken drone in a few months.