Pilots have the privilege of experiencing breathtaking views from the cockpit. In addition, experiences such as cross-country trips and flying to unique locations or in unusual weather are difficult to capture without the use of a dedicated cockpit camera.
This article will look at the best cockpit cameras for 2022 that will help you easily capture your aviation journey.
The Best Action Cameras for Aviation
Action cameras are by far the most popular cockpit cameras. Featuring great price points and refined controls, action cameras are a cost-effective way of capturing your flights in excellent quality.
Note: As an Amazon Associate Pilot Institute may earn compensation from link clicks on this page. This does not increase the cost for you.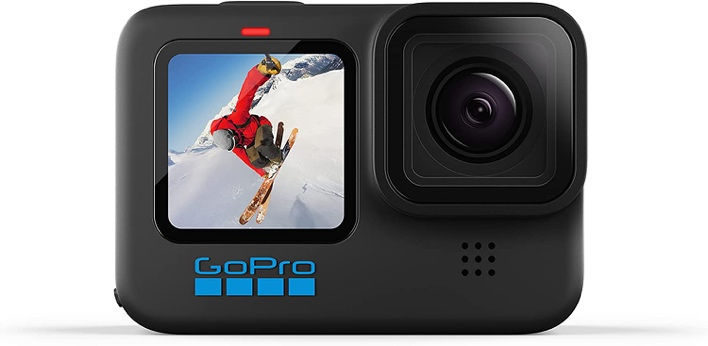 With its ability to capture 5K video at 60fps, best-in-class stabilization, and responsive touch controls, the GoPro HERO 10 Black deserves the top spot for the best cockpit camera for pilots in 2022.
Coming in at under $500 (often discounted to $400), the GoPro HERO10 Black will provide the best action camera experience for novice and experienced aviators.
The intuitive touch screen controls and high-end battery life makes the GoPro a perfect no-fuss cockpit camera.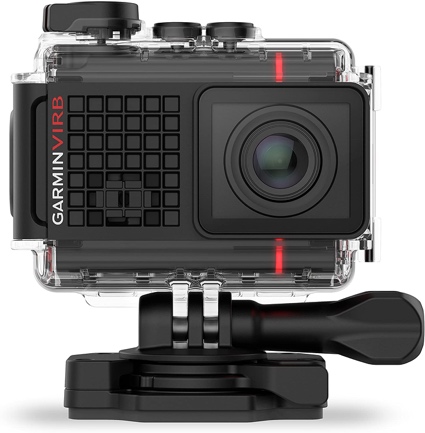 The Garmin VIRB Ultra 30 is a close second to the GoPro. At under $400 and featuring functionality that would cost extra for the GoPro, the Garmin nearly took the top spot if it weren't for the lower video quality.
At 4K 30fps video, you won't have the crisp video quality that has made the GoPro name so famous. If the lower frame rate and slightly lower resolution don't matter (some people don't even notice the difference in resolution), you can benefit from additional features for a highly competitive price.
The Garmin VIRB Ultra 30 includes a propellor filter that removes the often-distorted propellor from the video and a waterproof case – features you will need to pay extra for if you buy the GoPro.
Additionally, the Garmin features a built-in GPS and external sensors, allowing you to capture data such as speed, elevation, G-force, and even heart rate (if connected to a heart rate sensor).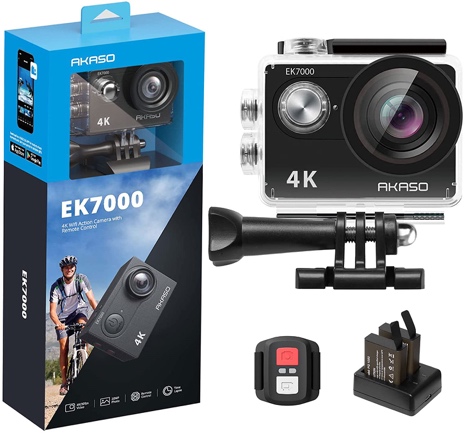 At less than $80, the AKASO EK7000 is a budget-friendly action camera if you want to get the shot without breaking the bank.
At this price point, the AKASO cannot compete with the GoPro or Garmin, but the 2.7K at 30fps or 4K at 25fps video provides excellent bang for your buck.
The AKASO is also compatible with GoPro mounts, making it a perfect companion to the GoPro if you want to use a second camera.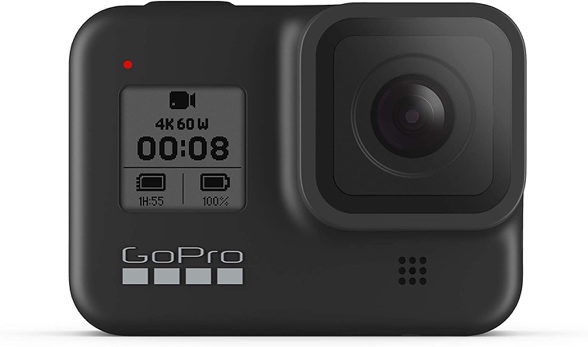 If you don't need all the bells and whistles of the GoPro HERO10 or the Garmin VIRB, the GoPro HERO8 may be your choice.
At under $300 and featuring 4K 60fps video, the GoPro Hero8 Black is a killer deal. At this price, you will still receive the renowned GoPro build and video quality and be able to use the vast GoPro ecosystem.
The GoPro HERO8 should be a strong consideration if you intend to capture memories but don't want to make a feature film.
The Best 360 Degree Cameras for Aviation
360-degree cameras are the ultimate "set and forget" cameras if you want to capture an entire scene without the need to set up multiple cameras.
While 360-degree cameras are amazing tools, they may not be the right option for you. Compared to traditional action cameras, you may have to sacrifice image quality and battery life and pay a slightly higher price.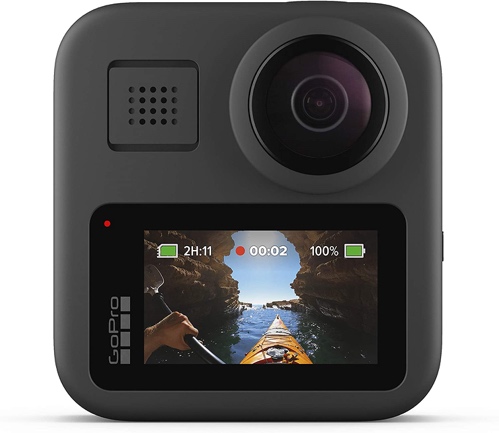 Once again, the GoPro takes the top spot. The GoPro MAX can be used to shoot traditional video in 1440p at 60fps or 360-degree video in 5.6K at 30fps.
With best-in-class stabilization and the ability to take 270-degree panoramic photos, the GoPro MAX is a great way to capture scenes without pointing a camera in the right direction.
Additionally, the GoPro captures 360-degree audio, allowing for complete immersion when replaying the footage.
At $500, the GoPro MAX is an excellent choice for aviators.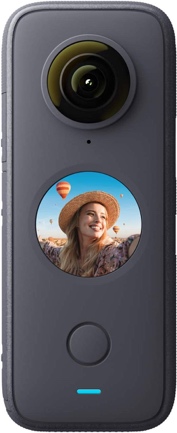 Coming in at a close second, the $450 Insta360 ONE X2 is an excellent rival to the GoPro MAX.
With a compact, slim frame, the Insta360 ONE X2 is a great travel companion. The ONE X2 also boasts 5.7K 360-degree video capture capabilities and image stabilization.
The four built-in microphones capture audio that gives the GoPro a run for its money, while a wind-reduction algorithm reduces accidental wind noise.

While you may not be able to buy a 360-degree camera for the low-price points of the action cameras, there are some intriguing options available in the $300 range.
At $300 (often discounted to $250), the Ricoh Theta SC2 will get the job done with 360-degree 4K video capture capabilities and image stabilization.
While you won't get the crisp video quality and ruggedness of the GoPro MAX or Insta360 ONE X2, the Ricoh Theta SC2 is a great way to jump into the 360-degree pool on a budget.
What to Look for When Buying an Aviation Camera
Video Quality
When deciding which camera to buy, you need to establish your minimum quality requirement. While 4K action and 360-degree cameras provide excellent video quality, are you willing to spend a little extra for a higher resolution and megapixel count, or are you happy with lower resolutions such as 2K?
Are you capturing general scenes such as the forward cockpit view, or do you want to be able to read instrumentation when replaying the video? The latter will require a higher megapixel count and resolution.
Image Capability
Do you intend on only recording video, or would you like your camera to be able to capture photos as well? Some cameras can do both, and others focus on video.
Do you want to capture panoramic (widescreen) photos or video, or is a standard screen ratio sufficient?
Video Stabilization
Video stabilization is particularly important for pilots, as the inside of an aircraft is very much a dynamic, unsteady environment. Video stabilization is, therefore, essential for cockpit cameras, and you may want to consider spending more for better video stabilization.
While the built-in video stabilization offered by high-end cameras is great, you may need to invest in additional equipment if you want buttery smooth shots.
Mounts
Not all cameras are compatible with every kind of mount. Ensure the camera or mount you purchase is compatible with your existing and future equipment.
Audio Quality
Aircraft cockpits, particularly general aviation aircraft, are very loud. In addition, the wind noise outside of the cockpit will prevent the camera from capturing clear audio.
Do you want to capture crisp cockpit audio? You may have to purchase an external mic, as the built-in microphones on most action and 360-degree cameras will most likely not suffice.
Our recommendation would be to focus on capturing intercom (headset) audio with ATC communications. This can be achieved by using a separate audio cable. Ensure that the camera you purchase is compatible with the audio cable you intend to use.
Conclusion
Buying an aviation camera is not a one-size-fits-all solution, and your specific needs will determine the amount you spend and the type of camera you purchase. Regardless of what you buy, one thing is for sure: The view from the cockpit will be stunning.