The enforcement date for Remote ID may have been postponed, but that's no excuse to put off making your drones Remote ID-ready. This is not a huge problem if your drones are fairly new and designed to comply with Remote ID, but what if your old drone does not have suitable technology?
The solution can be provided by Remote ID modules. There are already several of them out there so the only question that remains is – which one should you get? We tested a few of these Remote ID modules to help you make an informed choice.
What are Remote ID modules?
A Remote ID module or broadcast module refers to a device that broadcasts the identification and location information of a drone in accordance with the requirements of the Remote ID rule. It allows for the retrofitting of older drones that are not equipped with the technology that can comply with Remote ID.
A broadcast module must be recognized as Remote ID-compliant before it can be declared as useful for Remote ID. To check this, just make sure that the broadcast module is on the list of Remote ID-compliant devices as published by the FAA. This is a list that constantly gets updated, so make sure to check regularly as needed.
Classifying Remote ID modules
To make the succeeding discussion easier, let us first define the two categories of Remote ID modules – standalone modules and add-on modules.
As the name implies, standalone modules can function independently and can be used pretty much out of the box. These modules come with internal batteries and can be turned on and off independently of the drone. These are excellent options if you want to prioritize convenience and would rather not have to do any wiring work on your drones.
In contrast are add-on modules that require external power to operate. However, they contain all other features to be Remote ID-compliant such as GPS and data transmission capabilities. Add-on modules are typically smaller and lighter but require some setup. Due to the unavailability of parts, we unfortunately were not able to test the range on all four of the add-on modules.
Remote ID modules – results of testing
STANDALONE MODULES
1. Blue Mark DB120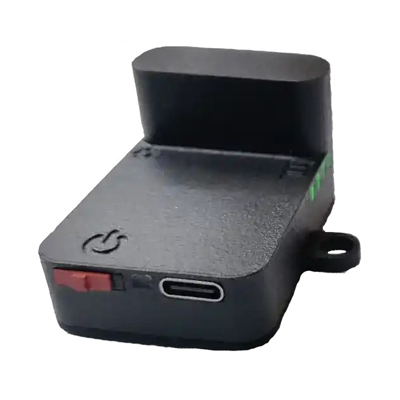 Price: $140
Weight: 25 g
Specifications: Uses Bluetooth/WLAN with a 3-hour battery life. Charges with USB-C. The range was 2935 feet with Air Sentinel app on Android
The DB120 from Blue Mark, despite its surprisingly high price, is actually the cheapest of the bunch of standalone Remote ID modules that we have tested. It runs for 3 hours on a single battery cycle and has a useful battery indicator at the side. It uses a USB-C port for charging and has a prominent I/O switch. The serial number of the module is at the bottom side.
The longest range that has been captured for the DB120 is 2935 feet using the Air Sentinel app on Android.
2. Pierce Aerospace B1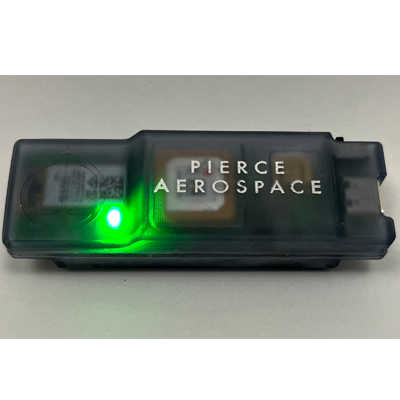 Price: $264
Weight: 30 g
Specifications: Uses 2.4 GHz with a 6-hour battery life. Charges with USB-C. The range was 5,000 feet with the Drone Scanner app on Android
The next entry is the Pierce Aerospace B1 which comes at a steep price of $264. The module communicates via a 2.4 GHz band, charges via a USB-C port, and has a 6-hour battery life. It comes with a laminated card that contains the serial number for the module and also serves as a quick guide to how it works.
The Pierce Aerospace B1 had the longest range of all the remote modules that were tested at 5,000 feet using the Drone Scanner app on Android.
3. DroneTag Mini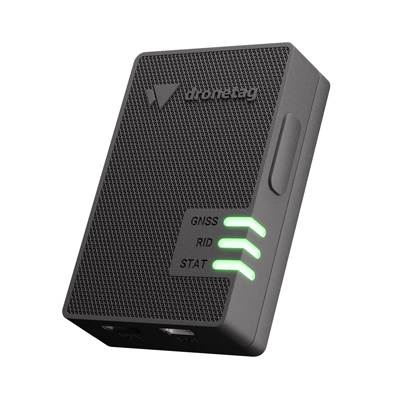 Price: $327
Weight: 32 g
Specifications: Uses Bluetooth and has an 8 to 14-hour battery life. The range was 1640 feet with the Drone ID app.
If you thought the Aerospace B1 was expensive, then the DroneTag Mini will surprise you. At $327, the DroneTag Mini can be more expensive than some ultra-portable drones.
This module is relatively heavy at 32 grams. It charges via a micro-USB port, has a battery life of 8 to 14 hours, has LTE compatibility and MAVLink support, and comes with the standard power button, battery indicator, and serial number marker.
A nifty feature of this module is that it has its own tracking capability. Using the paired app, you can check for the track of your drone flight. Of course, your drone might also have such a feature.
The DroneTag Mini only had a range of 1640 feet using the Drone ID app, which is quite underwhelming for its price.
4. DroneTag Beacon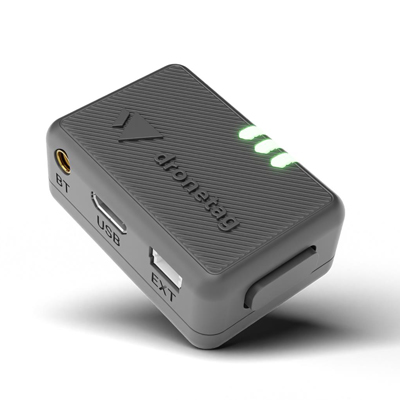 Price: $229
Weight: 16 g
Specifications: Uses Bluetooth/WLAN with a 6 to 18-hour battery life. The range was only 341 feet with the Drone Scanner app.
The DroneTag Beacon is a smaller and cheaper version of the DroneTag Mini. It offers a more practical package by doing away with some of the features that an average drone pilot may not need.
Like the Mini, the Beacon is charged using a micro-USB port. It still supports a Bluetooth Antenna and has an EXT port. Quite disappointingly, the test of the DroneTag Mini results in a maximum range of 341 feet using the Drone Scanner app. This can be either beneficial or disadvantageous, depending on how easily discoverable you want your drone to be.
ADD-ON MODULES
1. Blue Mark DB121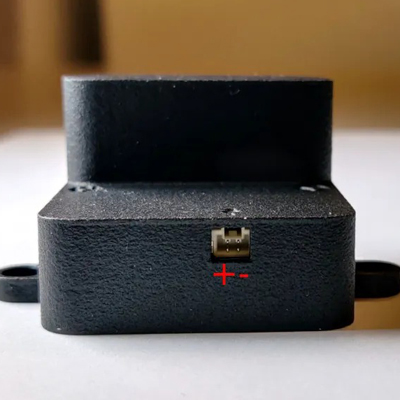 Price: $119
Weight: 11 g
Specifications: Requires 5-14 V (2S-3S) DC power and uses Bluetooth and WLAN
Right off the bat, we can see how much cheaper and lighter these add-on modules are. The Blue Mark DB121 weighs a paltry 11 grams and costs only $119. It requires a 5 – 14 V DC power source via a 2S-3S connection and uses a Bluetooth or WLAN connection.
2. Flite Test EZID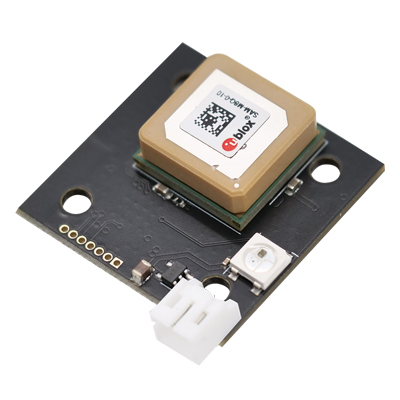 Price: $109
Weight: 10 g
Specifications: Requires 7.4-30.4 V (2S-8S) power and uses Bluetooth. Compatible with the FliteTest app on Android or Apple.
The Flite Test EZID is a fairly basic Remote ID module that is light and inexpensive but does not come with a case. The module can be purchased with or without the requisite connector. It is compatible with the FliteTest app (available on both Android and Apple) which provides a couple of additional features such as flight tracking, flight logbook, and find my drone.
3. DroneTag BS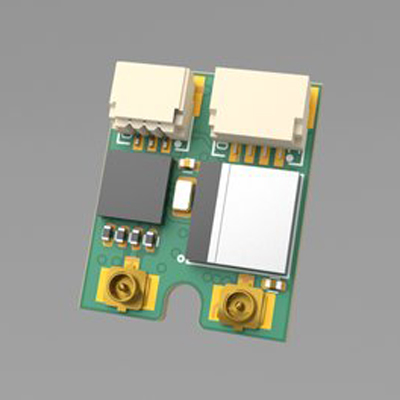 Price: $89
Weight: 1.5 g
Specifications: Requires 3.3-17 V (1S-4S) DC power and uses Bluetooth.
The DroneTag BS has a remarkably small footprint and is one of the cheapest Remote ID modules you can get. The BS uses Bluetooth and needs 3.3 to 17 V of power.
4. Spektrum SkyID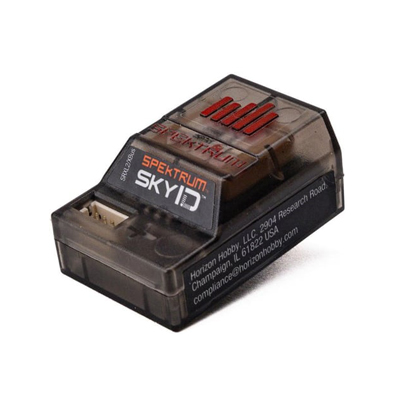 Price: $69 – $99
Weight: 14 g
Specifications: Requires 3.3-9 V (1S-2S) power and uses Bluetooth.
The SkyID is a fairly new entry into the Remote ID module market. It is also a lightweight module that works via Bluetooth and needs 3.3 to 9 V of power. The SkyID is compatible with existing Spektrum receivers and comes with four different power cables.
5. DroneTAG DRI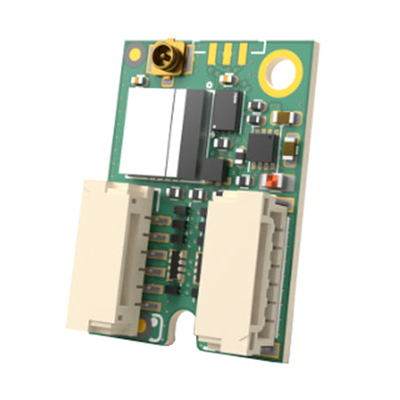 Price: $55
Weight: 1.5 g
Specifications: Does not come with an internal GPS; Operates as either a UART passthrough or as a standard Remote ID.
In terms of setup, the DroneTAG DRI is undoubtedly the most complicated of all the Remote ID modules on this list. It does not come with a GPS module, so you will need an external GPS for it to comply with Remote ID requirements.
It can function as a UART pass-through or as a standard Remote ID module. We recommend checking out the documentation before getting this module, as it can certainly take some work to install and set up.
Apps tested
As part of the testing process for the Remote ID modules, we also tested several of the apps that were designed for the detection of drones. We also tested the UAS Sentry receiver, a standalone device that you can use to check if your drone is Remote ID-compliant.
Based on performance, the ranking of the apps is as follows:
Drone Scanner (Android and Apple) – The Drone Scanner app consistently detected longer ranges, particularly for the Dronetag Mini and the Pierce B1.
Air Sentinel (Android only) – The Air Sentinel app is a close second, posting impressive ranges for the DB120 and the Pierce B1.
OpenDrone ID (Android Only) – The OpenDrone ID also fared quite well, working exceptionally well with the Dronetag Mini.
UAS Sentry – The UAS Sentry, although not exactly designed for this purpose, performed surprisingly well as a drone detector. It did not have as much range as some of the other apps, but its recorded ranges were respectable.
Drone Tag (Apple) – The Drone Tag app proved to be the most inconsistent during testing and was not able to detect both the Pierce B1 and the Dronetag Mini.
Please take note that the performance and ranges indicated here are just from the tests that we have run. Your experience with the Remote ID modules and the apps may vary significantly.
How many Remote ID modules do you need?
The first thing you need to know is that you only need a Remote ID module if the drone you are using is not considered Remote ID-compliant. Given that, the number of Remote ID modules you need to have will vary based on how you use your drones.
For recreational pilots, a single Remote ID module will suffice. This can be registered with the FAA and swapped between multiple drones. Part 107 pilots, however, will need to get a separate Remote ID module for every single drone they own that is currently not Remote ID-compliant.
Final thoughts
As the date for Remote ID compliance draws nearer, drone pilots must now take stock of their options to prepare their drones. This will take a bit more work if you own a drone that is not Remote ID-ready. The good news is that several Remote ID modules have already been approved by the FAA, and you need only choose which one works best for you.
Our tests show that these Remote ID modules can vary greatly in terms of effective detection range. If you're not a stickler for that, then using any of these modules should already mean that you comply with the Remote ID requirements, so we suggest sticking to one that fits your budget and does not disrupt your usual flight process.