It's been more than three years since the FAA started requiring drone pilots to take and pass the Part 107 knowledge test before allowing them to legally fly drones for commercial purposes. Despite all the time that has passed, we still receive a lot of questions asking for clarifications about minor details of the knowledge test.
In this article, we tackle all the questions related to WHERE aspiring commercial drone pilots can take the Part 107 knowledge test. How can you find the most convenient testing center? Aside from physically going to the test centers, is there an alternative way to take the knowledge test?
How to find the nearest testing center
The FAA, through their test administration partner, PSI, have made it very convenient for drone pilots to take the Part 107 knowledge. PSI has more than 700 FAA-authorized testing centers scattered outside the US, so there's a very good chance that you can find one somewhere a few minutes away from where you live.
To search for the nearest testing center, you can use the online search facility of PSI. You can use the search bar on the left side to look for testing centers in your city or click at the link for your state in the interactive map. In any case, this should bring up a list of testing centers and the cities where they are located. Clicking further on the link for each testing center will bring up its exact address, contact details, and the schedules for their operations. You can use the published schedule as a reference when you sign up for a slot to take the Part 107 knowledge test.
Don't sign up just yet, though – make sure to gather up all the requirements first.
Are you ready for the test?
Use our free practice exam to see if you're ready to take the test. Our test-prep course can also help you prepare. We have a 99.6% pass rate and our students score an average of 93% on the exam.
Requirements before you sign up
Let's take a short detour and go over the list of things you'll need to have before you get in touch with PSI and schedule an appointment for the knowledge test. First, you'll need to satisfy these three requirements to even be eligible:
Be at least 16 years of age
Be able to read, write, speak, and understand English
Be in a physical and mental condition that is fit to fly a drone
You don't need a medical certificate to prove your level of physical and mental fitness, but it is your responsibility to do a self-assessment. Given that you satisfy these three qualifications, you must now get an FAA Tracking Number (FTN).
The FTN is a newly introduced element to all FAA airman certification processes that help make them more streamlined and efficient. The idea is that the FTN associated with a drone pilot sticks with them throughout their whole career in aviation, serving as a constant reference number for all of their documents and history.
The FTN can be acquired by signing up for an account in the Integrated Airman Certification and Rating Application (IACRA) website. Your unique FTN should be indicated somewhere on your profile page. With FTN on hand, you can now proceed to get in touch with your preferred testing center, setting up an appointment, and paying the $160 testing fee.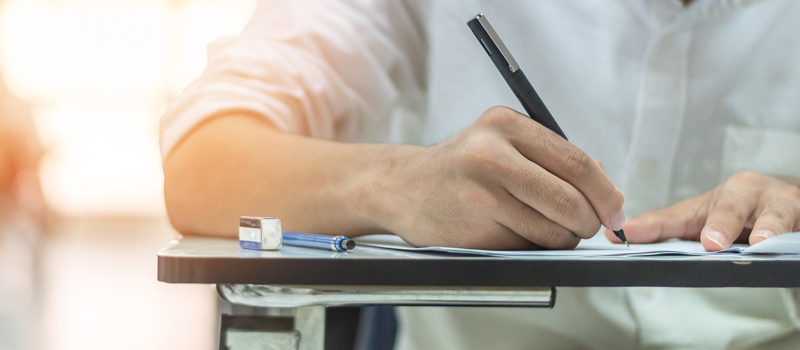 Is it possible to take the knowledge test online?
Right now, the FAA offers no provision for taking the Part 107 knowledge test online. Although the test is done through a computer, the FAA and PSI maintain highly controlled conditions while candidates take the test. Not only are candidates prohibited from bringing their phones into the testing center, but they are also only provided a standard set of tools and references. Moreover, candidates are monitored via security cameras throughout the entire duration of the test.
If the FAA ever decides to bring the knowledge test to an online platform, they will have to do away with the entire philosophy of restricting the access of candidates to any external resources. This is going to be a huge change, and not one that we are expecting to see anytime soon.
Here's something that can be of interest to recreational drone pilots: one of the provisions included in the FAA Reauthorization Act of 2018 called for a similar proficiency testing for recreational drone pilots before they can be allowed to fly their drones.
Backlash for such a move has been anticipated, so the FAA is developing ways to make the testing process as convenient as possible. One of the methods being considered is to do the test entirely online. The proposal is still going through a consultation phase with various stakeholders, so anything can still happen at this point.
Can we expect a similar overhaul for the knowledge test for Part 107 certification? It's not impossible, but it's also not likely. The FAA seems content with the current certification process is effective and is even considering adding modules to it (i.e., topics related to drone flight at night). Considering how particular the FAA is about right now about how they do the Part 107 knowledge test, we believe that it's going to be unlikely for the test to be migrated to an online platform.
Are there testing centers outside the United States?
Unfortunately, you can only take the Part 107 knowledge test inside the United States. There are even several PSI testing centers in the states of Hawaii and Alaska. There is a lone testing center in US territories – Trend Vector Aviation International, Inc. in Barrigada, Guam. Although there are PSI testing centers in Puerto Rico, none of them administer the knowledge test for the Part 107 remote pilot certificate.
Take note that the Part 107 remote pilot certificate is valid only within the US and its territories. It is primarily designed for use by US citizens. For foreigners who wish to secure an FAA-approved drone license to do commercial drone operations in the US, they must apply for a foreign air carrier economic licensing from the Department of Transportation (DOT) Office of International Aviation, Foreign Air Carrier Licensing Division.
Final thoughts
Not much has changed in the structure of the Part 107 knowledge test since the idea was turned into reality by the FAA back in 2016. There are a few additional requirements before you sign up, the testing fee has become a bit more expensive, and the bank of questions of the test has probably been revised, but the overall premise before the test is still the same. It's a comprehensive test that takes place in a highly controlled environment.
Is the structure of the Part 107 knowledge test going to change anytime soon? Given that the FAA hasn't floated any ideas about changing it up, we suspect that it's going to be very unlikely. For now, we'll just have to make the drive to testing centers to earn or renew our drone licenses.