The Best Online Private Pilot Ground School
There are several crucial steps in receiving a certification as a private pilot – passing a knowledge test, meeting the required number of flight hours, and passing a practical test on the areas of operation. This is a process that requires a significant commitment in terms of effort, time, and money.
In this article, we'll be focusing on helping you with the first step – passing the knowledge test. To increase your chances of passing the test, you will need to sign up for a good private pilot ground school.
What to look for in a good ground school
If you're spending a few hundred dollars for a ground school, then you need to be sure that you're signing up for one that's reputable and will prepare you sufficiently for the knowledge test. Fortunately, a lot of ground schools nowadays offer training courses online which are far more convenient than in-person sessions.
Despite the limitations of an online platform, there should be no reason for you not to get high-quality tuition for your private pilot training. To help you with your decision, here are just some of the things a good private pilot ground school should have:
Expert instructor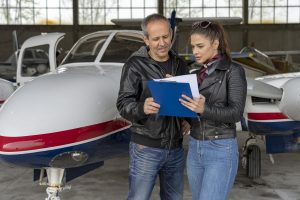 The strength of any training facility comes from the level of expertise and experience of their instructor. This is more so the case when the instructor is also responsible for designing the training materials and how they are delivered. Ideally, you want to have an instructor that has experience not only in flight but also in teaching. In any case, it would help if your instructor is also a Certified Flight Instructor
Quality materials
The truth is that you can learn just about anything you need to know to pass the knowledge test with materials you can find for free online. However, this will require that you know what you're looking for and to make sense of all that material. The advantage of a well-designed training course is that it organizes the content in a manner that facilitates learning.
The content is also delivered either via videos or reading materials, both of which are designed to be as engaging as possible. Depending on the course, this could translate to several dozen hours' worth of content.
Convenient access
We now live in a world where just about anything is accessible even when we're on the go. The same should apply to your private pilot ground school. After all, not everyone has the luxury of sitting down in front of a laptop to go through hours' worth of study material.
If you're looking for a ground school, you may want to go with one that provides dynamic content that can be accessed both via a laptop or smartphone. This greatly optimizes your whole process of studying as it means you can do it during your lunch break at work or while you're on your morning commute. You might even want to take a few minutes to go through the material before going to sleep. This feature could be particularly useful if you only have a short time to prepare for the knowledge test.
Community support
When people come together, they become more than the sum of their parts. This can also be said while you prepare for the private pilot certification knowledge test. While the study materials are important, having a community you can talk to when you need help or clarification about certain topics is quite invaluable. Good training providers can even have their experts and instructors embedded inside these communities so they can chime in on any discussion. Just like in school, there are lessons that can be learned outside the books.
It hardly needs to be said, but the price of the training course is also something you'll need to consider when picking an online ground school. Prices vary greatly but typically fall within the range from $100 to $400. More expensive isn't always better – some courses deliver amazing value-for-money even if they are fairly affordable.
Private Pilot Made Easy by Pilot Institute
For your consideration, we present the Private Pilot Made Easy training course by Pilot Institute. As with all of our training courses, this online ground school provides curated and well-organized content in a manner that is systematically designed to facilitate learning. By signing up with this online ground school, you get ALL these benefits: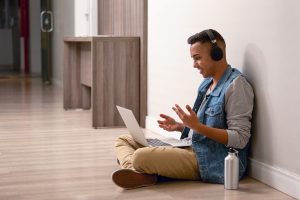 About 35 hours of easy-to-follow and engaging instructional video clips. These clips have been deliberately kept short (an average of 3 minutes per clip for a total of more than 540 video lessons) so you can watch them in small bursts, even in the middle of a busy day. Most other online ground schools only have video content for up to 20 hours, so Pilot Institute instantly provides extra value on this front.
A 44-page illustrated study guide that you can use as a quick reference for when you want to go back to previous lessons. This study guide is just about as comprehensive as any textbook on the subject but is presented in a leaner manner that cuts out all the unnecessary fluff.
Several practice tests and more than 800 practice questions are distributed throughout the course so you can assess how much you've learned from each module. A lot of these practice questions are patterned after the actual questions you will encounter on the knowledge test, so just merely going through them will give you a huge advantage. We believe that test-taking is a skill that needs to be practiced beyond just reading about the lessons.
Access to study groups and online forums allows you to get in touch with fellow students, instructors, and certified private pilots should you want to learn more than the lessons provide. These groups can even prove useful for getting advice even after you've earned your private pilot certificate.
Pilot Institute is the only ground school to provide a flashcard app to supplement their online courses. With more than 220 cards that cover all essential knowledge topics, the app lets you go through quick practice sessions using just your smartphone. If there are topics you're having difficulty with, you can flag the associated flashcards so you can come back to them more frequently. This flashcard app is perfect for getting in quick study sessions or as a cramming aid a few hours before the knowledge test.
Paying the one-time fee for the course gives you lifetime access to the course contents. This is amazing value as other training courses come with a time constraint. The benefit of lifetime access is that you can still go through the course contents that get constantly reviewed and updated by the instructors to keep the information up to date. This is important for a field as dynamic as aviation, even when you've already earned your private pilot certificate.
If you don't pass the knowledge test on your first try, then Pilot Institute will reimburse the $150 testing fee and give you back 100% of what you spent on the training course. That is an industry best practice that exhibits just how confident we are about the quality of the training we provide. As a testament to the reliability of this course, 99% of students who take it pass the knowledge test.
At no additional charge, the course comes with an instructor endorsement which you will need to take the knowledge test.
For a limited time, you can sign up for our Private Pilot Made Easy training course for only $274 – a discount of $115 from its regular price. While our course may not be the cheapest one out there, we stand by the quality and reliability of our training materials and the expertise of our instructor. Even with a slightly higher price tag, we still provide better value for money.
Pilot Institute can work with both individual students and corporations who prefer to sign up groups of students. We can also offer discounts on our courses for college students, as well as for veterans and active-duty military personnel.
One last thing to note is that we are only a ground school. To get the necessary number of flight hours, you will need to receive instructions from a flight school. It would be best to scout around your area to look for a flight school that's accessible and fits your budget.
Final thoughts
When training for a private pilot certificate, signing up for a good ground school is the first important step. The lessons learned in a ground school may only be theoretical, but this will serve as the foundation for everything else you're going to learn at a flight school.
At a time where face-to-face sessions are difficult to do, it's fortunate that online ground schools have become more common. Pilot Institute's Private Pilot Made Easy is only one of many other online ground schools for private pilot certification, but we stand by the value it offers. Sign up for the course right now to enjoy our limited-time discounted rate.