It is no secret the aviation industry was one of the hardest-hit by the COVID-19 pandemic. The year 2020 saw no shortage of canceled flights, desolate tourist spots, and grounded aircraft. The effect of these on airline companies and the people who work in the aviation industry has also been similarly drastic.
At the dawn of the year 2021, can we expect to see an improvement in the state of the industry? How have aviation-related jobs been affected by the pandemic? When can we expect these figures to go recover to pre-pandemic levels?
The impact of COVID-19 on global flight figures
When the year 2020 started, none of us could have expected how bad it was going to be. Lots of people were even optimistic about 2020 being a good year. The same can be said of the aviation industry, which has posted constantly improving numbers since the early 2000s.
According to forecasts, the total number of aircraft passengers was poised to reach 4.72 billion in 2020. This represented a steady increase from 4.54 billion in 2019 and 4.38 billion in 2018. This was, of course, before the pandemic hit.
The effects of the pandemic had already been felt by February 2020. From 350 million passengers in January, the number plummeted to around 270 million in just the second month of the year. As it turned out, things could still get worse. By April 2020, there were less than 50 million passengers traveling globally. Over the next few months, the aviation industry managed to recover gradually, peaking at around 150 million passengers per month.
Overall, the global aviation industry suffered a 60% reduction in the number of air passengers compared to 2019. There were some geographical variations to this trend. Regions that had a large number of intraregional destinations, such as Europe and the Asia Pacific, were less affected. Compared to the global average, the passenger decline in these two regions was lower by 20% to 25%.
In the months when the world came to terms with the pandemic, the industry was somehow kept afloat by intraregional operations. In both Europe and the Asia Pacific, 80% of international flights were for intraregional destinations. Despite attempts by airlines to announce planned flights from April to December, a huge majority of these plans failed to translate to actual flights.
The International Air Transport Association (IATA) has cited that the COVID-19 pandemic has been the single most severe crisis that the aviation industry has ever faced. In comparison, the 9/11 attacks caused only a drop of about 12% in the number of aircraft passengers globally.
Economic impacts and job loss
In assessing the economic impact of the decline in air travel, two aspects need to be considered – how the aviation industry has been affected, and how tourism has consequently also declined.
In terms of passenger revenue, airlines have suffered a reduction of about 66.3% according to the IATA. This corresponds to a loss of about $370 billion in revenue. Further analyzing this statistic, international travel has suffered the loss more at about $250 billion compared to the $120-billion loss in the domestic flight market.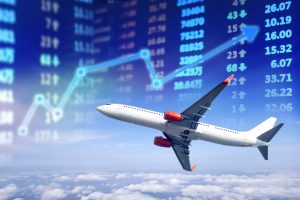 The loss of passenger traffic has also resulted in a 65% decrease or a loss of $111.8 billion in airport revenues. This was followed by a loss of up to 46 million aviation-supported jobs. Jobs directly involved with aviation – such as in airlines, aircraft manufacturers, and air traffic management – declined by 4.8 million or around 43%.
With about 58% of tourists arriving by air, the tourism industry has also been heavily affected by the decline in air travel. The loss of between 850 million to 1.1 billion international tourists has resulted in a revenue decline of $910 billion to $1.2 trillion. This has put 100 to 120 million tourism-related jobs at risk and global reduced GDP benefits of $630 million.
The closing of virtually all international borders has prompted 5.4 million citizens to go home onboard 39,200 special repatriation flights. With the outcome of the pandemic still uncertain, it remains unclear which portion of these workers will be able to go back to their normal work circumstances.
Even when there were no commercial operations, the aviation industry found its relevance in the delivery of essential supplies. In 2020, over 1.5 million tonnes of medical supplies and equipment were transported to areas where they were needed onboard 46,400 special cargo flights. This number has gradually declined as supply chains for such equipment stabilized.
Despite the resilience of cargo flights, they are nowhere near the levels at which they can make up for lost passenger revenue. However, cargo flights have made it possible for airlines to sustain their skeletal workforce.
In the context of the global economy, the loss in aviation has translated to a 9.2% reduction in global trade volume and a contraction of up 4.4% in the world GDP. For sake of comparison, this is an even worse economy than that of the financial crisis of 2008 and 2009.
When will the industry recover?
In the year 2021, the aviation industry is looking forward to recovery. However, the path is still uncertain and progress will likely be very slow.
Right now, the recovery of the aviation industry is still being hindered by constantly shifting international travel restrictions. Due to concerns about rising infection rates and new COVID-19 strains, many countries find themselves having to add back border restrictions. This has not helped passengers regain confidence in international travel.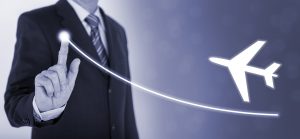 Thankfully, industry insiders are more optimistic about the domestic flight market. With fewer restrictions and pent-up demand from people who want to visit friends and relatives, domestic travel is expected to recover more quickly.
On the flip side, corporate travel is a market that isn't likely to recover to pre-pandemic levels anytime soon. Companies have been very successful in cutting travel costs by implementing remote work and virtual meetings – a system that has become thoroughly refined over the past few months. If this market becomes permanently reduced, airlines stand the chance of losing a major channel of revenue. Unfortunately, business travel has proven to be a very profitable segment for passenger revenues before the pandemic.
Right now, many airlines have been able to survive by reducing operational costs. The bad side of this is it has mostly happened by reducing manpower, specifically by implementing early retirement or temporary furloughs of employees. Financial aids from governments in the form of grants or loans have also been instrumental in keeping airline companies afloat.
At this stage, most experts would agree that it's virtually impossible to predict how travel patterns will evolve in the next couple of months or years. To deal with this uncertainty, forecasts are typically presented as several possible scenarios.
Based on the worst-case and best-case scenarios, we are looking at a reduction of 38% to 46% of airline passengers from January to June 2021 relative to the same period in the year 2019. This corresponds to a revenue loss of $149 billion to $178 billion and an overall reduction of 1.02 to 1.21 billion passengers. These numbers may not sound good, but they still represent a recovery for the industry relative to 2020 figures.
Which scenario prevails will depend on several different factors – the effectiveness of containment measures, how reliable vaccines will be, how treatment methods will improve, the rate at which consumer confidence in air travel recovers, and how people are affected by economic conditions. Unfortunately, there are still too many questions that are proving incredibly hard to answer.
Whatever the case may be, all the experts agree that it will take several years for the aviation industry to fully recover its pre-pandemic status. Based on early estimates, the total passenger count for air travel is expected to increase up to 2.8 billion by the end of 2021, which is still only 60% of the passenger count for 2019.
According to the IATA, an efficient passenger testing system and a global vaccine rollout are the two most important elements of ensuring safe air travel. These will then be the precursors for the industry to regain consumer confidence. Domestic or short-haul travels are expected to lead the way to the recovery of the aviation industry and will be dominated by large domestic markets in China and North America.
Final thoughts
Regardless of which market or industry we're looking at, the pandemic will remain a threat until a reliable vaccine has been made widely available or treatment methods help achieve better recovery rates. Unfortunately, the aviation industry has been one of the worst-affected by the pandemic and still continues to be affected by today's uncertainties.
As a testament to how critical aviation is, the lack of air travel has significantly affected the economies of virtually all countries, resulting in millions of jobs lost both directly and indirectly. This season has not been kind to aviation professionals. Along with the rest of the world, the aviation industry is looking forward to a full recovery from this pandemic and for everyone's lives to go back to something that resembles what is normal.