Drone License Guide: What It Is, Who Needs It, and How to Get It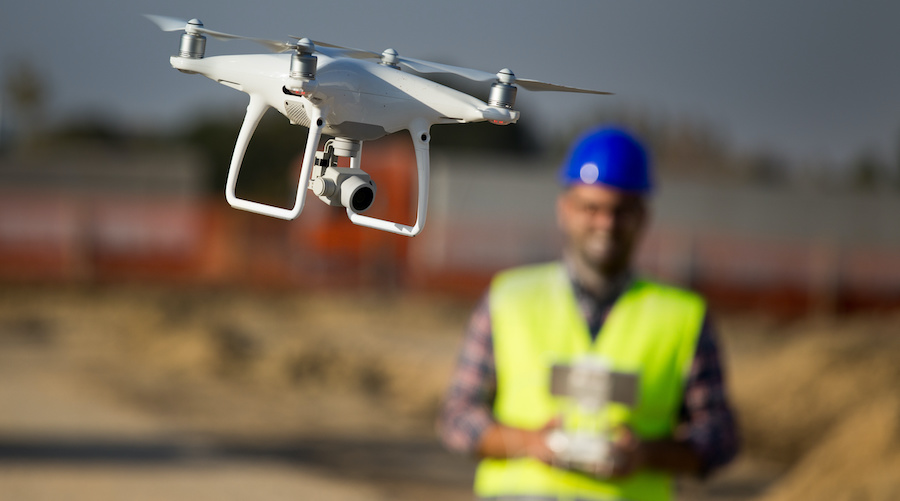 Nowadays, flying isn't quite as simple as buying one, charging the batteries and taking off even in your own backyard. The new laws on drone flight may require you to register your drone with the FAA and to follow restrictions imposed by the local city or state council.
Among one of the legal requirements which may or may not apply to you is the need to have a drone license when you fly. If you're still unsure of whether you need a drone license or if it's a good idea to get one, then we've written the handy guide below as a comprehensive introduction.
What is the drone license?
In 2016, the FAA introduced and implement 14 Code of Federal Regulation (CFR) Part 107 – the set of laws the governed commercial drone flight. Officially titled the "Small UAS Rule," one of the most important provisions of Part 107 required drone pilots to earn a Part 107 remote pilot certificate or "drone license" before they can be legally allowed to fly a drone commercially.
Why is the drone license necessary?
Aside from the obvious legal consequences of flying a drone commercially without the proper certification, the FAA's decision to enact a certification requirement came about because of these reasons:
1. Implemented a proficiency standard
One of the most important reasons for the drone license was that it allowed the FAA to control who can earn it, thus requiring a standard of proficiency and knowledge in commercial drone pilots. This is made possible through the Part 107 knowledge test, which is the major requirement for earning the certification.
Although those who fly commercially only represent a fraction of all drone pilots in the US, it's still a good safety measure to have a population of drone pilots who understand the basic rules and fundamental concepts of aviation.
2. Allows the FAA to document commercial drone pilots
As with any certification process, you will have to provide the FAA with personal details in the process of applying for the drone license. This allows the FAA to keep tabs on the number of commercial drone pilots and how they are distributed demographically and geographically. The drone industry is still pretty young, and we can imagine all this data should help the FAA make more informed decisions on how to steer the industry forward.
3. Provides opportunities for updating knowledge and skills
Just like a driver's license, earning the Part 107 drone license isn't a one-and-done deal. After 24 months, you are going to have to take a recurrent knowledge test to keep your drone license current. This provides the perfect opportunity to similarly 'update' the knowledge and skills of drone pilots to reflect new laws, more essentials skills, or developments in drone technology.
4. Provides clients with a database of certified pilots
One of the privileges of earning a Part 107 drone license is that you get to be listed in the FAA's publicly accessible database of licensed airmen. This can be a pretty great asset if you're offering your professional services to clients. This database is also a means to protect clients by giving them the assurance that they are taking on the services of someone vouched for by the FAA.
If being listed on a public database doesn't sit well with you, then you can simply opt out of the database.
Who needs to get a drone license?
According to the applicability clause of Part 107, the set of rules apply to the "operation of small UAS weighing less than 55 pounds, for other than recreation or hobby purposes." This clearly defines two exceptions:
1. Drones operated for recreation or hobby purposes
Although the original Part 107 text says that recreational drone flight is governed by the Special Rule for Model Aircraft (14 CFR Part 101), this has been superseded by the FAA Reauthorization Act of 2018. The new set of rules became necessary after the authority of the FAA to regulate recreational drone use was questioned (successfully) by model aircraft communities.
2. Drones that weigh more than 55 pounds
Instead of the Part 107 drone license, drone pilots who wish to fly drones that weigh more than 55 pounds will instead need to apply for a Section 333 exemption. This is an old standard that used to apply to all types of commercial drone pilots. Getting a Section 333 exemption is a much more tedious process. In this case, stricter standards are apparently necessary for the interest of safety.
Additionally, flight under Part 107 rules only applies when the operations are done in the United States.
Commercial Drone Uses
The Part 107 drone license applies to all drone pilots who want to fly for commercial purposes. Aside from outlining the exceptions, we also need to define what constitutes "commercial" drone flight. To help clear up any ambiguity, here are the most common categories of commercial drone use.
1. Drone operations for which you are directly compensated
The most obvious type of commercial drone use is any drone operations for which the pilot receives direct compensation, financial or otherwise. These include on-site drone services such as event coverage or surveys, selling aerial photos online, or monetization of aerial videos.
2. Drone flight to aid day-to-day business operations
Many businesses have found ways to use drones to aid their regular business operations, resulting in processes that are faster, saves on resources, or keeps their personnel from harm. Examples include the use of drone surveys to improve crop management in farms, as a means for the delivery of products, or simply for surveillance of their day-to-day activities.
3. Drone flight to advance a business
Any use of drone services or drone-derived products to help a business is also considered commercial. Using drones for crop management also falls under this category, as does the use of drone shots to help sell a property or to market a tourist spot. Using an aerial shot as a cover of a magazine or banner of a website would also be considered commercial, especially if the publication or website is earning any profit.
The FAA explicitly states that the intent of drone operations needs to be defined at the point of take-off. This means that you can't sell an aerial shot you took years ago when you were still flying for fun, even if you already have a drone license now. You also cannot sell photos that you took while flying under recreational rules, such as an aerial shot that you took at night without the appropriate Part 107 waiver.
Who is qualified to earn a drone license?
There are only three basic qualifications for those who wish to apply for the Part 107 drone license:
Be at least 16 years of age
Be able to read, write, speak, and understand English
Be physically and mentally fit to fly a drone
Regarding the third bullet point, there is no need to provide a medical certificate to prove your level of physical or mental fitness. Instead, the FAA trusts the applicant to do a self-assessment of how appropriately conditioned they are for drone flight. Any condition that impairs your sense of sight, hearing, dexterity, or your ability to make quick decisions, can be considered grounds to not be granted the drone license.
All applicants for the drone license must secure an FAA Tracking Number (FTN) first. The FTN acts as the unique identifier for each individual and will be associated with them throughout their whole career in aviation with the FAA. Everyone can get an FTN by signing for an account in the Integrated Airman Certification and Rating Application (IACRA) website.
What is the process for getting a drone license?
Once you have your FTN, then starting the process to earn the drone license is just a matter of signing up for the Part 107 knowledge test. The test is administered by Computer Assisted Training Services, Inc (CATS/PSI) through their more than 700 FAA-certified testing centers in the US.
To sign up, simply look for a testing center near you on the PSI website. You will then need to register for the FAA Airman Knowledge Test and cite your preferred testing location, date, and time. You should receive a confirmation if all goes well.
The Part 107 knowledge test is the major requirement to earn a drone license. It is a 60-item multiple-choice test that covers topics ranging from sectional charts, the Part 107 operational restrictions, how to do a pre-flight inspection, how to interpret METARs, TAFs, NOTAMs, and TFRs, and which behaviors are considered reckless for drone pilots. The questions that each individual receives are pulled randomly from a much larger pool of questions, ensuring an element of randomness.
How to prepare for the test
There is no "best" way to prepare for the knowledge test. Others have been able to get by with free reading materials and YouTube videos, while others prefer the organization and comprehensiveness of paid training courses.
Should the latter route be more appealing to you, PilotInstitute offers a Part 107 online training course that provides 13 hours of instructional videos, more than 300 sample questions, an 11-page illustrated cheat sheet, a flashcard app, and access to online study and support groups. For a limited time, we are offering a $100 discount to the course PLUS a free additional Drone Maneuvers Mastery module.
Whichever way you choose to prepare, what is important is committing a certain level of effort and time to study. Most drone pilots recommend spending at least two weeks for preparation.
Taking the test
Don't forget to bring proof of identification on the day of the test. You will also be allowed to bring a basic calculator and a magnifying glass. The test center will provide you with a pencil, several sheets of paper, and a copy of the Airman Knowledge Testing Supplement Book.
You will be given two hours to complete the test. The test will be done in a closed room on a dedicated computer workstation where you will be monitored by security cameras.
After the test, your results will be uploaded to the FAA website. If you successfully passed the test, then you may move on to the next step. If not, then you have the option of taking the knowledge test again after 14 calendar days. However, you will have to pay the testing fee anew – it is not refundable.
Go through a TSA background check
Once you have your successful test results, you can proceed to the Part 107 remote certificate application via the IACRA website. Upon filling out all necessary electronic forms, your application will be endorsed to the TSA so that they can do their background check.
The TSA will likely check for any aviation-related misdemeanors in your history, although this isn't something that they have explicitly stated. From the experience of other drone pilots, this step can take anywhere between one week to two months, depending on how much backlog the TSA has on airmen certification applicants.
Receive your certificate
You will know that you passed the TSA background check when you receive your temporary certificate by e-mail. At this point, you have all the privileges of being a Part 107-licensed drone pilot. Just print out your temporary certificate and bring it with you whenever you do any commercial drone operations. You may be asked to present the certificate by representatives from the FAA, TSA, or local law enforcement.
The temporary certificate is only valid for 120 days. Within this time, you should have already received your permanent certificate, which was sent by regular mail.
How often does the drone license need to be renewed?
The drone license itself technically does not have an expiration date. However, the privileges granted to you by the FAA when you passed the knowledge test are only valid for 24 months. After this period, you will need to take a recurrent knowledge test to keep your license current.
Fortunately, the recurrent knowledge test is a seemingly abbreviated version of the original certification test. The recurrent test only has 40 questions and its scope of subjects is a little narrower. If you still have any of your study materials from the original knowledge test, then a quick read-through should be enough to help you pass the recurrent test.
AS OF APRIL 2020: Due to the current situation with COVID-19, testing centers have been closed for the last couple of weeks. Thus, the FAA has released a Special Federal Aviation Regulation that allows licensed drone pilots to take the recurrent knowledge test online.
This is only a temporary measure, and the privileges granted by the online recurrent test will only be valid for 6 months. It only consists of 35 questions which you'll need to answer within 90 minutes. For more details on where and how to take the online recurrent test, check out our detailed article on the topic.
Final thoughts
The Part 107 rules of the FAA may seem like an intimidating entity, especially for new drone pilots. However, it was put in place in the interest of everyone's safety, especially as it relates to the national airspace. Given the FAA's initiative to enact a knowledge and safety test even for recreational drone pilots, it's well worth the effort for all drone pilots to learn more about standard safety practices and basic aviation concepts.