DJI introduced the Mavic series in September 2016. The original Mavic Pro was revolutionary at the time – a compact, foldable drone with a professional-grade camera and obstacle avoidance, albeit not in every direction. Two years later, the Mavic 2 series was introduced. The Pro model is equipped with a 20MP 1"-type CMOS sensor and is the very first drone to feature Hasselblad's Natural Color Solution (HNCS) technology.
If you wanted the ability to zoom in on subjects, however, you'd need to purchase a separate drone. The Mavic 2 Zoom has a 1/2.3-inch image sensor with a 12MP resolution. It features 2X optical zoom at up to 4K/30p and 4X digital zoom. Three years on, DJI decided it was time to unleash the Mavic 3 series – the first-ever prosumer and compact drone with a dual-camera setup.
Once again, DJI included its Hasselblad HNCS technology on the main camera, which has a 20MP Four Thirds CMOS sensor. The top tele camera, with its 12MP Type 1/2 sensor, is capable of up to 28X digital zoom. The higher-end Cine model offers Apple's 422HQ video codec which is suitable for feature film and television productions.
Besides providing omnidirectional obstacle detection and avoidance, the Mavic 3 series also gives remote pilots up to 46 minutes of battery life. This is a vast improvement over its predecessor, which gave you up to 31 minutes of flight time, not to mention most consumer and prosumer drones. It was significantly more costly, though, and this is why one year later, the Mavic 3 Classic, minus the telephoto lens, was released with a more accessible price point.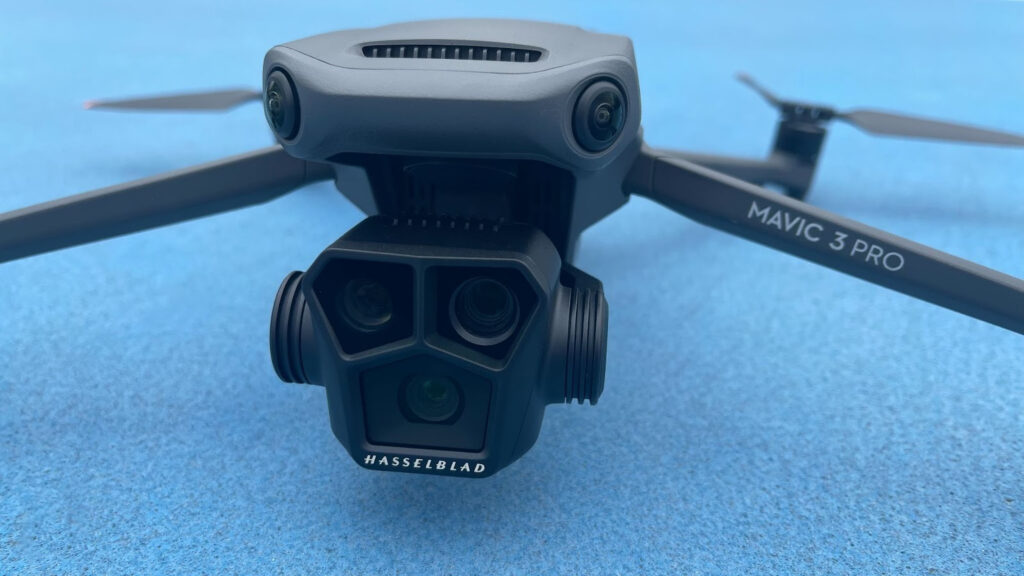 A little over six months on, DJI decided to improve upon its original Mavic 3 series offerings with another milestone. Both the standard and Cine Pro models are the first prosumer drones to offer a three-camera lens array. The original 4/3 CMOS Hasselblad camera returns, this time accompanied by a new 70mm Type 1/1.3 sensor camera with 3X optical zoom and a 12MP, 166mm Type 1/2 camera with 7X optical and up to 28X digital zoom.
DJI sent me a standard Mavic 3 Pro with the DJI RC Pro remote to test out. The Mavic 3 series now offers five different drones to choose from, though the original standard and Cine models have effectively been discontinued. Is it worth it to go Pro? Let's find out.
The Mavic 3 Pro aircraft and remote
At 231×98×95mm folded down, the Mavic 3 Pro's body is slightly larger compared to the original Mavic 3 (221x96x90mm). It was designed to house a more robust gimbal and camera system. The 5000mAh Intelligent Flight batteries that power the original and Classic Mavic 3 models are compatible with the Pro series.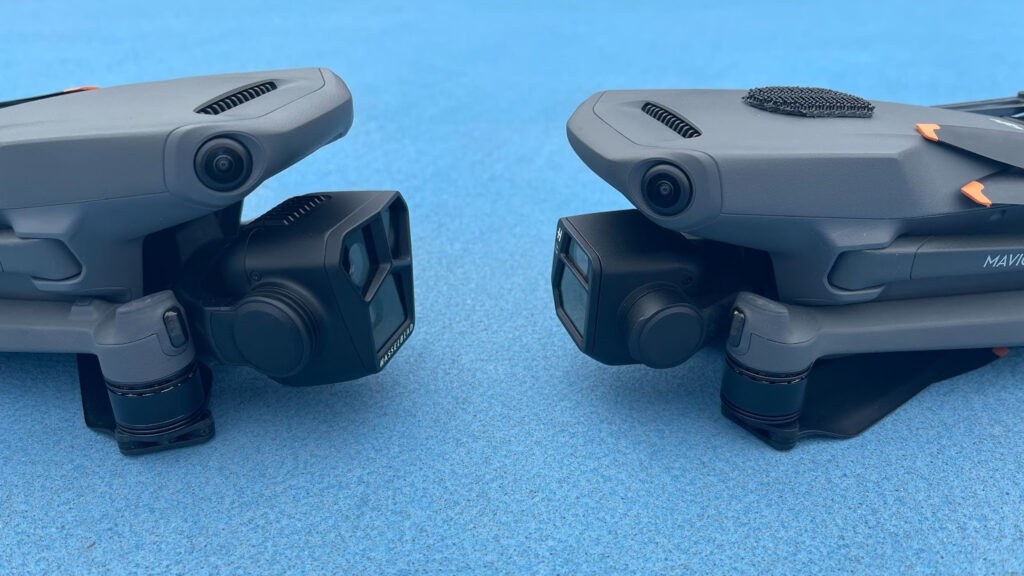 The Mavic 3 Pro can withstand wind speeds up to 12 m/s (26.8 mph) and travel up to 21 m/s (47 mph) in Sport mode. A 43-minute maximum battery life, versus the original 46 minutes, is the result of a slightly heavier aircraft. The standard Mavic 3 Pro is 958g, while the Cine tops out at 963g compared to the 895g or 899g, respectively, of the original models.
One thing to keep in mind is this slight increase matters. In some regions, surpassing a takeoff weight of 900g puts the Mavic Pro series in a different class, thus imposing a new set of rules. Always make sure you research local ordinances, familiarize yourself with regulations, and acquire any necessary certifications before launching your drone.
The Mavic 3 Pro series works with either DJI's RC or RC Pro remote controllers. The standard RC remote, at $309, is the affordable option, while the RC Pro will set you back $1,199. Both remotes have a 5.5-inch screen, buttons plus dials designated for photos, video, gimbal maneuvering, and zoom, along with two customizable buttons on the back.
The RC Pro offers 32GB of external storage, 1,000 nits of screen brightness versus 700 nits on the DJI RC, and the ability to install third-party apps. The RC Pro weighs 685g compared to DJI RC's 385g. Powered by a 5000mAh battery, the RC Pro provides up to 3 hours of life per charge, while DJI's RC remote, with its 5200mAh battery, will give you about 4 hours of flying time.
The RC Pro weighs almost twice as much as the standard RC remote for a reason. It's equipped with two transmitters and receivers, along with DJI's O3+ transmission, which provides a 1080p/60p stream up to 15km (9.3 miles). I typically operate my standard Mavic 3 with a DJI RC remote and noticed a remarkable difference in connectivity using the RC Pro with the Mavic 3 Pro when operating in a congested urban environment.
The Cameras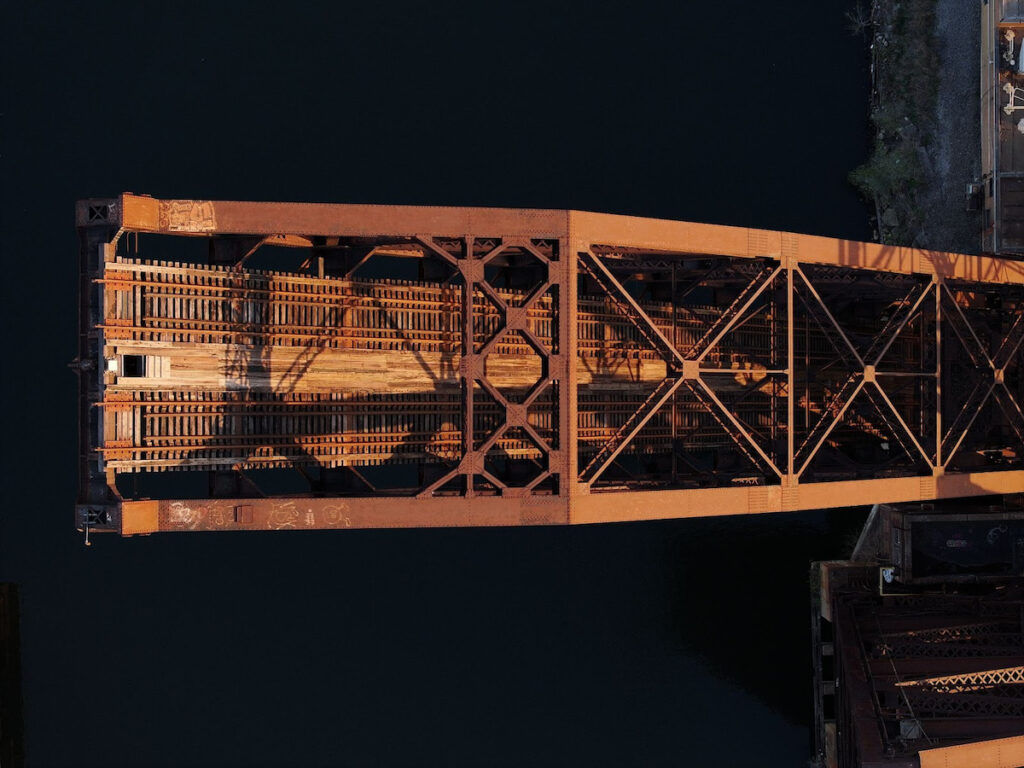 The same Hasselblad Natural Color Solution (HNCS) technology, 20MP Four Thirds sensor, variable F2.8-11 aperture, with a 24mm (equiv.) focal length camera featured on the standard models also remains on the Pro. It's capable of capturing 12-bit Raw photos. DJI claims the main camera can also deliver a dynamic range of up to 12.8 stops.
| | | | |
| --- | --- | --- | --- |
| | Hasselblad Camera | Medium Tele Camera | Tele Camera |
| Sensor | 4/3 CMOS | Type 1/1.3 CMOS | Type 1/2 CMOS |
| Effective Pixels | 20MP | 48MP or 12MP | 12MP |
| Lens | 24mm (equiv.), F2.8-11 variable aperture | 70mm (equiv.), F2.8 fixed aperture | 166mm (equiv.), F3.4 fixed aperture |
| Zoom | 1-3X | 3-7X with 3X optical | 7-28X with 7X optical |
| Video Format | 5.1K/50p, 4K/60p, 1080p/60p | 4K/60p, 1080p/60p | 4K/60p, 1080p/60p |
| Slow Motion | 4K/120p, 1080p/200p | Not supported | Not supported |
| Codec | H.264/H.265, Apple ProRes 422 HQ* | H.264/H.265, Apple ProRes 422 HQ* | H.264/H.265, Apple ProRes 422 HQ* |
| Color Mode | HNCS, D-Log, D-Log M, HLG,Night Mode | Normal, D-Log M, HLG | Normal |
| Intelligent Features | MasterShots, QuickShots,Panorama, Hyperlapse, FocusTrack | Hyperlapse, Focus Track | Spotlight and POI in Focus Track supported,ActiveTrack notsupported |
The Mavic 3 Pro has a new medium-telephoto camera featuring a 70mm focal length and fixed F2.8 aperture. It has a Type 1/1.3 CMOS sensor that can capture both 48MP and 12MP photos. 3-7X zoom, with 3X optical, can be achieved with this camera as well. The third camera is an upgrade from the original Mavic 3's long telephoto model.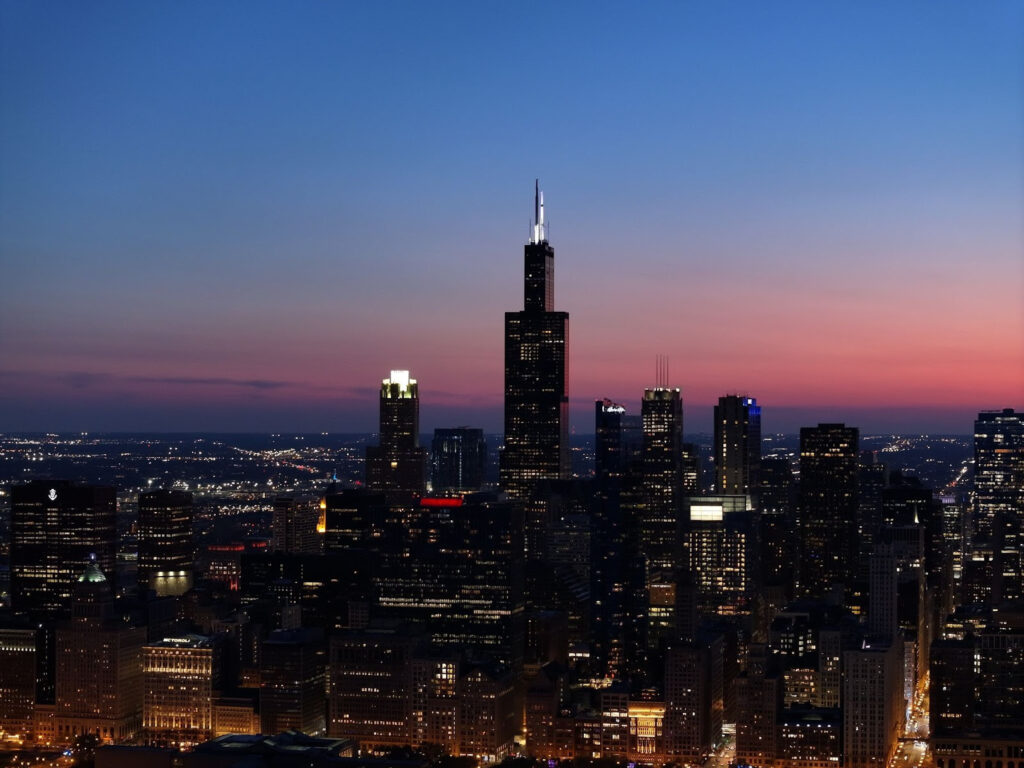 Like the original, the long-telephoto camera has a Type 1/2 sensor, supports 12MP photos, and has a 7x optical and 28X hybrid zoom. It has been upgraded from 162mm to a 166mm equivalent lens and a fixed aperture of F3.4, compared to F4.4 on its predecessor.
The main camera can capture Video footage at resolutions up to 5.1K/50p, DCI, or UHD 4K/120p (slow motion). All three cameras support up to 4K/60p resolution. D-Log is available on the main camera, while the medium-telephoto offers up DJI's new D-Log M color mode. The long-telephoto camera offers Normal (8-bit) settings for recording video. What's notable is that you can capture a Hyperlapse sequence consisting of RAW files, instead of only JPEG files, with 3X optical zoom.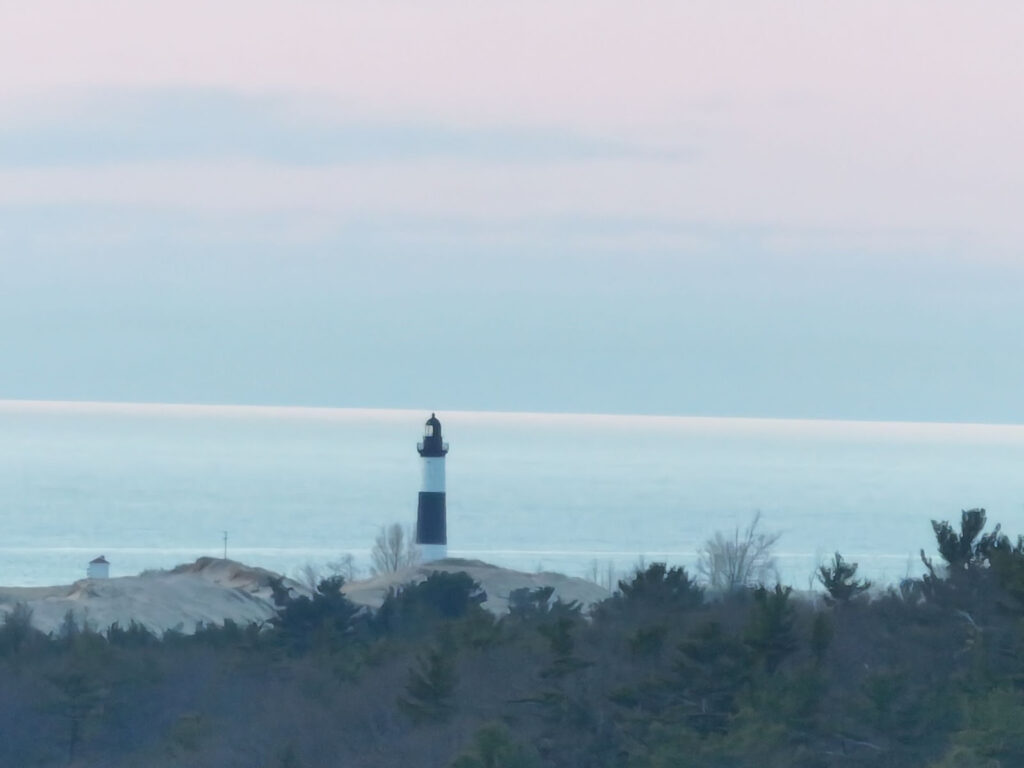 For those looking for superior video specs, the Mavic 3 Pro Cine offers Apple's ProRes 422 HQ, ProRes 422, and ProRes 422 LT encoding for all three cameras. Like its predecessor, the Cine features 1TB of internal storage with a 10Gbps data cable for quicker file transfer.
The DJI Fly app and Intelligent Flight modes
The Mavic 3 Pro series uses DJI's Fly app. It's clean, pared down, and important settings you need to operate your drone to its fullest extent, including various video recording modes, Explore mode, which gives you the ability to zoom in on subjects up to 28X, and Waypoints, are all featured prominently on the main screen.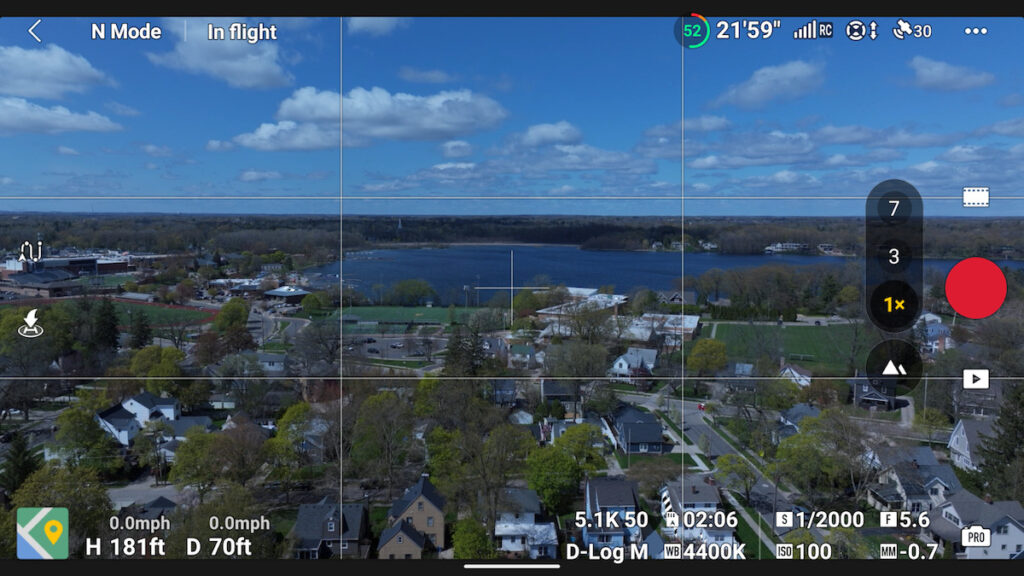 DJI offers its usual variety of Intelligent Flight modes, including MasterShots, which will fly a combo of its automated Quickshots, including Rocket, Helix, Circle, and Boomerang, along with FocusTrack. Like its predecessor, the Mavic 3 Pro also has Spotlight, Point of Interest, and ActiveTrack 5.0 to help pilots create more polished, advanced shots.
Waypoints make it easy to create pre-planned missions that can be saved and repeated at a later time. Introduced after the Mavic 3 Classic was released, Cruise Control allows you to set the drone's pace at a constant speed so you can focus on other aspects of your flight.
What's it like to operate?
I'll start by pointing out that the connectivity for the drone and remote is stronger on the Mavic 3 Pro, and this alone may encourage me to upgrade. I was given a Mavic 3 Cine with the RC Pro remote when it was first released in November 2021 to test out and there is definitely an improvement in the overall flight experience. One issue with the original standard and Cine models comes down to the required wait of up to 5 minutes on a cold flight to connect to enough satellites before a GPS signal is established.
The Mavic 3 Pro can connect to 20 satellites, even in a congested area, in about 30 seconds the first time out. I've always enjoyed how the Mavic 3 series flies through the air and maneuvers around obstacles, thanks to APAS 5.0. Operating the Pro, I felt more at ease with the drone-to-remote signal and attempted moves, including a full revolution around Chicago's Hancock Tower, that I normally shied away from with my original standard Mavic 3. Losing connection wasn't as big of a concern when operating at higher altitudes.
Initially, I thought the camera may not maneuver fluidly, even on a gimbal with a more robust build, due to its size. However, I was pleasantly surprised by how effortless it was to capture smooth footage, even when pitching the gimbal up and down. All in all, nothing on the Mavic 3 Pro feels clunky.
Final thoughts
What do I think of the Mavic 3 Pro? While I admire the improvements in transmission and connectivity, I also feel compelled to address some of its shortcomings. When you strip away the marketing behind the product, you're faced with a tough truth. The medium-tele camera is practically identical to the one found on the Mini 3 series. DJI should have offered up 3X, 7X or even up to 10X optical zoom on a Four Thirds CMOS sensor.
With decent lighting, the 3X optical sensor captures stellar imagery. The same can be said about zooming in up to 7X, also under ideal conditions. The right settings and shooting in D-Log on the main camera will yield excellent footage at night or in low-light environments. When you start zooming in on subjects and switch to the cameras with fixed apertures, things don't look as crisp and clean.
The tri-camera system on the Mavic 3 Pro works in a similar fashion to what's found on an Apple 12 ProMax or above. As you zoom in and out, the drone will automatically toggle between cameras. When filming, I noticed a 'jump' when I continued to zoom in or out on a particular subject. It was obvious when the drone switched cameras, and there isn't any way to record a video clip, zooming in from 1X to 28X, without a brief pause at the 3X and 7X mark.
While Night Mode gives you an ISO up to 12800 without introducing too much grain into the image, it doesn't support D-Log. And when shooting in D-Log, you're still limited to a maximum ISO of 1600. This is fine for most scenarios, but unless you're shooting in a well-lit environment such as a major city, night shoots could be a challenge. There is an up to 8" shutter, but depending on how windy it is, your imagery can end up blurry if exposed over 1 or 2 seconds. Shooting in D-Log is ideal since it gives you more flexibility in post-production, and DJI should offer an ISO up to 6400.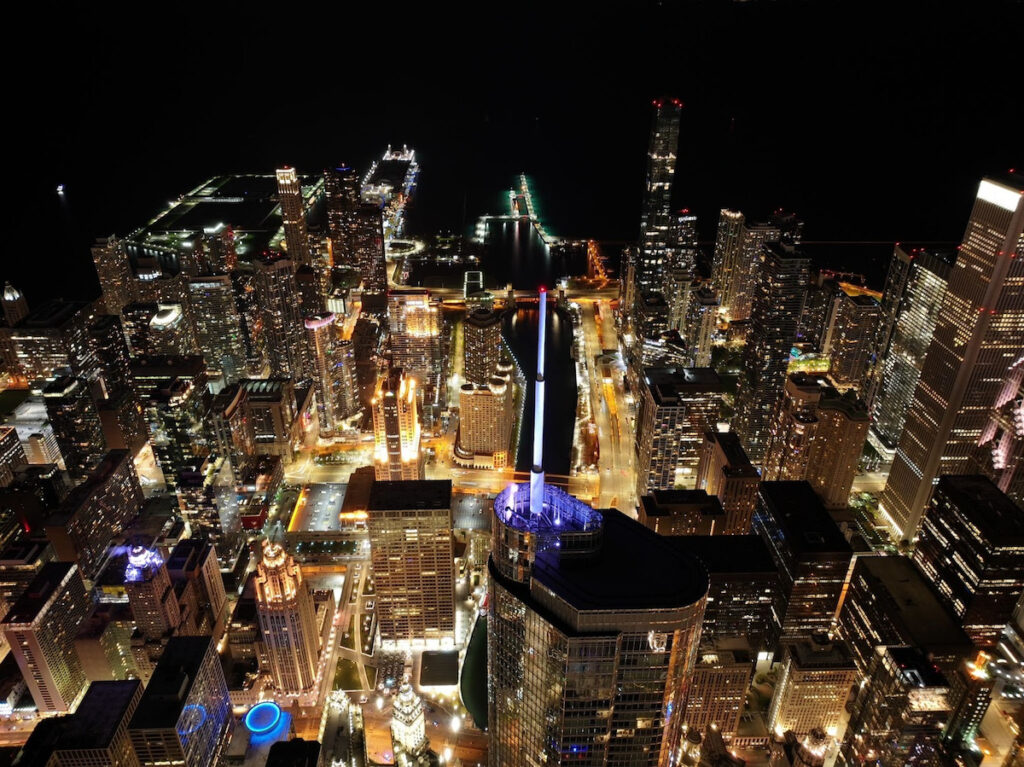 The Cine comes with a built-in 1TB SSD that can store roughly 3.5 hours of Apple ProRes video. Built-in means you'll need to spend at least an hour offloading footage directly from the drone. DJI would have been wise to make this part removable and sell interchangeable SSD units, especially to professional filmmakers, so they can shoot for an extended period with minimal downtime.
Anything captured above 7X optical zoom, especially at 14X and 28X, still looks soft and fuzzy. When Explore mode is activated, it still only shoots in Auto mode and saves images in JPEG-only format. And, 18 months on, there still isn't an SDK (Software Development Kit) available for the Mavic 3 series. This means we're missing the ability to take advantage of excellent third-party apps such as Litchi.
| | |
| --- | --- |
| Model | Price |
| Standalone Mavic 3 Pro (body only) | Not available |
| Mavic 3 Pro with DJI RC remote | $2,199 |
| Mavic 3 Pro, DJI RC Fly More Combo | $2,999 |
| Mavic 3 Pro, DJI RC Pro Fly More Combo | $3,899 |
| Mavic 3 Pro Cine Fly More Combo | $4799 |
While these last few paragraphs are overly critical, the Pro is still an incredible prosumer drone. It's a nice little refresh compared to my standard Mavic 3 and I am tempted to upgrade. Nevertheless, while DJI has made some incremental improvements, it may not be enough for some users to invest a good deal of money if they already have an existing Mavic 3 model.
It will be interesting to see what the next iteration in the Mavic series will feature. The Mavic 2 was unveiled in late 2018 and we had to wait 3 years for its successor. Hopefully this isn't the case going forward. There is still room for improvement, not to mention the potential to make the next Mavic series an even better compact and foldable offering for professional remote pilots.