Amongst drone pilots, the idea of flying beyond the range of visual line of sight is a very common aspiration. It has been argued many times that having to limit to visual line of sight has held back the potential of drone technology. There is certainly merit to this argument as attested to by the multiple companies that are lobbying for automated drone-based deliveries.
However, there are also inherent dangers to allowing drone pilots to fly beyond visual line of sight (BVLOS). This has made BVLOS one of the more controversial topics in recent months. What exactly are the arguments against BVLOS and will BVLOS drone flight ever become a reality?
The Dangers of BVLOS Flight
The requirement to always maintain visual contact is one of the first few lessons that drone pilots need to learn. This is so important that drone pilots are usually advised to fly with visual observers, just in case something prevents them from establishing constant visual contact. There are also measures that mitigate the loss of environmental awareness that can come from flying in FPV.
The rule to remain within VLOS range ensures that you are only flying your drone within a reasonable distance. No set distance defines the range of VLOS. Variables like weather conditions and the size of your drone play big roles in determining VLOS range. In most cases, this range is not likely to go beyond 2 miles.
The danger of flying in BVLOS is the drastic reduction of environmental awareness. Part of the responsibility of the drone pilot or visual observer is to scan the immediate surroundings of the drone to identify any airborne or ground-based hazards. This is something that the drone pilot cannot do when flying in BVLOS.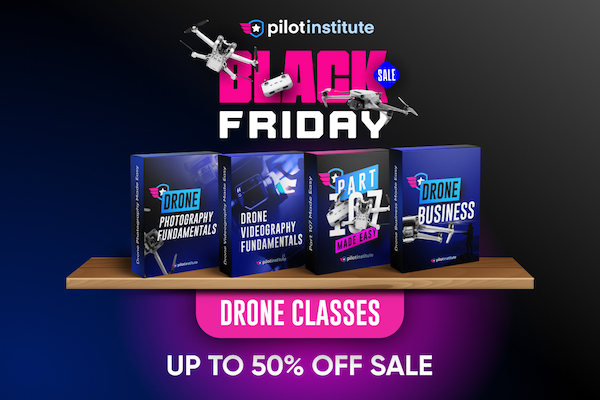 The drop in environmental awareness increases the probability of the drone getting into a crash. Should circumstances become less than ideal, it also becomes significantly harder for the drone pilot to perform evasive maneuvers or to even recover the drone. Addressing these hazards will be essential before any operator can be allowed to fly in BVLOS range.
Waivers for BVLOS Flight
Those who wish to fly drones beyond VLOS range have two options for such limitations to be waived. Part 107 pilots can apply for a waiver through the FAA DroneZone website if there is a need to offer professional services with such requirements.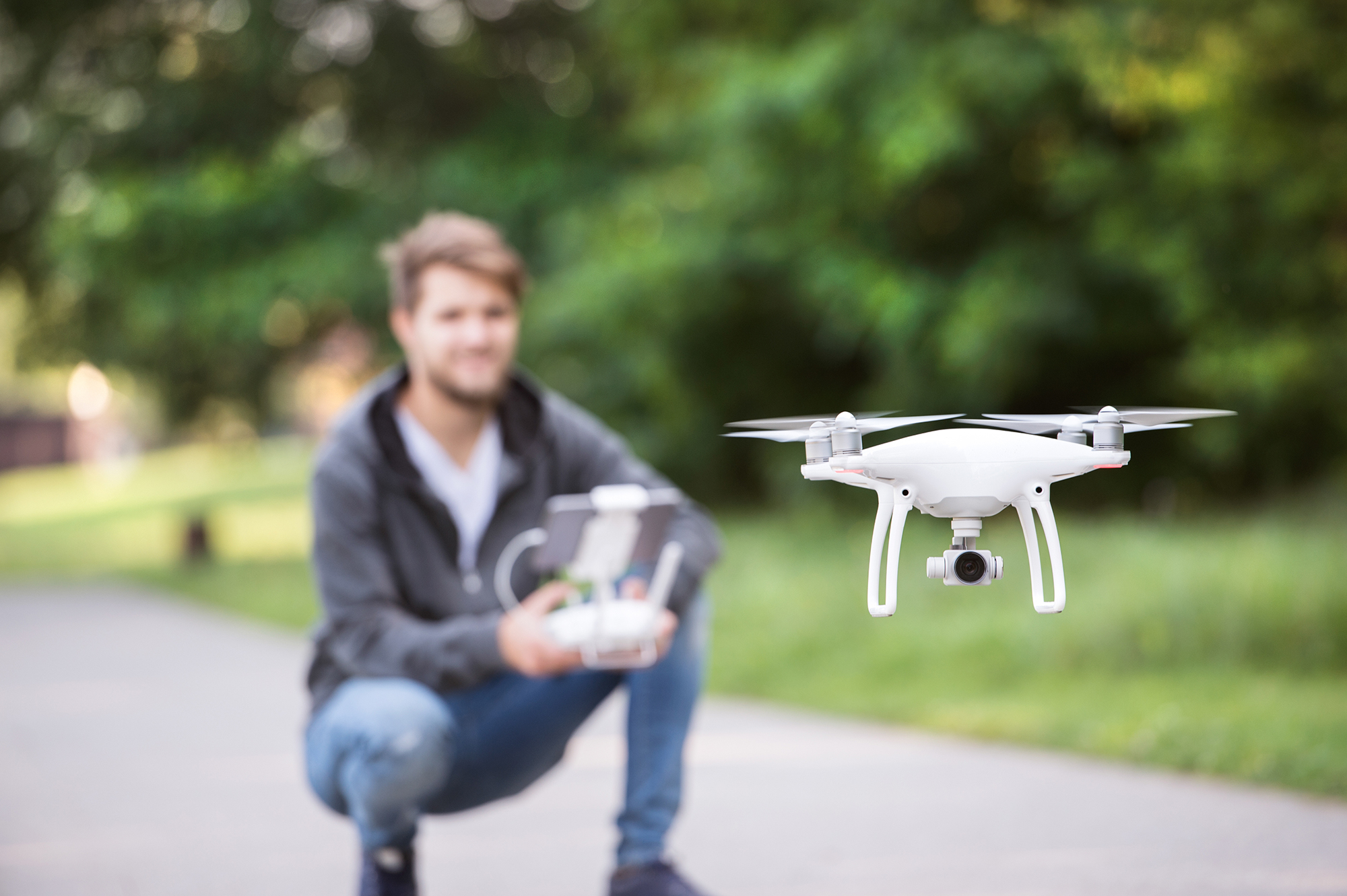 Public Safety Agencies have an entirely different avenue available through the First Responder Tactical Beyond Visual Line of Sight or TBVLOS waiver. Obviously, there is special treatment provided to BVLOS flight for emergency response. However, both methods are quite difficult and will call for lots of documentary requirements.
Part 107 waivers
Part 107.31 or Visual Line of Sight Aircraft Operation is technically in the list of Part 107 provisions for which the FAA grants waivers. However, the FAA has been very stringent about granting such waivers with a current rejection rate close to 99%. This is despite the FAA relaxing the waiver requirements for other provisions, such as flying drones at night and over crowds.
This fact tells us how seriously the FAA considers BVLOS drone flight as particularly dangerous. This does not mean that it is impossible – a handful of operators have been able to secure Part 107 waivers for BVLOS flight since 2016.
One of the first companies to be granted this type of waiver was Avitas Systems. On October 16, 2018, Avitas Systems became the first recipient of a BVLOS waiver for civil use, specifically for industrial inspection.
The key to securing the waiver was the use of trailer-mounted radar to enhance situational awareness for the drone pilot. The drones used for the operations had robust data links, sensors, and cameras that provided live streams of inspection data to the ground station. It also likely helped that the inspection area contained oil and gas infrastructure and was probably close to unpopulated.
More recently, Denver-based SkyTask Inc. was also granted a BVLOS waiver for their operations at the Colorado State University Drone Center. SkyTask likely holds on the most comprehensive systems for BVLOS drone flight with features such as optical detect and avoid, GNSS-based navigation, real-time ADS-B monitoring, multi-source video tracking from the air and ground, and ground-based localization that is accurate to the millimeter.
To this day, securing a Part 107 BVLOS waiver is considered a feat for any operator or company. It is extremely difficult and will likely require the implementation of several technology-based solutions.
TBVLOS waivers
Public safety agencies have the option of applying for a TBVLOS waiver should they need to deploy drones in operations that involve "extreme emergencies to safeguard human life". There have already been a lot of documented cases of agencies using drones to quickly locate a missing person or to gain a tactical advantage when responding to an active shooter situation.
The TBVLOS waiver makes the process relatively easier. This waiver is still relatively new, having only been announced by the FAA in August 2020.
The first thing that an agency needs to apply for a TBVLOS waiver is an FAA COA. This is normally only granted to government agencies that wish to use drones to perform their regular functions. Pilot Institute has a free course showing the process. Applying for an FAA COA can be a long and tedious process for agencies but is considerably more practical in the long run. An FAA COA allows an agency to establish the terms under which they can fly their drones and self-certify their own drone pilots.
If an agency already has a COA, they must submit an official request letter to the FAA and an application via the COA Application System. If successful, the agency will be granted the signed FAA Form 7711-1 (COA / Waiver Form) with details on the specific provisions of the waiver.
There does not seem to be a comprehensive list of TBVLOS waivers that the FAA has granted so far, but the DRONESREPONDERS website has reported that 160 waivers have been approved as of June 2021. There is also interest in expanding the parameters of the TBVLOS waiver, but this will have to involve collecting operational flight data from agencies that have already been operating in BVLOS range.
Regardless of which waiver type you apply for, a BVLOS waiver will still come with distance limitations. In the case of TBVLOS waivers, the drone must still remain within 1500 feet of the drone pilot. This is a relatively small distance, which means that TBVLOS only really applies to fly around potential obstacles. Part 107 BVLOS waivers usually only apply to a pre-determined area with clear boundaries as proposed by the applicant.
Current Technologies that can Facilitate the Transition to BVLOS Flight
Many enterprises and agencies that use drones consider BVLOS drone flight as the next frontier for the technology. If BVLOS flight becomes possible, it will certainly open the doors to several new ways of using drones. For this reason, it's not surprising to see lots of effort in developing technologies that will enable safe BVLOS flight. These are just some of the possible technology-based solutions:
AI-powered drone flight
Sense and avoid systems have been a staple of modern drones for several years. Nowadays, a drone has to have sensors that can detect obstacles in its path and the means to avoid them. There are several ways that this has been done – optical sensors, time of flight sensors, and stereoscopic imaging, to name a few.
The current competitive arena is determined by how well the drone reacts to said obstacles. After all, a sense and avoid system isn't of any use if the drone cannot avoid the obstacle because it is flying too fast. Up and coming drones have highlighted the use of AI that gives the drone decision-making capabilities.
Such features will almost certainly play a prominent role for when partially automated drone flight in BVLOS range becomes more common.
4G / 5G connectivity
One issue of BVLOS flight is that the data connection between the controller and the drone becomes progressively weaker as the drone flies farther. This is the major reason for drone "fly-aways" in the past, although these are a lot less common now.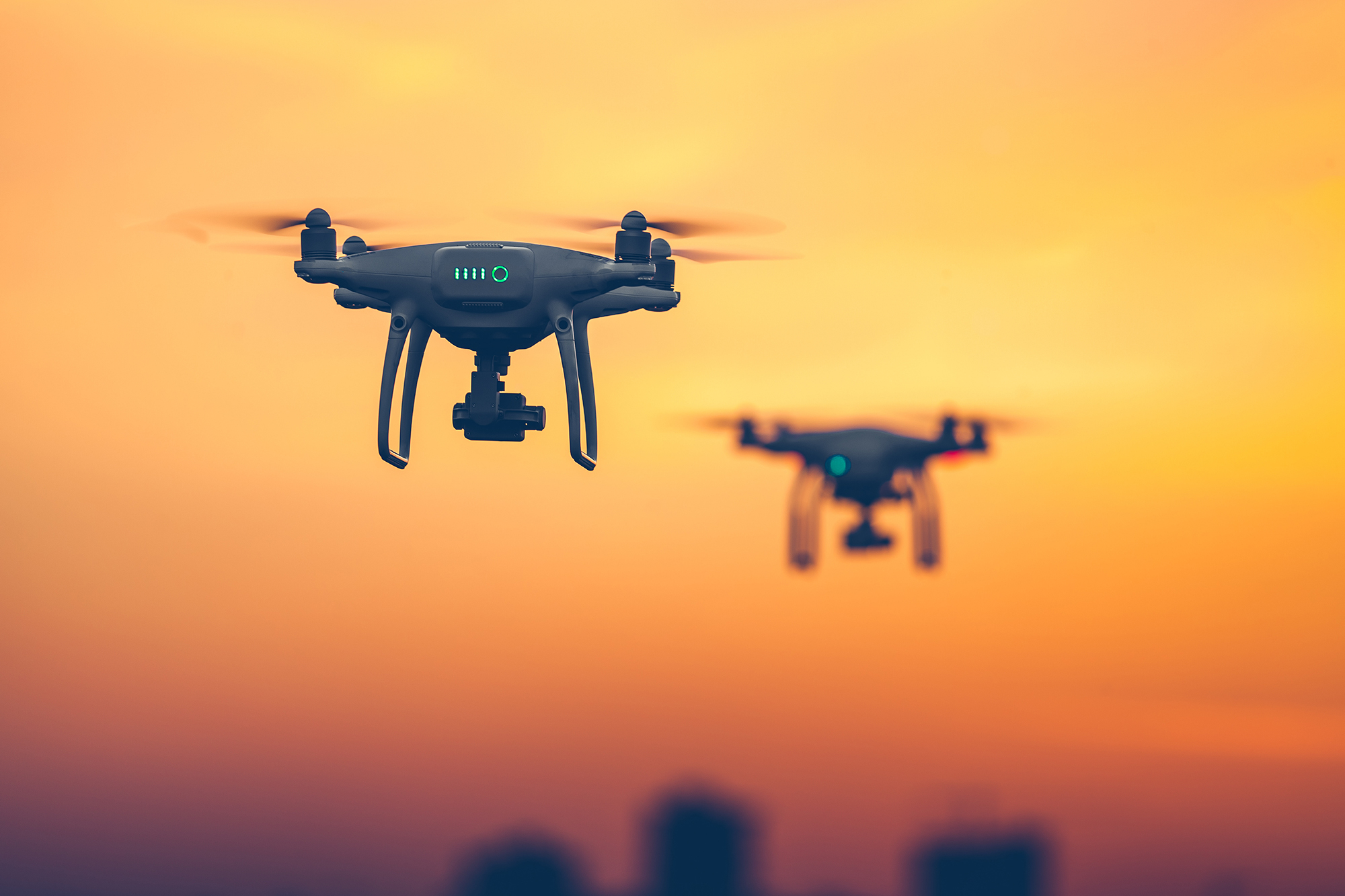 New drones are bypassing this limitation by relying on a control mechanism based on 4G or 5G networks. Technically, this would make the control range for the drone limitless as long as there is a cellular network tower nearby.
This is seemingly a simple upgrade but will require new communications infrastructure, both for the drones and remote controllers. It will also require more robust systems for data security.
ADS-B receivers
ADS-B technology is not new – it is simply a way for drone pilots to be warned of the presence of any nearby manned aircraft. Some drones already have this feature, and we expect it to be a requirement for any future BVLOS operations. An ADS-B receiver is only another layer of protection that drone pilots need to use. It will likely still be necessary to issue NOTAMs for the areas in which BVLOS operations will be conducted.
Remote ID
The Remote ID requirement is easily the most controversial topic that the drone community in the US has discussed in the last year. In a nutshell, this law will require all drones operated in US airspace to continuously transmit packets of data on the drone's registration, location, altitude, and the location of the ground station.
More than a safety feature, Remote ID is a means to enforce accountability for drone pilots. This becomes more important in BVLOS operations in which locating and identifying the drone becomes significantly more difficult.
Although the regulation for Remote ID has already been published this year, full compliance will not be required until 2023. By then, all drones covered by FAA registration requirements will also need to operate with Remote ID modules. Drone manufacturers still have almost 2 years to make sure that their products will comply.
Innovation in the drone industry has been impressively fast in the last couple of years. The allure of being able to fly in BVLOS has certainly proven to be a great motivation for drone manufacturers and researchers in the field.
The BVLOS Aviation Rulemaking Committee
During the FAA UAS Symposium last June 2021, FAA Administrator Steve Dickson announced that they will be forming an Aviation Rulemaking Committee (ARC) for BVLOS flight. The purpose of the ARC, as Dickson stated, is to "help the agency develop a regulatory path for routine Beyond Visual Line of Sight operations". It is the duty of the ARC to make recommendations that will allow for BVLOS operations that are safe, scalable, economically viable, and environmentally advantageous.
The FAA has released a list of the organizations that have joined the ARC. An official charter has also been published. Based on the list, 87 organizations have joined the ARC, representing various stakeholders. These include representatives from the academia, technology sector, traditional aviation associations, drone manufacturers, and local or territorial groups.
There are lots of familiar names in the list including Airmap, Skydio, FedEx, CNN, Women in Aviation International, and the American Petroleum Institute just to name a few. The list certainly looks like a well-represented group of parties that will benefit from safe and realistic BVLOS regulations.
The BVLOS ARC is still a relatively new entity, so they have not yet published any recommendations. We will surely keep an eye out for any outputs from the group. The committee is expected to propose recommendations later this year.
Other FAA Programs for BVLOS Operations
Another program that can further the BVLOS agenda is BEYOND. This is an FAA program that followed up on the success of the UAS Integration Pilot Program (IPP). The IPP was a three-year program that ran from 2017 to 2020 in which the FAA collaborated with nine state, local, and tribal governments.
The goal of the IPP was to conduct tests that will facilitate the safe and secure integration of drones into the national airspace. The program was fairly successful but had to be terminated in October 2020 as mandated by statute. To address the remaining challenges of UAS integration, the BEYOND program was launched with eight of the nine participants of the IPP program signing up.
Many of the participants in both the IPP and BEYOND focused on how BVLOS operations can be done safely. The Kansas Department of Transportation (KDOT) performed BVLOS inspection of power lines in rural areas using a system of ground-based and onboard surveillance systems.
The North Dakota Department of Transportation focused on both BVLOS flight and drone operations at night. On the BVLOS frontier, test operations were done on the Northern Plains UAS Test Site (NPUASTS) using a BVLOS network known as Vantis. The team now plans to use the system to do BVLOS operations for industrial inspection, cargo delivery, and public safety.
Again, the BEYOND program is still very much in its infancy. The goal is for the participants of the IPP to build upon the foundations of the systems that they have developed in the past three years. Any success in the initiatives of these participants will certainly play a significant role in establishing BVLOS-wide regulations.
The FAA Supports more Relaxed BVLOS Regulations
Amidst all these developments, it has been quite encouraging to know that the FAA fully supports the efforts to make routine BVLOS operations a reality. During a keynote speech at the recently held AUVSI XPONENTIAL 2021 conference in Atlanta, Georgia, FAA Administrator Steve Dickson further reinforced this support.
Dickson stated that the current BVLOS rules were "not up to the task" to serve the current industry needs. He said that the system of approving waiver applications on a case-by-case basis was neither practical nor sustainable, especially given the pace of commercial drone activity nowadays.
Safety remains the priority of the FAA and is the primary reason why regulation rollout has been slow. Dickson addressed this during the speech, stating that the drone industry must have no safety mishaps if it wants to gain healthy public acceptance.
Dickson also mentions the role that drones play in COVID-19 response. With drones stepping up to deliver medical supplies and self-collection testing kits, the pandemic proved to be an opportunity to help improve the reputation of drones.
Despite the challenges, it is a relief to know that the FAA leadership is fully in support of advancing the integration of drones in the national airspace. Developing safe and practical BVLOS rules is only one of many initiatives that the FAA is doing to relax the current regulations on drone flight.
Final Thoughts
There has been a lot of activity in the past few years regarding BVLOS operations of drones. Hopefully, this rundown of the current developments has helped to keep our readers abreast.
It's apparent that there is a lot more to come for this particular topic. Between the BVLOS ARC and upcoming drones with 5G technology, the pieces seem to be in position for BVLOS to finally be allowed for routine operations soon.