Stashed away in the depths of a pilot's flight bag is usually an ever-important battery-powered radio; these come in handy should an unexpected emergency occur.
Some pilots make use of a whole host of other features that make their trusty handheld radio more than just a backup.
Handheld aviation radios can serve as a backup to primary radios, an excellent way for student pilots to practice ATC communications, and even as means of monitoring student pilots – the list of benefits is long.
But what should you look for when purchasing a handheld aviation radio?
This guide will look at some of the best handheld aviation radios available today and what features they offer. We'll also discuss how to choose the right model based on your specific needs and preferences.
Here is a quick summary:
Best Overall: Icom IC-A25N
Best Budget: Icom IC-A16
Best Radio (COMM) only: Yaesu FTA-450L
Do I Need a Handheld Aviation Radio?
A handheld aviation radio may seem redundant considering most aircraft have two radios installed already.
This assumption fails to take into account two critical details:
Even duplicate systems in an aircraft are connected (e.g., the same antenna for both radios).
There are many other benefits of a handheld aviation radio other than redundancy.
The Benefits of a Handheld Aviation Radio
Primary Radio Backup
Handheld aviation radios can serve as a backup to primary radios. If your primary radio malfunctions or fails, you will still be able to communicate with ATC and other aircraft.
Practice ATC Communications
Handheld aviation radios are an invaluable tool for student pilots who want to learn and practice ATC communications.
While a student may not be able to practice talking on an actual radio when not in the aircraft, students can use handheld radios on the ground to become familiar with the language and procedures air traffic controllers use.
Using a handheld aviation radio, student pilots can become proficient in using the correct phraseology and know when to use specific phrases in different situations.
Monitor Student Pilots
Flight instructors can use handheld aviation radios to monitor their student pilots in the air and on the ground.
Using a handheld radio, an instructor can listen to their student's radio procedures, allowing them to provide feedback after the flight.
Instructors can also contact their students or ATC directly if a situation arises where the instructor's input is needed. Flight instructors often use handheld radios during the solo traffic pattern phase of a student's training.
Receive ATIS Information
ATIS (Automatic Terminal Information Service) provides pilots with weather and airport information on a radio frequency.
With a handheld aviation radio, pilots can quickly receive this valuable information without having to switch on radios in an aircraft. Receiving ATIS information before entering the aircraft saves valuable time during the engine start process.
Furthermore, if information from the ATIS results in a canceled flight, obtaining such information on a handheld radio before commencing the flight will save significant time.
Can Be Used during Emergencies
Handheld aviation radios can be invaluable in the event of an aircraft accident. After an accident, having a handheld radio can be critical for quickly transmitting a distress call to ATC or other nearby aircraft. A backup radio is vital if the original aircraft radios are damaged or there is no cellphone reception.
In addition to providing a means to contact ATC or other aircraft, a handheld radio can also be used to coordinate rescue operations from the ground.
With these benefits in mind, it is easy to see why many pilots opt for a handheld aviation radio in their flight bag; they provide redundancy and peace of mind.
Now let's look at how to choose the best model for your needs.
What to Look for When Buying a Handheld Aviation Radio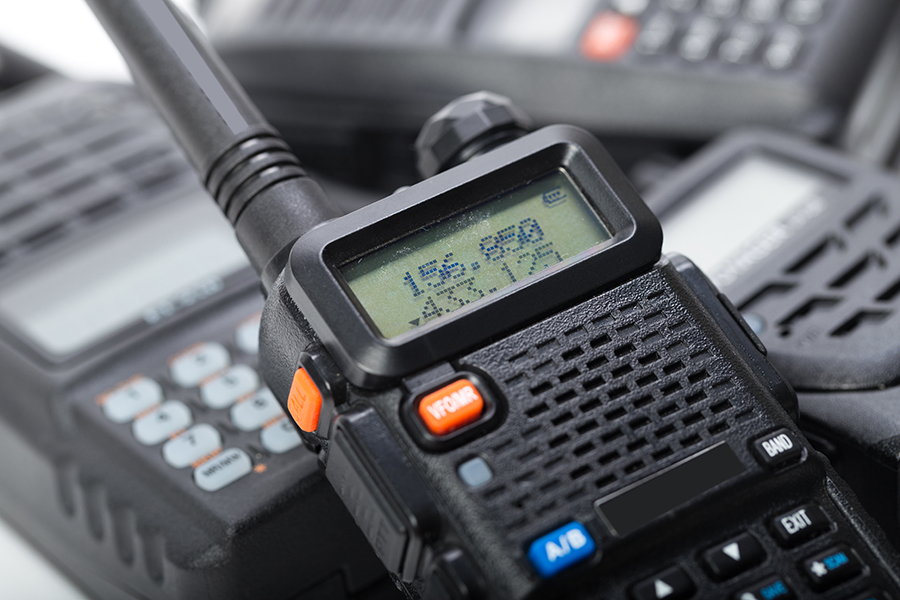 A basic handheld radio costs around $300 and has a frequency display, keypad or knob for selecting frequencies, single-button access to emergency and weather frequencies, and storage space for regularly used frequencies.
As you increase your budget, you'll find larger and higher resolution displays, navigation functions such as VOR/ILS and GPS capability, and more advanced storage.
Navigation features are often where the price of a handheld aviation radio sharply increases. Starting with VOR capability and rising in price, you'll find VOR and localizer functionality, then ILS, and then GPS capability. Most handhelds come with the option to connect your headset, which is an absolute must-have if you intend to use the radio in the noisy cockpit of a general aviation aircraft.
If you're looking for a backup handheld radio for emergencies, your budget will thank you for avoiding the bells and whistles of the higher-end models. The lower-end, communication-only, handheld radios are significantly cheaper and have far greater battery life (and, in most cases, durability).
Let's look at the specific features you should consider when buying a handheld aviation radio.
Range
The range of a handheld aviation radio is an essential factor to consider when choosing the right model. The range of a handheld aviation radio determines how far away you can communicate with other stations, and this has significant implications depending on where you typically fly.
For general aviation pilots, having a more extended range can be highly beneficial; it allows them to communicate with ATC and other aircraft at a greater distance and increases their chances of being heard in an emergency.
Range should be a serious consideration if you fly in remote areas. The range of your handheld aviation radio could determine the difference between an easy rescue and an extended search.
Battery Life
A handheld aviation radio's battery life is another essential factor to consider when deciding which model to buy. The longer the battery life, the less frequently you will have to charge or replace your batteries.
Check the manufacturer's specifications for expected battery life before purchasing.
Additionally, most handheld aviation radios come with rechargeable batteries. These batteries will naturally degrade with usage, reducing battery capacity over time. Higher-quality batteries are less susceptible to this degradation and will increase the overall lifespan of your handheld aviation radio.
Size and Weight
The size and weight of a handheld aviation radio are also important; a lighter and more compact model will be easier to carry and use. Some radios are designed to be ultra-compact and lightweight, making them ideal for pilots who want something easy to store in their flight bag or carry on their person.
However, a smaller and lighter handheld aviation radio may have a reduced range or battery life.
Navigation Features
Some handheld aviation radios have various navigation features, making them a valuable backup to aircraft avionics. These features include glideslope and localizer capabilities, VOR/NDB navigation, and even GPS functionality.
These features come at a price, of course – so consider your budget when looking for these features.
Headset Compatibility
An often overlooked but critical feature of most handheld aviation radios is the ability to plug in an aviation (or other) headset.
If you want to use a handheld aviation radio in the noisy cockpit of a general aviation aircraft, being able to plug in your aviation headset becomes extremely useful.
Price
Finally, the price of a handheld aviation radio should also be considered; although higher-end models may offer more features, they may also be more expensive.
A handheld aviation radio should be viewed as a long-term investment, so you may be better off purchasing a higher-end model.
If you don't see yourself using a handheld aviation radio often (e.g., you keep it in your backpack in the event of an emergency), opting for a more affordable option may be best for you.
Be sure to shop around and compare prices before purchasing to get the best deal on a model that suits your needs.
The Best Overall Handheld Radio for Pilots

PROS
Bluetooth
NAV with digital CDI
Great screen
Easy controls
Great battery life
CONS
Expensive
No ILS capability
The Icom IC-A25N is the flagship transceiver from one of the two leading companies in the space – Icom. It also possesses Bluetooth capability and a built-in GPS – features rarely found in one device.
This handheld radio also boasts several other impressive benefits.
The Icom IC-A25N stands out among the rest with its VOR Navigation CDI, a massive backlit LCD screen measuring 1.5″ x 2.0″, a battery with a charge level display, weather channel presets, and a whopping 300 memory channels. Plus, it's simpler to use and program than other models, making it arguably more straightforward than any of its Yaesu counterparts.
With a battery life of 10.5 hours, the Icom IC-A25N is the perfect solution for all your needs.
The only feature missing is ILS capability. While it would have been nice to have ILS functionality, Icom has decided to keep the weight down and remove the seldom-used ILS capability. This attention to weight distribution allows the Icom to fit comfortably in your hand at 12 ounces.

PROS
NAV and ILS capability
Color screen
Bluetooth
Great battery life
CONS
Initial learning curve
Color display struggles in direct sunlight
The Yaesu FTA-850L is the most sophisticated handheld radio for aviation use available. It has every feature a pilot needs, making this handheld radio extremely valuable as a backup.
Boasting VOR and ILS functionality as well as a 66-channel WAAS GPS receiver, the Yaesu FTA-850L is a transceiver that stands out from its competition. To top it all off, the FTA-850L features Bluetooth connectivity too.
The only hurdle may be the initial learning curve associated with its operation. However, manipulating and configuring the radio will become effortless once you invest time in learning how to use it.
Despite weighing in at 14.5 ounces, the FTA-850L handheld is still lightweight enough to be portable, while its large color display ensures information will be easy to read and interpret.
Battery life comes in at a respectable 10 hours, making it more than capable for most situations.
The color screen comes at a price, however. The color screen becomes difficult to read in direct sunlight – which can become a real issue in certain situations.
Best Budget Handheld Radio for Pilots

PROS
Affordable
Great battery life
Intuitive
CONS
Tiny screen
Accessories sold separately
The Icom IC-A16 is ideal if you want a reliable, long-lasting, and durable handheld radio at an affordable price.
With a whopping six watts of transmitting power and an impressive 17 hours of battery life between charges, the Icom IC-A16 is tough to beat. Its powerful "loud audio" capability enables it to be heard in aircraft cabins or airport ramps, making it an ideal communications tool if you don't want to connect your headset. The Icom OPC-2401 headset adapter (sold separately) will allow you to connect your aviation headset directly to the handheld.
The lithium-ion battery can also be charged quickly with its convenient cradle rapid charger.
A knob and full keypad are available for entering frequencies, providing ease of use and convenience. A dedicated button for the 121.5 emergency frequency ensures you are always prepared in case of an unforeseen event.
Furthermore, it has an automatic noise limiter, LCD backlit display to improve visibility during night flights, and a low-battery indicator.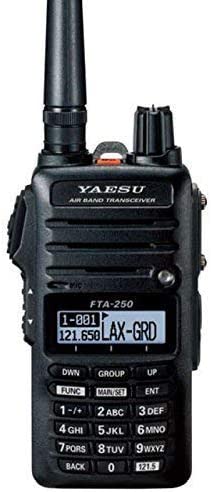 PROS
Affordable
Great battery life
CONS
Small screen
Difficult controls
The Yaesu FTA-250L is a close runner-up to the Icom IC-A16.
At 10.6 ounces and 16 hours of battery life, the Yaesu FTA-250L keeps up with its entry-level handheld radio competition.
Where the Yaesu FTA-250L falls short is its controls. Compared to the Icom IC-A16, the squelch knob and buttons of the Yaesu FTA-250L are trickier to operate. By no means a deal-breaker, but not ideal for a handheld radio that will likely serve as a backup during an emergency.
All things considered, the Yaesu FTA-250L is a good choice for those who want an entry-level handheld radio that's reliable and cost-effective.
Best Radio (COMM) Only Handheld Radio for Pilots

PROS
Large, clear screen
Accessories included
CONS
If you're looking for the best handheld aviation radio money can buy but don't need all the fancy navigation features, the Yaesu FTA-450L is your best bet.
The Yaesu FTA-450L is the Yaesu FTA-550L with the navigation features removed. Removing the navigation features reduces the price and bumps the battery life from 12 hours to 13.5 hours while keeping the same specifications and accessories of the FTA-550L.

PROS
Intuitive
Accessories sold separately
CONS
Only slightly cheaper than the NAV model
The Icom IC-A25C is the Icom IC-A25N (our best overall handheld) with the navigation features removed.
The Icom IC-A25C is roughly double the price of the Yaesu FTA-450L. This, in conjunction with little added benefit compared to the Yaesu FTA-450L, knocks the Icom IC-A25C down to the second spot.
Considering the fact that the IC-A25N is only slightly more expensive and our top pick, you'll likely be better served by going for that model.
Conclusion
In conclusion, it's important to consider your budget and which features are most important for you when choosing a handheld aviation radio.