The 5 Best Flight Bags and Backpacks for Drone Pilots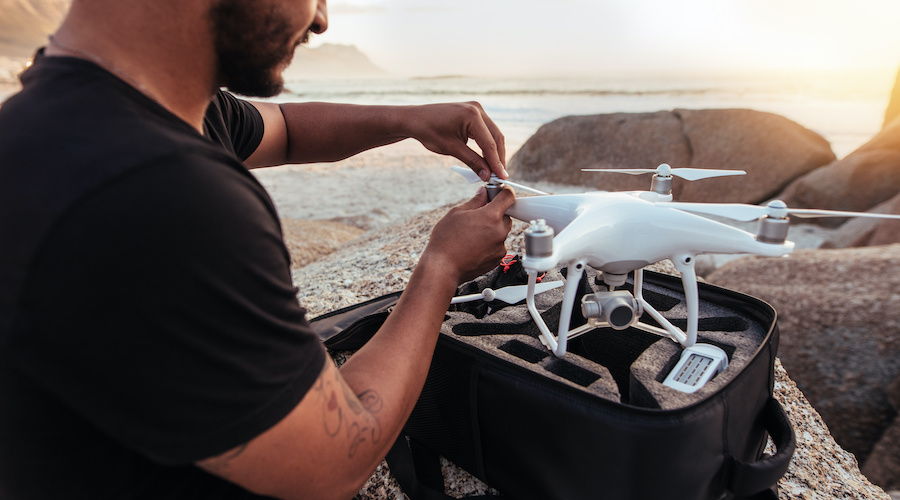 For many drone pilots, drones have replaced cameras as an essential part of traveling. Whether it's for a short hike, a trip to the beach, or a full-fledged vacation somewhere far, drone pilots will find a way to carry their drones and its accessories.
Even with the recent trend of drones going ultra-portable, we still prefer getting a bag or backpack that is specifically dedicated to carrying our drones and accessories. If you go on frequent trips with your drone, then we suggest investing in any of these great flight bags for your convenience and your drone's safety.
Top 5 best flight bags for drones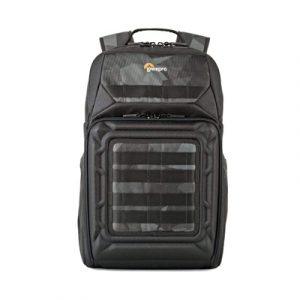 First up is the DroneGuard BP 250 drone backpack from LowePro, a brand that is known globally for their camera and photography gear. The BP 250 is an intelligently designed backpack with the usual high level of build quality that we have come to expect from LowePro.
The BP 250 was designed for carrying ultra-portable drones such as the Mavic line from DJI and the Evo from Autel. It has room enough for the drone and several accessories, all of which can be organized with soft dividers and elastic straps. The bag also has a compartment for a laptop or tablet and a small pocket along the shoulder straps for your phone.
The external body of the bag is made of compression-molded FormShell material, a soft armor that provides ample impact resistance. The back even has a moisture-wicking back panel to keep it comfortable, even when you need to carry the bag for several hours. In terms of build quality, one can hardly find any complaints with the BP 250.
Keep in mind that the BP 250 is still a relatively compact drone backpack. While it's large enough to fit an ultra-portable drone, some spare batteries, and charger cables, drones with large controllers might be challenging.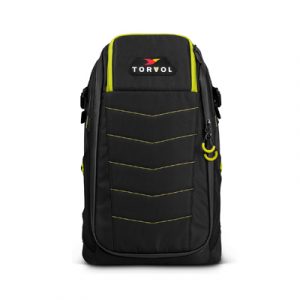 The first thing we like about the Torvol Rucksack is how unassuming it is. This isn't the type of backpack that gives off the vibe that it contains expensive electronics. More utilitarian than stylish, the Torvol Rucksack features some of the most innovative backpack design elements.
As the name implies, the Torvol Rucksack is made for drone FPV racers. This may seem like a strange value proposition, but the fact is that the front panel of the rucksack opens up to become a makeshift workstation. If you've ever done FPV racing before, then you know that making tweaks and replacing parts is part and parcel of the game.
Aside from providing a clean flat surface for working with your drone, the front panel also comes with a MAGNETCASE pocket to safely store your loose screws and other small metal parts.
Lest we forget, the Torvol Rucksack is also an excellent bag with adjustable internal compartments, spacious side pockets, a soft back panel, and durable shoulder and waist straps. Torvol also sells a Pro version of this backpack which comes with a laptop compartment. In case you get caught in heavy rain, the Torvol Rucksack comes with a rain cover.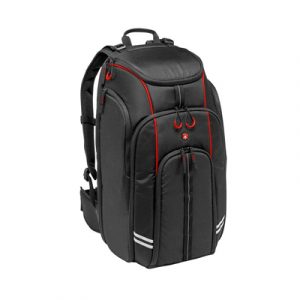 If you've ever dabbled in photography, then Manfrotto is probably a very familiar brand. A global brand in photo, video, and lighting gear, Manfrotto has a pretty solid following in the professional photography industry. It's hardly surprising that the MB BP-1 drone backpack is also one of the best we've seen.
The MB BP-1 is significantly larger than most of the other entries in this list. This is primarily because the backpack was designed for DJI Phantom drones. Its inner compartments and dividers have been arranged specifically to fit the popular professional-grade drone.
There's also enough space in the bag for a DSLR camera, a laptop, and a camera. If this bag doesn't have enough space for all the equipment you'll need, then you might be better off bringing a suitcase.
Although the MB BP-1 was designed for the DJI Phantom series, other drones with a similar form factor should fit inside the bag perfectly fine. Notable examples include the Autel X-Star and the 3DR Solo. The downside of this bag being big is that it might be too big for some. If you own an ultra-portable drone, then there's simply no reason to burden yourself with such a bulky drone flight bag.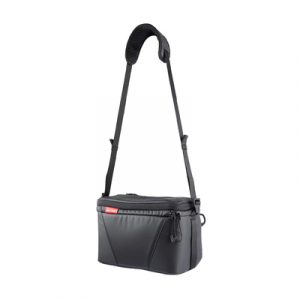 From a huge flight bag, let's go to one that is much smaller. This shoulder bag just enough space for an ultra-portable drone plus a few essential accessories. Don't worry if you have all the accessories of a DJI Fly More combo – the OneMo was specifically designed to fit all the peripherals included in the bundle. With detachable dividers, the OneMo can also double as a camera bag for your DSLR camera.
The OneMo is an excellent option if you don't feel like carrying around a backpack. It's a bit more practical if you need to be constantly moving around, such as if you're doing an event shoot. Despite the small size, the internal compartments of the OneMo have been smartly designed for easy and fuss-free organization of accessories.
When it comes to build quality, the OneMo is top-notch. The outer material has a polyurethane coating that is waterproof, wear-resistant, and scratch-resistant. The high-quality SBS zipper also helps the bag attain a splash-proof construction. The inner lining and all dividers are made with high-density XPE foam for lightweight shock absorption.
In terms of mobility, the OneMo is the best bag for those who own ultra-portable drones. It has natural limitations, of course. You aren't going to carry around three spare batteries inside this shoulder bag. You're going to have to plan your gear better if you're going with a bag as compact as the OneMo.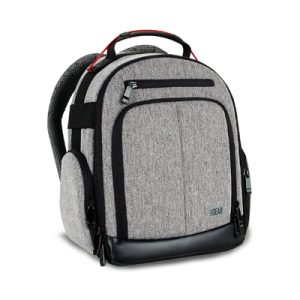 This drone backpack from USA Gear may not have the sleekest design, nor does it have the high-performance construction we've seen from all the previous entries. What it has going for it is a price tag that is below $40. If you're on a budget and just need a flight bag to get you through that upcoming trip, the USA Gear drone backpack is an option that won't hurt your wallet.
The USA Gear drone backpack was designed to store ultra-portable drones and their accessories. With its array of detachable dividers and elastic straps, it can fit drones from different brands – the DJI Spark, Mavic drones, Tello, and Autel Evo, to mention a few models.
The thing about this bag is that it's big enough to fit all the essential drone accessories but only just about -there's no room in it for a laptop or a tablet. Size-wise, the USA Gear drone backpack is even smaller than your standard day-trip backpack. This is good if you want to travel light, but bad if you tend to travel with lots of drone accessories.
The bag's waterproofing capability is restricted to its base. This will protect your gear should you need to set the drone down on some damp ground, but not if you get caught in the rain. If you're going with this backpack, then you need to have a contingency for if it rains and you cannot find shelter.
All in all, the USA Gear drone backpack is a cheap alternative to the big brands with all their fancy features. Just manage your expectations if you're buying this one – you simply get what you pay for.
How to choose a flight bag for your drone
If your drone is small enough, then it can be argued that just about any bag can be used as a flight bag. However, a dedicated drone flight bag will do a better job of keeping your equipment safe. These bags are designed to take a beating and have dedicated internal compartments to keep your accessories from moving around.
Before picking a drone flight bag, we suggest taking the following factors into consideration.
Size
When choosing the size of your flight bag, think about your specific use case. How big is your drone? How many spare batteries do you need to bring? Are you planning to bring your drone only on short walks or is there a chance that you would bring it on a long road trip or an overseas flight? Bigger isn't always better when it comes to bags – you'll need something small enough to carry around for hours on end.
Customizable compartments
When it comes to drone flight bags, we prefer going with third-party brands. The problem with OEM bags is that they are often come with permanent compartments that are specifically designed for a specific drone model. Third-party flight bags have no such limitations, opting for compartments that can be customized in endless ways. You never really know which accessories you need to bring along, so a bit of flexibility will be really valuable.
Water resistance
Since drone flight bags are typically made with soft fabric and zipper enclosures, you can't expect them to be truly waterproof. However, most drone flight bags can at least offer a good degree of water resistance. Your bag should be able to handle splashes of water or a slight drizzle – just don't get caught under heavy rain!
Durability
The durability of the drone flight bag shouldn't be an issue as long as you buy it from any of the reputable brands. Most drone flight bags are made of Ripstop Nylon – the same material found in camera bags and hiking backpacks. Some bags also come with semi-rigid panels that augment impact protection.
Drone bag or hard case?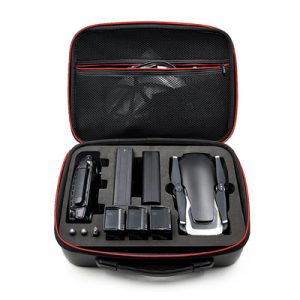 If you've been shopping for bags for drones, then you've no doubt also come across rigid cases with hard plastic shells. Either choice is great for both storage and travel. However, there are situations where one is more suitable over the other. If you're trying to decide between fabric bags or hard cases, then here are the questions to ask.
Are you hiking, driving, or flying?
If you're bringing your drone on a hike, then a bag is certainly the more comfortable choice. The flexibility of a bag means that it will adjust to your movements. These very slight shifts in shape and weight distribution can make the difference between a hike that's comfortable and one that is excruciating.
If you're driving or going on a flight with your drone, then a hard case container makes more sense. The hard-shell exterior provides better impact resistance and waterproofing. You never know how rough the conditions can get when you're driving and flying, and a hard case better prepares your drone for them.
How much water-resistance do you need?
As well-made as flight bags are, they are typically not completely water-resistant. Water can seep in through the zippers and the fabric can get soaked. When you're in the middle of a multi-day trip, a wet flight bag is going to be a huge liability. To avoid this problem, you may have to carry the burden – both physically and financially – of a hard-plastic drone case. 
Final thoughts
As a drone pilot, one accessory you should immediately invest in is a high-quality flight bag. After all, you're not going to fly your drone inside your house. A good bag will protect your drone and accessories from impact and abrasion damage and protect them from the outdoor elements. You should also have enough space in there for all the essential accessories – the controller, charging cables, spare batteries, and a repair kit, just to name a few.