Part 107 and Public Safety COA Course
This course has been specially designed to help meet the needs of first responders and emergency services professionals seeking to operate drones for life saving missions. Brought to you in partnership with DRONERESPONDERS, the world's leading non-profit program supporting the advancement of public safety UAS.
Earn your FAA Part 107 certificate with our specialized online training program featuring 15 hours of engaging videos.
Learn how to build and manage a public safety UAS program for your department or organization.
Free access to the DRONERESPONDERS public safety UAS resource center, discussion boards, special events, and much more!
Why Pilot Institute
220+ Video Lessons
Free DRONERESPONDERS Membership
Lifetime Access
Pass the Test the 1st Time - Guaranteed!
See Real Exam Questions
Cheatsheet and Lesson Notes
Mobile and Offline Access
Accurate Information
Fast Interactive Support
Flashcard App
Exclusive
We are the only course to offer a flashcard app for iPhone and Android users – and best of all it's free for course subscribers.
There are 110 cards that will cement your knowledge in all test topics. You can also flag cards and come back to them. This will help you study on the go whenever you have a minute.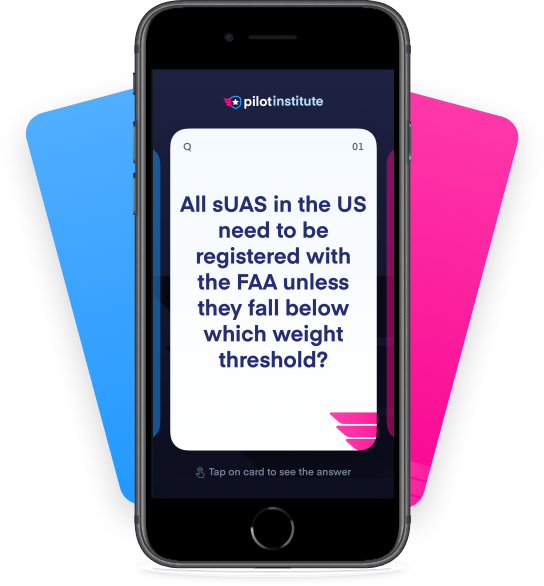 Join Over 250,000 Happy Pilots
Public Safety Drone Training
This is a two-part course. Module 1 provides you with an in-depth course to help you get your Part 107 license. This course was specifically designed and produced for public safety operators and it includes relevant examples. This is the most comprehensive course available and it will teach you the 'why' behind concepts so you're truly prepared in the field. It comes with 15 hours of videos, a cheatsheet, a flashcard app, unlimited practice questions, and much more.

Module 2 is also included at no extra cost. This module focuses on the process for getting your Certificate of Authorization (COA). A COA is provided by the FAA to public safety agencies to give them additional privileges such as flying at night, in restricted airspace, from moving vehicles, beyond visual line of sight, and much more.

DRONERESPONDERS has over 400 documents in their Resource Center. This includes documents to help you set up standard operating procedures, policy manuals, COA guidance, waiver templates, checklists, task books and more. DRONERESPONDERS has significantly reduced the complexity of setting up a drone operation for public safety users and their roadmap will make the process easier for you.

A portion of the financial proceeds from each transaction will support DRONERESPONDERS and their non-profit public safety UAS mission. DRONERSPONDERS is an official program of AIRT, Inc. a 501(c)3 organization supporting the use of Drones For Good. You can find more information at droneresponders.org and AIRT.ngo.
Pilot Institute is the only aviation training provider to be accredited by IACET to offer continuing education credits.
Go Beyond the Exam
By partnering with DRONRESPONDERS, we are able to help you beyond getting your Part 107 license. Get your license with module 1 and learn how to set up your own public safety drone program in module 2.
Get Part 107 certified using a proven program with an average FAA exam score of 93%.
Use a proven roadmap to setup your own public safety drone program.
Lifetime Access - Go at your own pace.
30-Day 100% Satisfaction Guarantee.