Yes, both Part 107-licensed and recreational drone pilots can now fly their drones at night without having to apply for a waiver. However, drones flying at night need to be equipped with appropriate anti-collision lights that are visible up to a distance of three statute miles. Part 107 pilots may need to take a new online course available at the FAA Safety website before they can enjoy this privilege.
Up until mid-2021, professional drone pilots who wish to fly at night had to go through a fairly lengthy waiver process. This new update provides a bit more freedom to drone pilots while also reducing the work of the FAA. Check out our guide on everything you need to know about flying drones at night.
What are the new Part 107 rules for flying at night?
Effective April 21, 2021, drone pilots licensed under Part 107 have been allowed to operate at night under two conditions – that they complete an online recurrent training or updated initial knowledge test; and that their drones are equipped with anti-collision lighting visible for at least three (3) statute miles and are flashing at a rate sufficient to avoid a collision.
We will tackle the requirement for anti-collision light later on, but for now, let's focus on the certification requirements. Depending on whether you already hold a Part 107 license or are yet to apply for one, the new rule affects you in different ways:
For current Part 107 pilots
If you currently hold a Part 107 license, all you have to do is to complete an online recurrent training course on the FAA Safety website. This training course includes topics related to night operations. You can take the test for free, and it only takes about half an hour. There are also several other training modules on the FAA Safety website that may be worth your time.
For Part 107 applicants
If you're yet to earn a Part 107 license, then there really isn't any change to the application process. The only change will be to the content of the knowledge test. With night operations now allowed, you can expect some of the questions in the knowledge test to touch on how to fly drones at night and the risks associated with it.
To help you prepare for the knowledge test, our Part 107 Made Easy course has been updated to include topics on night operations. Those who have signed up for the course in the past may also check out the updated materials. This is part of the benefit of lifetime access that Pilot Institute offers for all of our training courses.
The second part of the night operations requirement is that your drone should be outfitted with anti-collision lights. To be brief, the stock lights of most drones likely are not bright enough to comply with the requirements. Your best bet would be to get third-party anti-collision lights.
What are the new rules for recreational drone pilots?
Even before the changes to Part 107, there were never really any restrictions against recreational drone flight at night. However, these drones had to be equipped with anti-collision lights. These are consistent with the new Part 107 rules, so it's pretty much still the status quo for recreational drone pilots.
What anti-collision lights should you use?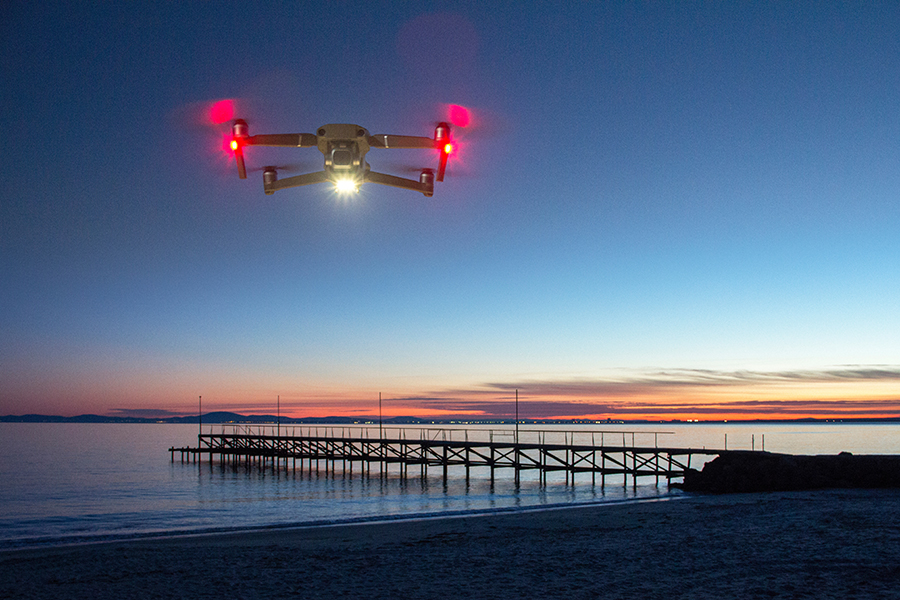 With the new rule on night operations, we suspect that there are many drone pilots who are looking for appropriate anti-collision lights. To help you out, Pilot Institute has tested some of the most popular anti-collision lights and compared their features and visibility at night.
You may check out a detailed account of the test we have done in this article. If you're just interested in the results, then here are our top three picks:
All of the lights that we have tested technically can be used with the FAA requirements. However, these three were identified as being the most visible when mounted on drones flying at night.
Flying at night in controlled airspace
The LAANC system for requesting airspace authorization has now been updated to accommodate night operations in controlled airspace. This new benefit applies only to Part 107 drone pilots.
To fly at night in controlled airspace, all you have to do is to file a request for airspace authorization through LAANC. As part of the request, you will need to indicate the hours during which you plan to fly the drone. Keep in mind that all other regulations on night operations still apply when flying in controlled airspace.
Is Remote ID a requirement for flying at night?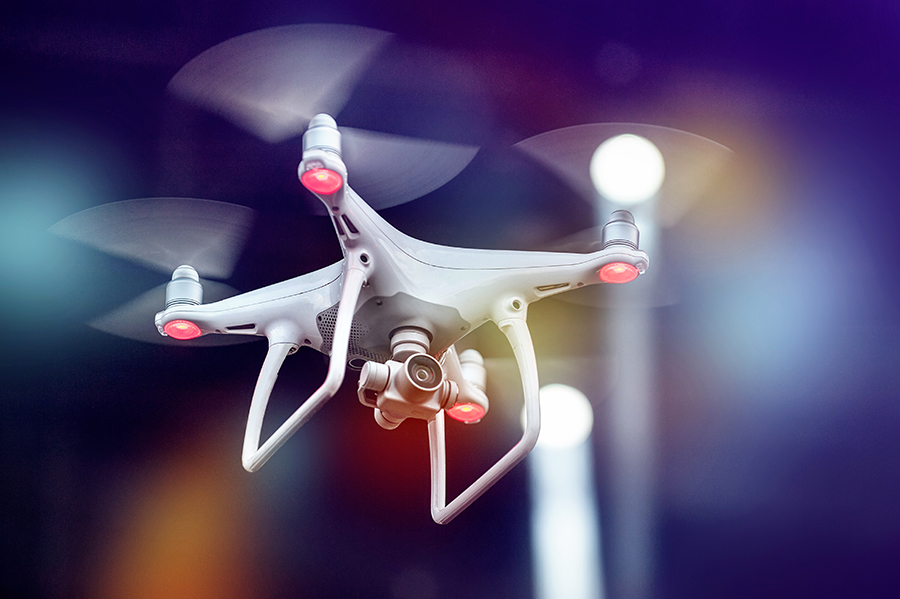 The Remote ID is an entirely different can of worms and is not directly related to being able to fly at night. You may fly your drone at night as long as you comply with the rules for night operations, even if your drone is not yet equipped with any Remote ID technology.
However, Remote ID is still an inevitable part of future drone operations. According to the timeline of the FAA, all drones being sold in the US will need to have a Remote ID before the end of 2022. By late 2023, all drones operating in the national airspace (with the exception of a few pre-identified areas) will need to be equipped with Remote ID modules. At this point in time, the question of whether you can fly at night or not becomes irrelevant – your drone will need to have a Remote ID regardless of when and where you fly, recreationally or commercially.
Final thoughts
Being able to fly at night without the extra step of requesting waivers has been a huge upgrade to what drone pilots can do. After a transition period, this benefit has also been extended to controlled airspace via near-instant LAANC requests. Not only has this increased the flexibility of operations of drone pilots, but it has also eliminated a lot of the work that the FAA has to do in waiver processing.
This is just one example of how the landscape of drone legislation is still in a state of rapid evolution. It has been a good way for the FAA to demonstrate that they support the thriving community of drone pilots. For our part, drone pilots only need to comply with the rules to ensure that drone flight at night remains as safe as possible.