Drone Photo & Video Masterclass
The ultimate course to take your photography & videography skills to the next-level.
Learn how to shoot, edit, and profit from your drone footage.
15 hours of step-by-step video instruction.
Follow along as professional videographers film and edit two different real estate listing videos.
Everything you need in one place to go from a beginner to a professional that clients are happy to pay.
Why Pilot Institute
122+ Video Lessons
Photo & Video Feedback
100% Satisfaction Guaranteed
Lifetime Access
Knowledge on a Strong Foundation
Accurate Information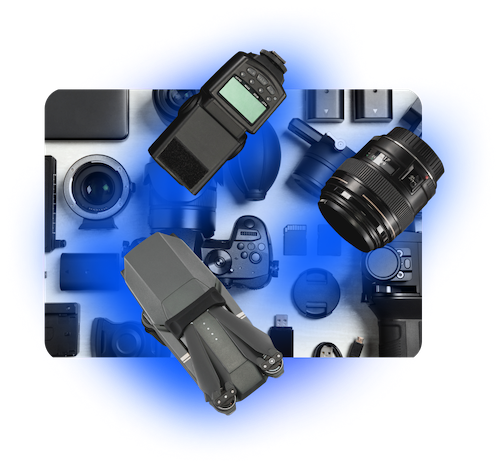 Equipment Advice
Our instructors show you the exact equipment they have in their bags and provide you with advice on how to get your money's worth.
Learn about the best options for drones, cameras, lenses, lights, microphones, stabilizers, and more.
It's a myth that you need fancy equipment to do professional work. You can get started with budget-friendly gear and upgrade as you become more established.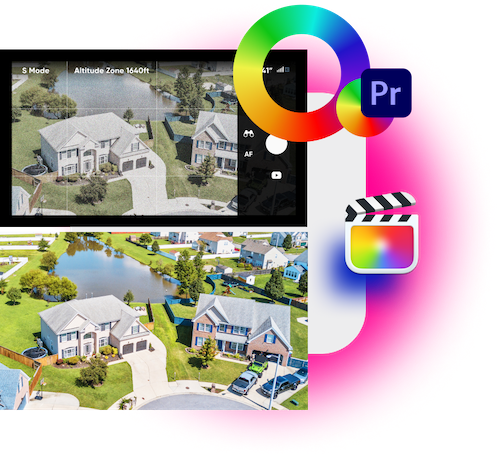 Color Grading
Professional color grading can transform your videos and take them from average looking to spectacular. We show you how to get your footage to look twice as good in just a handful of minutes.
We also demonstrate how to match the color grading between different cameras so your videos have a uniform look. You will also learn what the best color profile settings are for your gear.
We have separate editing sections for both Premiere Pro and Final Cut Pro.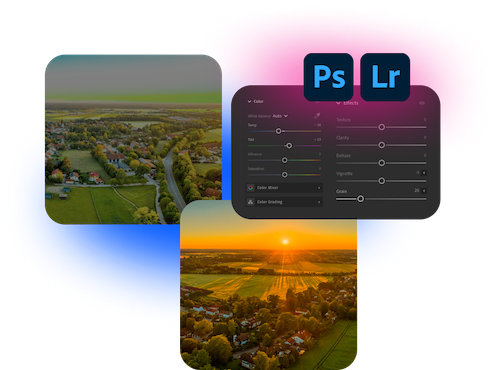 Professional Photo Editing
You may have wondered how professionals capture eye-catching photos. In this class, we will teach you the best white balance, color profile, aperture, frame rates, resolution, and exposure settings to use for your photographs and videos.

With the skills you learn from this course, you'll be able to capture great images from even an entry-level drone.
We also demonstrate how to know whether your photos are properly exposed using histograms, false color charts, and more. Using these tools you can be confident knowing that you captured what you need when you open the images on your computer.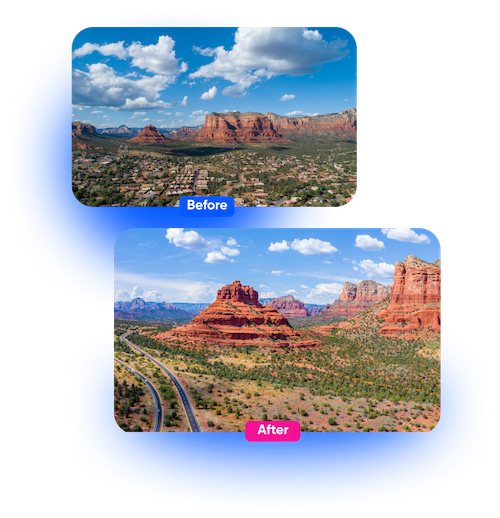 Composition Techniques
One of the biggest reasons people's images don't turn out is because they are not following the main principles of photography. We show you techniques that experts use to reliably capture good-looking images.
We also reveal the 15 most common mistakes amateurs make when they are taking photos & videos. In this class, you will develop an eye for photography and know why certain images capture your attention. Peer over the shoulder of our instructors as they explain the techniques they use. Using the time-tested methods we teach, you will finally have the skills to become consistent in your filmmaking.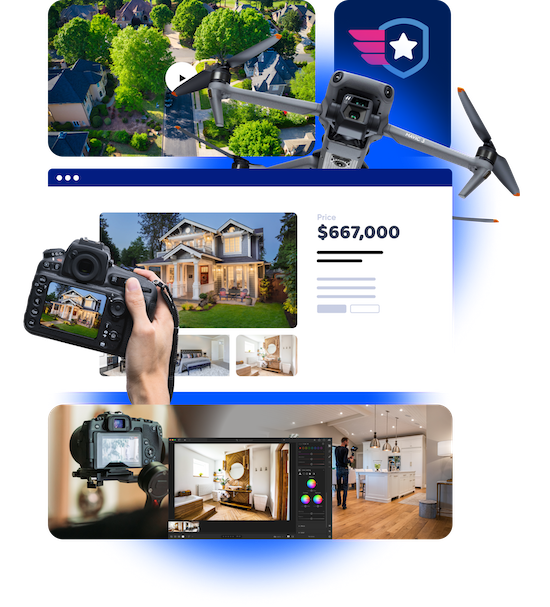 Shoot Professional Real Estate Videos
Tired of bottom of the barrel jobs from drone networks? The drone market is competitive and the best way to get paid more is by having specialized skills.
Learn profitable skills and see how to take on the lucrative real estate market.
This class is taught by instructors who earn their living flying drones. In this course, they reveal the step-by-step roadmap and processes they use to create real estate listing videos.
Remove the guesswork and see exactly how to deliver videos that will make your clients happy. Our instructors distill the knowledge they've learned from years of practice. This class will pay for itself with your first client.
Once you finish this class, you'll be able to create and profit from videos like this:
Let's Meet Your Instructors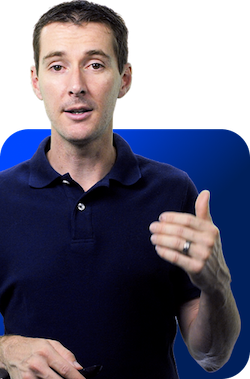 Greg Reverdiau
In addition to being an FAA Commercial Pilot, Certified Flight Instructor, and Remote Pilot, Greg has been an avid photographer and videographer for nearly two decades. He owned a photography business in Florida that specialized in weddings, portraits, newborns, and aerial photography (before drones). He also exhibited photos in a local gallery.
Greg has taught aerial photography and videography at a large university for 4 years. He's also been producing Pilot Institute videos since day 1, although he's since brought on a full-time producer. Greg is an avid collector of photography books, old cameras, and lenses.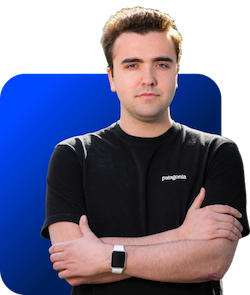 Billy Kyle
Billy Kyle is a professional photographer who specializes in real estate, architecture, and landscape photography. His 6 years of experience photographing row homes in Center City, estates on the Main Line, and beachfront properties at the Jersey Shore have taught him the most efficient way to capture high-quality exterior and interior photos of homes and buildings.
One of Billy's greatest passions is video making as in his spare time, he creates online tutorial videos that teach viewers how to make the most of their drones. This includes everything from being a better pilot, capturing better photos, to refining your video capturing skills. He takes this knowledge of video creating to service his clients with high-end marketing content to help grow their business and brand.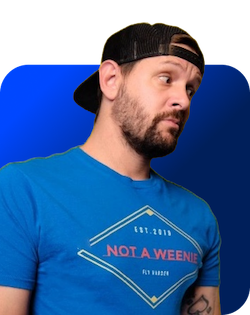 Ken Dono
Ken is a full-time photographer and videographer who hosts his own YouTube channel called Original Dobo where he provides in-depth drone reviews.
Ken shoots residential real estate in Tampa, Florida. He's also an owner of Drone Works, an online store that sells drones.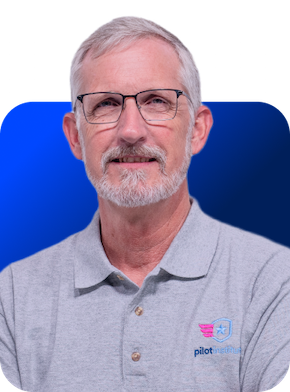 Vic Moss
Vic is the COO and Vice-President of the Drone Service Providers Alliance (DSPA). A commercial photographer, he has owned Moss Photography since 1988 and has been offering drone services since 2014. Vic is a nationally recognized voice for drone safety and an advocate for reasonable drone regulation.
Vic works with the FAA as one of five FAA Safety Team Drone Pros for the Denver FSDO, encompassing all of Colorado and Wyoming. Vic was also appointed to the Drone Advisory Committee in January, 2021 as a Citizen UAS Operator.
Join Over 150,000 Happy Pilots
FAQ
Have questions? Get the answer below. You can also contact us.
Description
Have you ever come across drone footage that's out of this world and wondered "how did they do that?". Your first thought might be that the equipment is the reason for how good the footage looks.
The reality is that just like any skill, photography takes practice. With the right knowledge you too can capture incredible scenes.
This one-of-a-kind class will give you the knowledge you need to finally get the footage you've always dreamed of.

In the course, we discuss common mistakes that beginners make with their photos and how you can avoid them. We also show you iconic drone shots that you can use to keep the viewer's attention.
We start by covering:
How digital cameras work
How to take good photos
How settings like aperture, shutter speed, ISO, and frame rates work

The difference between RAW and JPG formats
How histograms, vectorscopes, and false color charts can improve your photography
Proper exposure
Correct colors
Good composition

Photography techniques
What's wrong with my photos?
Videography concepts
What's wrong with my videos?
Top drone moves to improve your videos
After that, we move on to the real estate workshop which teaches you:

The equipment and software that you do and don't need
How to prepare and stage a home for photographs and video
How to take real estate photos and videos, indoors and outdoors (with examples at 2 houses)
Advanced editing techniques to make better videos
How to find the right music for your footage
How to use auto-exposure bracketing to make your photos more vibrant
How to edit photos in Photoshop and Lightroom
How to edit videos in Final Cut Pro X and Adobe Premiere Pro
The best part of the class comes when you get to look over the shoulder of Billy and Ken as they break down the exact process they use to take photos and videos of homes for real estate listing videos. They also show you their step-by-step editing process.
This class goes beyond just drones – we show you how to use regular cameras for real estate listings as well.
This is the most comprehensive drone photo/video course available. Once you finish, you will take off confidently knowing that you have what it takes to get good footage from the air using a drone and the ground with a standard camera.
Level Up Your Footage
Learn proven strategies & techniques from instructors who make their living flying drones.
Learn how to combine drones and regular cameras to create engaging videos.
Lifetime Access - Go at your own pace.
Double the value - We cover both photography & videography in one course.
Develop the skills you need to take on the real estate market.
30 Day Money-Back Guaratee.